Vibram Winners
It was an exciting final day at the Vibram Open. The weather was splendid starting in the high 50's and finishing in the 70's with a light cloud cover. The Amateur players from the VibrAM tournament teed off first and then the NT side starting teeing off at 10:10am.
The early drama of the day started with the Amateurs. At the start of the round Holly Decoste was leading Kate Thompson by a single throw in Advanced Women after three rounds of play at Hyland Orchard. The ladies played even through the first four holes at Maple Hill then Kate carded a 4 on hole 5 as Holly ran into some trouble and carded a 6. Advantage Kate. On Hole 6 Holly took the throw back and they were tied. Kate then got a throw back on each of the next two holes to go up by two, but she then ran into OB trouble on Hole 9 to give both throws back to Holly so they were tied half way through. Kate then went up a throw on Hole 10 and Holly took it back on Hole 12. Kate then went up a again on Hole 13, but Holly took it back again on Hole 14. The ladies tied on Holes 15 and 16, but Holly shot a 5 on Hole 17 against Kate's 6 to take the lead going into the final hole. Both ladies ran into OB trouble on the tough Hole 18, but once on the green, Kate putted out clean while Holly two-putted so they finished up tied.
On the men's side of the Amateur action a similar scenario played out. After three rounds at Hyland Orchard Keith Burtt was leading with a 177. Greg Aucoin and Wayman Peet were tied at second place one throw back, John Broderick was in fourth at 179. By Hole 4 John had tied Keith and it started a long battle for the win. John took the lead on Hole 7 but Keith tied it back up on Hole 8 and took the lead back on Hole 9. John tied it back up on Hole 10 and then the pair went even for the next five holes including deucing hole 14 together. On the tough Hole 16 (some of the Pros had 8s, 9s, and 10s) John shot a nice 5 but Keith took a six and John had the lead. On Hole 17 both players shot a 4, but on Hole 18 Keith Burtt converted for a 4 while John Broderick scored a 5 to finish in a tie and force another playoff. After the Pros from the National Tour finished their tee times and cleared off from Holes 1 and 2, the am ladies and then the am men started their "Sudden Victory" playoffs. Holly Decoste ended up winning the FW1 bragging rights and John Broderick won the MA1 bragging rights. Congratulations Holly and John!
On the Pro side the drama was no less intense as there were battles in both the MPO and FPO divisions.
On the ladies side, Val Jenkins and Sarah Hokom started off tied for the lead with Catrina Allen a single throw behind in third place. Nothing changed over the first two holes, but Val Jenkins deuced hole three to take the lead. At Hole 5 Sarah deuced to Val's four and Catrina's three giving Sarah the lead by one over Val and two over Catrina. Val struck back to tie it back up on Hole 6. At Hole 7 Catrina busted out a three to Val's five and Sara's four to tie Val a throw behind Sara who led. Hole 8 was a Par frame but on Hole 9 Catrina again carded a three while Val shot the four with Sarah shooting the five. So with half the Maple Hill course completed the ladies had flip-flopped from the start of the round with Catrina now in the lead by 1 throw over Val and Sarah. Catrina added another throw to the lead on Hole 10 and on Hole 11 she gained another stroke on Sarah who shot a five. On Hole 12 Val and Sarah had 4s to Catrina's 6, and with Sarah duecing Hole 13 to Val and Catrina's threes, it was now a three-way tie for first place with only five holes left to play! The crowd gathered alongside the green of Hole 18 that was watching groups finish their rounds while keeping an eye on the electronic scoreboard was buzzing! Catrina broke the tie on the very next hole shooting a duece to Val's three and Sarah's five. On Hole 15 Sarah fought back with her own deuce to the other's threes but gave it back on Hole 17 after everyone had a four on Hole 16. So going into the last hole Catrina led at 257, Val was at 258, and Sarah was at 260. Sarah shot a sweet three on 18 to put the pressure on, but it was just not enough as Val shot a five to tie Sarah for second place while Catrina played it safe for a five to preserve her win by a single throw!
On the men's side the day started with Ricky Wysocki leading Cale Leiviska by a stroke with a three-way tie for third place 8 throws back. It was really only a two-horse race, but Paul McBeth, one of the players tied for third, made a valiant effort shooting the hot round of 51 on the day to close the gap to only three throws and lockup third place for himself. On the first hole Ricky shot a five to Cale's four and the then stayed tied for the next five holes. On Hole six Ricky had a three to Cale's four to regain the lead. They went 3-4 again on Hole 7 to give Ricky a two throw lead. On Hole 9 Cale shot a 3 to get a throw back and cut the lead to one with Ricky's four, but he gave it back again on Hole 10. Ricky had some trouble on Hole 12 with a five, but rebounded nicely with a deuce on Hole 13 to bring the lead back to two. Ricky again ran into trouble on Hole 14 carding a four to Cale's nice deuce to tie it up with only four holes remaining. Both players deuced Holes 15 and 16 and then shot threes on Hole 17 to enter the Hole 18 teeing area all tied up. It all came down to Ricky's second shot going OB over the wall giving him a five, while Cale parked his second shot for an easy three and the win! Congratulations to Catrina and Cale on winning the Vibram Open!
Lastly, spirit is a critical component of all disc sports. One of the biggest challenges our sport will face over the coming decades is maintaining the tradition of spirit. Disc golf is self-officiated. It is important to follow the rules and to be gracious in victory and in defeat. Respect your fellow competitors and appreciate that we are throwing discs. Have fun and do well. This is what the Spirit Award is all about, and our 2012 Vibram Open Spirit Award Winner was Dana Vicich.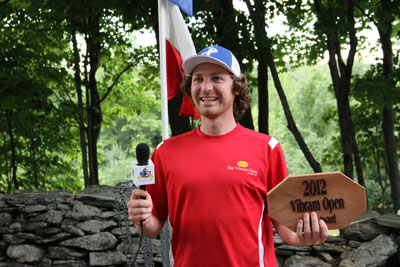 Dana Vicich, 2012 Vibram Open Spirit Award Winner
As always, a very special thank you to Steve Dodge, his extended family, and all the volunteers at Maple Hill who made the Vibram Open a great success.
Photo Credit: LEL Photography