PDGA Elite Series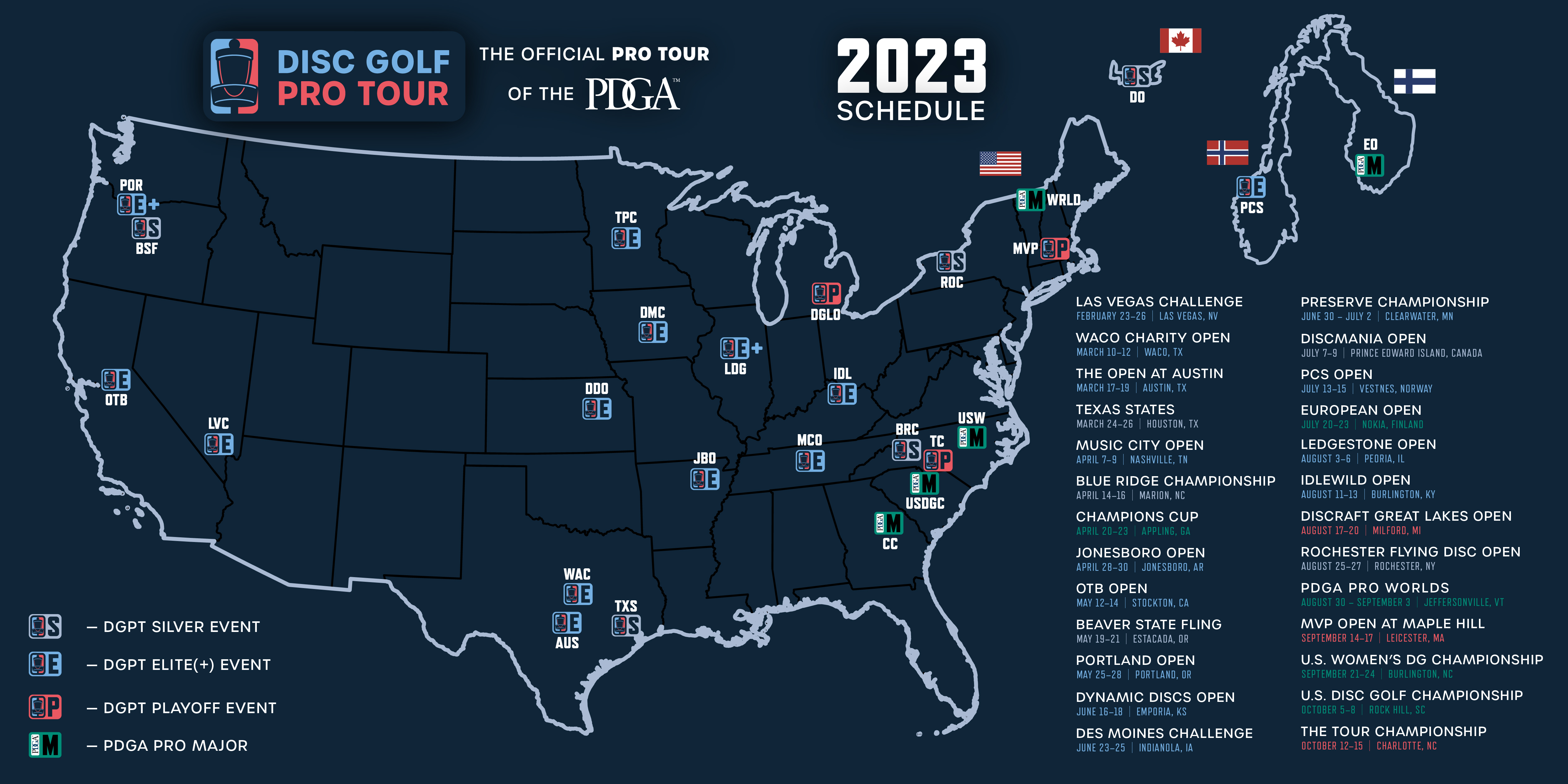 DGPT Point Standings | United Series Points Standings
2023 PDGA Elite Series Schedule
| Date | Event | Location |
| --- | --- | --- |
| Feb 23-26 | Las Vegas Challenge | Las Vegas, NV |
| Mar 10-12 | Waco Annual Charity Open | Waco, TX |
| Mar 17-19 | The Open at Austin | Austin, TX |
| Apr 7-9 | Music City Open | Nashville, TN |
| Apr 28-Apr 30 | Jonesboro Open | Jonesboro, AR |
| May 12-14 | OTB Open | Stockton, CA |
| Jun 1-4 | Portland Open | Portland, OR |
| June 16-June 18 | Dynamic Discs Open | Emporia, KS |
| June 23-25 | Des Moines Challenge | Indianola, IA |
| Jun 30-July 2 | The Preserve Championship | Clearwater, MN |
| July 13-15 | PCS Open (DGPT / Euro Tour) | Møre & Romsdal, Norway |
| Aug 3-6 | Ledgestone Open | Eureka, IL |
| Aug 11-13 | Idlewild Open | Burlington, KY |
| Aug 17-20 | Great Lakes Open | Milford, MI |
| Sep 14-17 | MVP Open | Leicester, MA |
| Oct 12-15 | DGPT Championship | Charlotte, NC |
About PDGA Elite Series
PDGA "Elite Series" is the designation used for a tour of professional events approved as a PDGA Elite Series by the PDGA Board of Directors and where points are earned by players towards crowning a tour champion.
These events and series are to promote the sport of disc golf and the PDGA in a positive light consistent with the PDGA mission, cater to the MPO and FPO divisions only, and bring a high level of exposure to the sport through national and international media coverage.  Simply put, Elite Series events provide an overall positive impact to the sport of disc golf and serve to enhance the PDGA mission. 
For a series of events to be designated as a PDGA Elite Series, all events comprising the series, as well as the series itself, must show a track record of success to include the sustainability of the organization, both financially and in its execution with the ability to repeat each season. Each event in the series must be sanctioned as an A Tier (or above), and must consistently maintain or surpass the competition standards defined by PDGA Tour Standards, as well as the individual event contracts with our Elite Series event hosts.