Vibram Day 3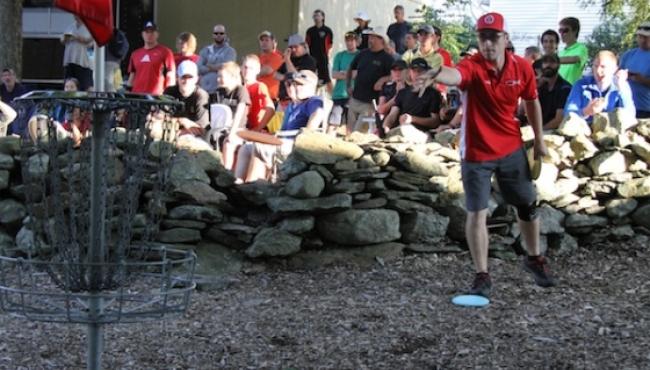 Make the Cut, Get Paid! has been the Vibram Open motto since the beginning, and today was cut day at the 2012 Vibram Open with 83 men and 6 women returning to play the final round on Sunday all guaranteed part of a $50,000 payout.
The day started out both cold and wet with the temperatures in the mid 50's and a steady rain falling that finally cleared past the Maple Hill course around 9:30.  By midday it was a beautiful late summer New England day with sunny skies and temperatures in the mid 70s.
oing into the final round it looks like it might be a two-horse race with Ricky Wysocki matching yesterday's round of 54 to hold the lead with a total score of 158, with a very close second place held by Cale Leiviska who shot a 52 today and is only 1 throw behind at 159.
It is important to note three things at this point:
There has never been a repeat MPO winner of the MSDGC/Vibram Open series.
Cale Leiviska won the MSDGC in 2007.
Vibram Open TD, Steve Dodge, was heard to say that he would pick Cale as one of his dark horses to win this year.
There is a gap of 8 throws between second place and third.  Tied in third place at 167 are Bradley Williams who shot a 57 today, current World Champion Paul MacBeth who had his best score so far in the tournament with a 53, and Will Shusterick who had the hot round today with a 50 that was 10 throws better than his second round and matched the overall tournament best score first set by Ricky Wysocki in Round 1.  One throw back at 168 are Steve Brinster and Cameron Colglazier who are tied for sixth.  Another throw back at 169 are Eric McCabe and JohnE McCray who are tied for eighth place and another throw back at 170 are Nikko Locastro and Nate Doss tied for tenth place.
On the Ladies side, Val Jenkins and Current World Champion Sarah Hokom flip-flopped their scores from yesterday's round and they are now tied for first place at 197.  Only one throw further behind is Catrina Allen in third place.  The second ladies card in the final round will be made up by Paige Pierce, Des Reading, and Brittany Blair who hold fourth through sixth place respectively.
The first cards tomorrow morning at Maple Hill will be the Amateurs who made the cut in the VibrAM tournament that ran on the nearby Hyland Hills course the last two days.  The first National Tour Pro card will tee off at 10AM, the NT Ladies cards start at 12:30pm and the men's lead card will go off at 2:00pm.
It is important to note that the rich Vibram Open purse is not the only thing the Pros are playing for tomorrow.  At stake is also the final event in the National Tour Elite Series points race which is sponsored by Vibram Disc Golf and awards both trophies and cash payouts.  For the ladies, Val Jenkins leads that race with 295 points, Catrina Allen is second with 288 points, Paige Pierce is third with 281, and Sarah Hokom is fourth with 274.5 points.  Paul MacBeth leads the men with 283.5 points, Will Shusterick is in second at 281 points, Dave Feldberg is third with 279, and Nate Doss is fourth with 263.  All male competitors who place in the top 40 at the Vibram Open will receive Vibram Open NT points to add to their current totals and all twelve women will receive Vibram Open NT points to add to theirs.
So, some questions remain to be answered during tomorrow's fourth round at the 2012 Vibram Open:
Will Cale Leiviska rise to the challenge and be the first ever MPO repeat winner of the MSDGC/Vibram Open series after nine years of its history?
Can Val Jenkins become a repeat FPO champion at the Vibram Open or will Sarah Hokom win back-to-back Vibram Opens?
Will anyone be able to break into scoring in the 40's on the Maple Hill Gold Course this year?
Who will win the National Tour Elite Series and take home the trophies and extra payout?
Tune in tomorrow at 10AM Eastern to www.pdga.com for the live scoring of all cards at the Vibram Open to find out!
Photo Credit: LEL Photography