Vibram Day 2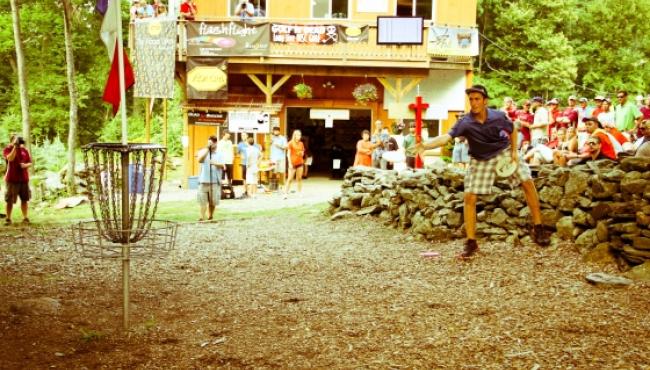 Day two at the 2012 Vibram Open dawned clear and beautiful. It warmed up pretty good to about 90 degrees but the weather report said it would be the hottest day of the weekend so tomorrow may be a bit cooler.

For most players the motto of day two at the Vibram Open was "What-did-I-learn-yesterday-to-improve-my-score-today?" A full 59% of the men's field improved their scores, while 7% shot the same score, and only 34% shot worse.  The women almost reversed the numbers with 42% improving their scores and 58% shooting worse.

For the men the single largest improvement was made by Steve Heckathorne who shot a full 13 throws better than he did yesterday by carding a 65.  Next was Nikko Locastro who shot twelve throws better with the hot round of 51, then Kevin Rarick and Nick Economos who both shot 11 throws better and Philo Braithwaite who shot 10 throws better.  Nikko and Philo's efforts moved them up into the hunt with a five way tie for 11th place with Paul McBeth, Eric McCabe, and Dave Feldberg.

For the ladies, Lisa Warner shot 6 throws better than yesterday and Brittany Blair and Melody King improved by three throws each.  Wendy Boutin improved by two throws and Lindsay Lugo by one.

So, what happened with the leaders?  Well, Ricky Wysocki shot four throws worse in his second round but his tournament hot round of 50 yesterday keeps him anchored in the top spot leading the tournament at 104.  Cale Leiviska, who shared today's hot round of 51 with Nikko, was five throws better than yesterday which places him at 107 in second place.  Cameron Colglazier dropped two throws but he holds third with a total of 108.  Nick Gagne's consistency of shooting 55-55 for a 110 has him tied with Bradley Williams who improved his round by 6 throws to move up into the tie for fourth.  Tied for sixth place at 111 are JohnE McCray who got there by improving by five throws and Steve Brinster who slipped only 1 throw going 55-56.

The top six ladies all struggled with a bit of slippage of their scores today and the degree to which they contained that slippage dictated the standings going into Round 3. Sara Hokom, Val Jenkins, and Catrina Allen all held the slippage to three or less strokes and they hold first through third.  Paige Pierce had a bit of trouble today, but she is still tied for third with Catrina.  Des Reading is in fifth place and Melynda Apton holds sixth.

Remember that all players on all cards are being reported via PDGA live scoring. The first men's card tees off at 7:30AM, the first ladies card at 10:30am. The lead ladies card is at 11:00am and the lead men's card is at 2:30pm. Tune in to see who makes a move to win the Vibram and the NT Points Series!
Photo Credit: LEL Photography