PDGA Member Benefits
Benefits of joining the Professional Disc Golf Association include playing in PDGA sanctioned events at a discounted rate; competing in member-only events –  A-tier, National Tour Elite Series, and PDGA Major Events –  tracking player points, ratings, and player statistics. Receiving four copies of the official publication of the PDGA –  DiscGolfer Magazine; receiving weekly e-newsletters with the most current and up-to-date disc golf related information, and eligibility to run for office and vote in elections, and more!
Check out just some of the additional benefits available below. We update this page frequently as we work to provide you more value for your membership dollars. Check back regularly!
Discounts and Deals
UDisc

All current PDGA members are eligible for a free subscription to UDisc Pro – the official mobile app of the PDGA. Discover courses, keep score, track stats and improve your game with the #1 Disc Golf App.
---
A list of participating hotels, discount codes, and reservation numbers available at the time of printing are listed on the reverse side of your PDGA membership card.
We encourage all members to take advantage of the following discounts when traveling on personal trips and, or to one of over 4,000+ PDGA events a year!
Office Depot
Save on everything in the store at Office Depot with your Store Purchasing Card, one of the many perks of our Office Depot Small Business Savings Program. Want in on our Office Depot Small Business Savings Program? Join now to receive your own Store Purchasing Card, get immediate access to online savings, connect to fantastic digital services and enjoy more exciting business benefits.
To shop online, you will need to create an account, and visit: https://community.officedepot.com/GPOHome?id=03885817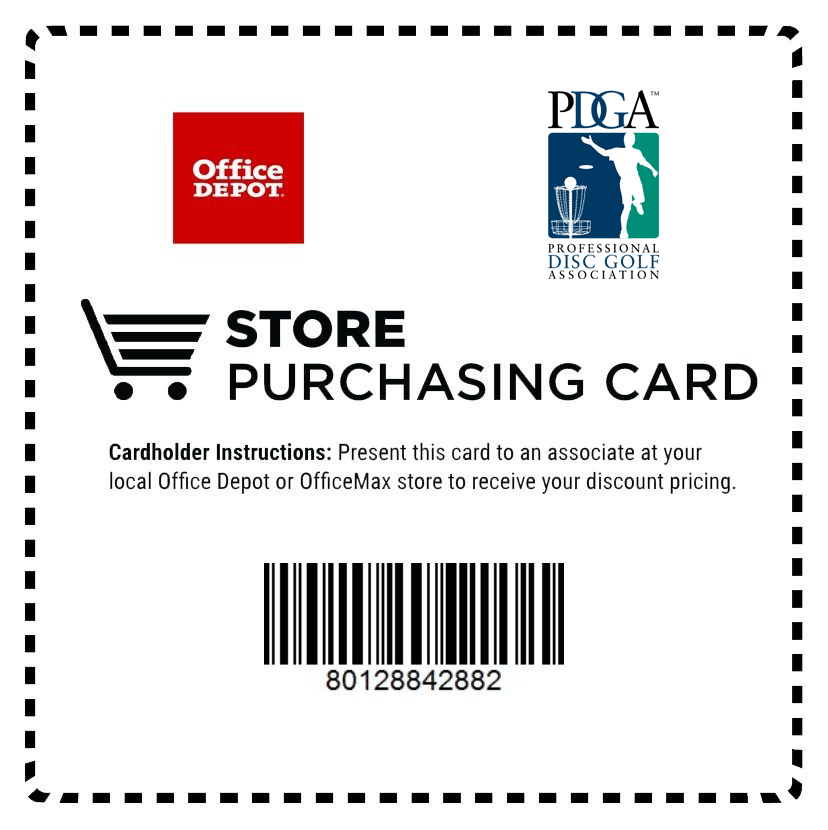 ---
Enterprise Rent-A-Car & National Car Rental
Enterprise Rent-A-Car and National Car Rental are offering a 5% discount for PDGA members. This discount is applied to their already low competitive rates. The staff is always friendly and sends you on your way with a bottle of water after a speedy check-in/out. So give them a call the next time you travel to an event....or any destination!
Make your Enterprise Rent-A-Car and National Car Rental reservation today!
Corporate Code: XZ26061
---
Wyndham Hotels & Resorts
Professional Disc Golf Association members can now use a corporate booking code for over 9,000 hotels across  20 iconic by Wyndham brands, now including La Quinta.
To receive the discount, reservations must be made using one of the options below:
Phone: Call (800)-407-9832 and reference the discount code "Professional Disc Golf Association".
Web: Book online at wyndhamhotels.com and use the following corporate code at checkout: 1000028197
Download PDF with discount details »
---
Red Roof Inn
The Red Roof Inn would like to offer a 20% discount off the regular rate to all PDGA members at 400 Red Roof Inns throughout the United States. Also, they will be giving a percentage back to the PDGA! Simply refer to your Volume Plus account number VP545283 and mention PDGA when making a reservation at 1-800-RED-ROOF.
Volume Plus Number:  VP545283
Booking online: https://www.redroof.com/partners/pdga/ 
---
Motel 6
Motel 6 is pleased to partner with the PDGA and offer a Nationwide 10% discount to our members! You can count on Motel 6 to provide clean, comfortable rooms at a great price. The PDGA Discount is valid at Motel 6 locations in the US as well as Canada. To obtain your discount book reservations online or call 1-800-466-8356 and reference the CorporatePlus/ID Number: FIOOV7. Walk-ups are also welcome. Motel 6 will be giving a percentage back to the PDGA. 
CorporatePlus/ID Number: FIOOV7
---
GlassOnWeb
GlassesOnWeb is proudly offering all PDGA members a 10% discount on prescription eyewear, designer frames, and services. PDGA members can enjoy this discount immediately by entering code PDGA10 in our checkout area before purchase. Please note, our invoices are recognized and accepted by a majority of insurance companies (Out of Network Providers.) As well, eyeglasses purchased through our online retail store can be claimed on your employers' vision plan. There are no restrictions on this offer. 
Corporate Code: PDGA10
---
Discounted Retail Printing
Printastic

Printastic.com offers custom printed products that include all types and sizes of outdoor banners - heavy duty banners, double sided banners, pole pocket banners and mesh banners. Their sticker products include rectangle, round, square, oval and die-cut stickers as well as window decals, wall decals, and other adhesive products. Additional products include magnetic signs, banner stands, A-Frame signs, yard signs, and more. Printastic.com uses grand format printing technology to produce high quality, high-resolution output that looks great, lasts long and gets maximum attention. Their easy to use online design tools can be used to create your ideal message, or simply upload your existing artwork to get started. The ordering and checkout process is fast and easy - saving you both time and money. Try printastic.com today to experience an easy and affordable new way to spread your message.
PDGA members receive 20% off the total price on every order – Contact Steve (information below) for a discount code specifically for PDGA members.
Steve Kozle, Vice President
Phone: (248) 859-4008
[email protected]
Disc Golfer's Code
The retailers listed below have partnered with the PDGA, offering discounts to those that wish to have professionally printed Disc Golfer's Code and/or Caution Flying Discs signs. If you work for or know of a retailer that may be interested in being added to this list as a PDGA partner, please send us a message to let us know.
Include your PDGA number when placing an order.