Vibram Day 1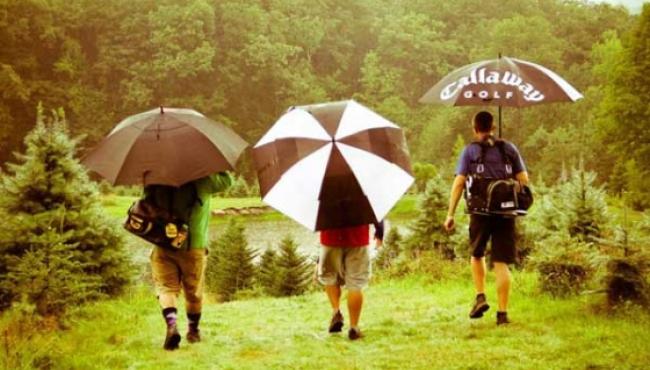 The Vibram Open plays four rounds this year and Thursday was Day 1 of the crowning National Tour Elite Series event sponsored by Vibram Disc Golf.  And it started off looking really, really bad.
Some storms had thrashed the area during the night before, and they were still working their way through.  Thankfully the lightning was at the center of the storm far enough away, but at least one of the storm's rain bands made its presence more than well known to the players with the early tee times on the Maple Hill Gold Course in Leicester, Massachusetts.
Despite the ominous start to the day, the foul weather cleared out and by midday it was a beautiful New England day with just some blustery winds as reminders of the earlier turmoil.
Along with the early bad weather came an early clubhouse leader, Cameron Colglazier of Mobile, Alabama who clearly didn't let the weather mess with his game as he shot an outstanding 53 on the tough Maple Hill Gold course despite his 7:50am start in the heavy rain. As only the third card out on the course, Cameron's clubhouse lead was to hold up for quite some time.  In fact, it wasn't until a bit after 5pm when Ricky Wysocki entered the clubhouse having scored an outstanding 50! 
So the men's top two cards for Round 2 will be:
Two other players, Garret Gurthie and Will Schusterick also shot 57 and an additional 9 players are at the score of 58.
On the ladies side of the action, the hot round was shot by Paige Pierce who carded a very nice 62.  Sara Hokom and Val Jenkins are two throws back at 64 and will play with Paige tomorrow, while Catrina Allen and Des Reading are another two throws back at 66 and their card will be rounded out by Melynda Apton who shot a 67.
So, the first day of the 2012 Vibram Open is complete.  On Day 2 the first men's card will tee off at 7:30am Friday morning and the men's lead card will tee off 7 hours later at 2:30pm.  The four threesomes of ladies start teeing off at 12:10 with the lead ladies card teeing at 12:40.
Keep an eye right here on PDGA.com for more coverage and live scoring of all competitors at the 2012 Vibram Open!
Photo Credit: LEL Photography