Vibram Open Preview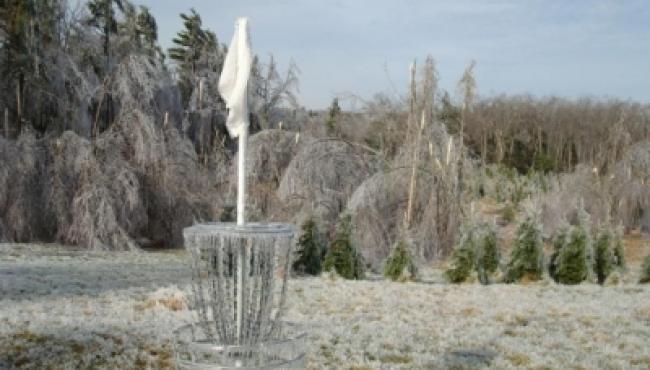 PDGA National Tour Makes its Final Stop in Leicester, MA for the Vibram Open
Avery Jenkins, Val Jenkins, & Davis Johnson to Defend their 2008 Titles at Maple Hill Course
By Steven Dodge & Jeff LaGrassa
It was mid December, 2008. Plans for Christmas vacation were being finalized, last minute gifts were just thoughts on the horizon. Then mother nature took over and Leicester was hit by the worst ice storm imaginable. For the better part of a long winter night, trees and huge branches were coming down every three to four seconds, way too close to the house.
We woke (after precious few sleeping moments) to no power and a cold house. Misty asked me to go outside to see if I thought school would be cancelled. I stepped outside and yelled back that school was definitely cancelled - I was looking at a war zone. Everywhere around the house - and the course and the farm and the town and neighboring towns - trees and branches, crusted with ice, lay on the ground like beautiful, helpless, crystalline structures. We were ground zero of an ice storm that would make national news.
It took me, a chainsaw and the Gator (our four wheel drive vehicle that fills the water stations) the better part of an hour to make it over to Grandma's house across the street. She was cold and confused and wanted to start up her wood stove. (it had been disconnected the previous summer but at that point she really did not care) Two days later, the roads were cleared enough so pick-up trucks could get by. Four days after that we got power back (and we were by no means the last to get power back.) We cooked on the wood stove, got a hand crank radio, and melted snow to flush the toilets. We drank Brazilian Springs water as we had some cases left over from last year's Vibram Open.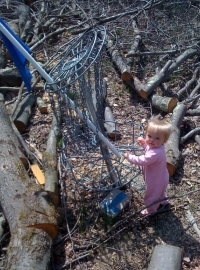 After getting life's basics back in order, we went and inspected the course. It was so beautiful and so destroyed. The sun just sparkled off the ice. The trees looked so helpless as they bent towards the ground as if gravity had been increased 100-fold. The willows on hole#18 were on their sides hugging the ground with their spindly arms.
It was no small feat to get Maple Hill even playable, but there is a pure love for this game that cannot go unnoticed. New friendships were made, old friendships were reborn, and lots of chainsaw and wood chipper and burn days lay ahead. The Vibram Open was in eight short months and we had our work cut out for ourselves.
When you look at the tree line and see the missing branches and trees, or when you look at the devastated Work Horse basket (it was hit by two large trees as it held its post through that long night on blue hole#11), remember all of the people that love this tournament, this course, and this sport: Good old fashioned love. We worked our tails off so you could enjoy yourselves, so please do.
Flash forward 8 months later, and Val Jenkins is coming off her third consecutive Open Women's Championship with a 14-throw margin of victory over Des Reading at the 2009 PDGA World Championships in Kansas City. And in one of the most memorable finishes ever, and the first playoff in the Open division since 1987, after leading by as many as 10 throws earlier in the week, Avery Jenkins prevails in a sudden death playoff over Josh Anthon to win his first World Championship title. So what does Avery do for an encore over the weekend between Worlds and the last National Tour event of the year? He only prevails in a playoff at the Pittsburgh Flying Disc Open Supertour event in Pittsburgh, where he was reportedly down 2 throws on the tee of the 16th hole, after which he then proceeded to nail for an ace!
At last year's Vibram Open, Avery Jenkins destroyed the field with an impressive -14 under par performance, with eventual 2008 World Champion Dave Feldberg seven strokes back at -7, two players at -1, with the rest of the Open field at even par or higher. Having won the last two National Tour Events at the Brent Hambrick Memorial Open and First Class Challenge in Des Moines, IA, the stage is set for another epic battle between Feldberg and Jenkins. Other top competitors in the field include:

* Barry Schultz, former PDGA Worlds and USDGC Champion and currently 8th in the PDGA World Rankings
* Nikko Locastro, previous 2009 National Tour winner and currently 10th in the PDGA World Rankings
* Cale Leiviska, currently 13th in the PDGA World Rankings and coming off a 4th place finish at the 2009 PDGA World Championships in Kansas City
* Eric McCabe, who is currently 20th in the PDGA World Rankings and came in tied for 3rd place in last year's Vibram Open at Maple Hill.
Val Jenkins will return to Massachusetts to defend her 2008 title, as she prevailed with a 3-throw victory over Angela Tschiggfrie in last year's contest. Val is bringing impressive momentum into this weekend's event, also with a victory at last weekend's PFDO, as well as either a title or runner up finish in all but one of the events played so far this year. But her nemesis, Des Reading, who prevailed with a 6-throw victory over Val in Jenkins' home state of Ohio at the Brent Hambrick Memorial Open, will also be in the field. Des knows the world class Maple Hill course intimately, as she won four consecutive Marshall Street Disc Golf Championship titles there earlier in the decade, and should prove a formidable opponent.
The Vibram Open at Maple Hill is the final event of the Professional Disc Golf Association National Tour, and offers a purse of over $45,000 with the top finisher receiving $2,500. The richest National Tour event of the season lives up to its motto, paying out 72 Open players, more than any other tournament. A beautiful, challenging championship caliber course with multiple ponds, long fairways, wooded holes, open fields, and a clever use of elevation, the Maple Hill course has been expanded for this year's event, with two holes changed from last year: Hole#1 has been lengthened and a peninsula green has been added. Hole#3 has been pushed back and to the right so that drives that fade left are properly punished. Par for this year's event has been set at 62.
For live webcasts of the lead card, live commentary by Billy Crump, live scoring of the top five Open cards, video highlights, player interviews, photo galleries, and more, be sure to stay tuned to the Vibram Open homepage and pdga.com. The Vibram Open will be setting a new bar for live disc golf coverage and you will be able to access it all!