Playoff Pressure
Playoff Pressure
2023 DGPT - MVP Open Round 1 Recap
Friday, September 15, 2023 - 08:05
The skies were clear over Maple Hill as the FPO division played the opening round of the 2023 DGPT Playoff — MVP Open.
Even though the course played tough with all but three holes averaging over par and every player taking at least one bogey, the top four players managed to stay under par for the day in the final DGPT Playoff presented by Barbasol event.
After shooting a 1042-rated, six-under round on Day 1, Eveliina Salonen currently sits in the lead with Hailey King just two strokes behind. Both players are known for their impressive skills on the tee and today was no different as they both led the field with 72% Circle 2 in Regulation, according to UDisc. Salonen finished the round with 5.37 strokes gained tee to green, picking up a couple more birdies than King and finishing with a 44% birdie rate. While Maple Hill is challenging, Salonen feels that the course suits her game well.
"You have to hit your lines, you have to have the touch, you have to also throw far," Salonen said after taking the lead in round 1.
Salonen was able to consistently put herself in position for birdie and she capitalized on those opportunities with a solid performance on the putting green. Throughout the round, Salonen made 10 out of her 11 putts inside the circle and finished the day with 3.22 strokes gained putting. As well as picking up plenty of birdies, Salonen was able to avoid giving too many strokes back as she took only two bogeys and never went out of bounds.
"The holes are not that long, but you just need a little tree kick and you're OB," Salonen said after finishing the round as one of only four players with no OB strokes, "It's easy to play over par."
Now with some momentum after taking a fourth place finish at the World Championships just a couple weeks ago, Salonen has a solid start to taking down a win in her first Elite Series event in the U.S. since the Jonesboro Open back in April. She also faces the added pressure of needing to win this event in order to earn a spot on the DGPT Tour Championship in October.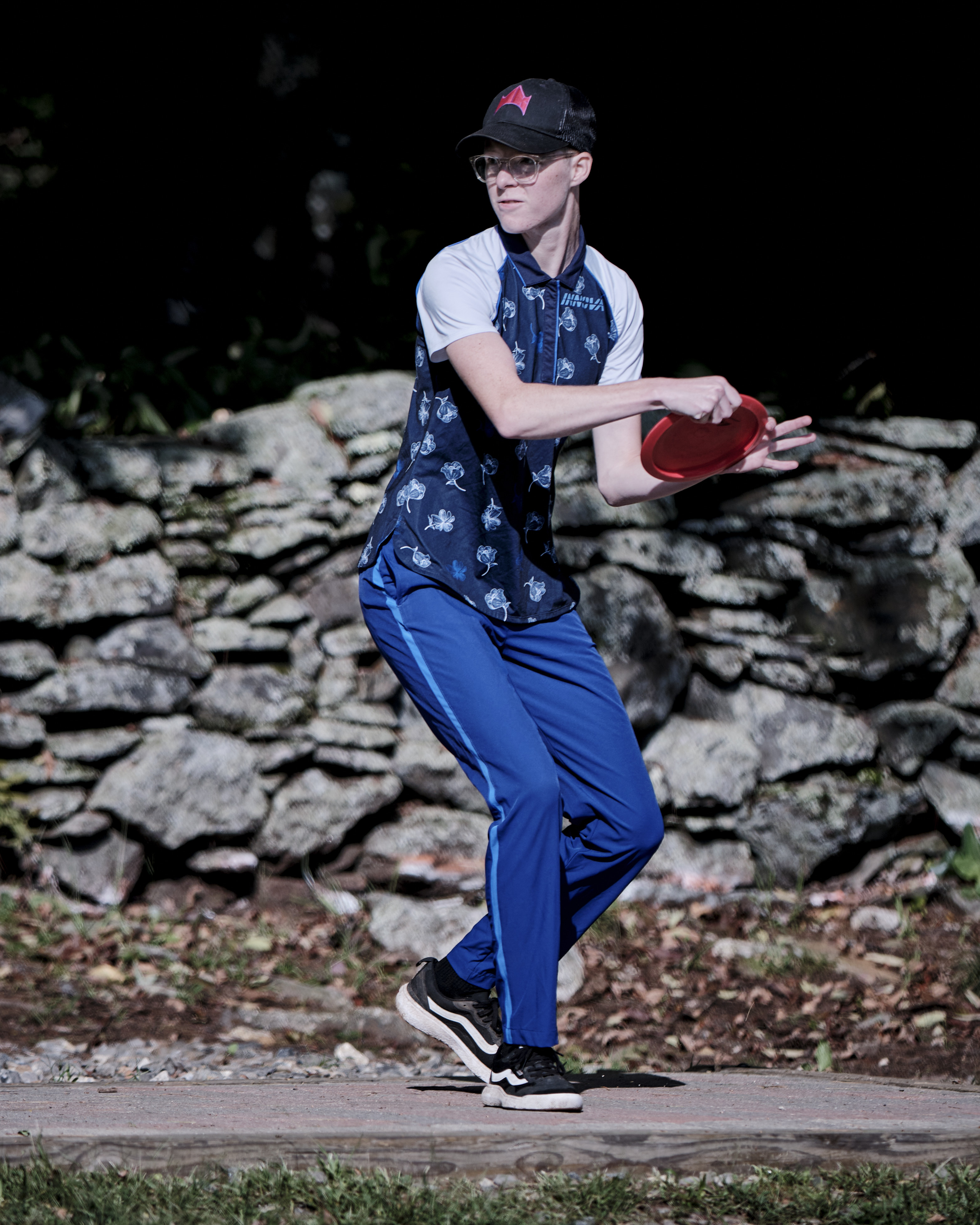 King has an Elite Series victory this season after winning the Dynamic Discs Open and now she's looking to play a consistent game to take down another title. Although King is known for playing aggressive golf, her approach in this tournament has been more measured to keep from making too many costly mistakes.
When asked about her gameplan going into the next round, King said, "I think I'll stick with the safe gameplan just because after watching the previous MVPs, whoever can stay closer to par on the negative side is going to win the tournament. I don't need to play aggressive out here, I don't need to get every birdie I can, I just need to keep the pars going,"
Salonen and King will be joined by Ohn Scoggins and Kristin Tattar on the lead card as they return to Maple Hill for Round 2 of the 2023 MVP Open.
Orum and Callaway Tied for the Lead
In a year full of logjam leaderboards, the MPO field once again finished with a tie for the lead in the opening round of the 2023 MVP Open.
When the dust settled, there were only three players in the entire field who did not finish in a tie. At the end of the first round, Matthew Orum and Ben Callaway came out on top with eight-under performances.
"It's so tricky, every hole has got its own little character, any little bit can happen," Orum said after his bogey-free round.
Orum was the only player in the field to avoid taking any bogeys. According to StatMando, Orum has 14 bogey-free rounds at Elite Series and Majors this season, the most of any player in the field. Along with 83% fairway hits and 92% C1X, Orum was able to get himself in position to rack up birdies through the various shot shapes demanded by the course. While the front 9 proved challenging for the field with four holes averaging over par (hole 9 saw just one birdie on the day), Orum had a solid three-under start.
"I just try to take what the course can give me. I quit trying to park all those holes and just try to put them in play, get my 35, 40-footer on some of them," Orum said when asked about the front 9, "I'm just trying to use my brain for once on those holes."
Callaway played a very similar round to Orum, scoring nine birdies and taking his only bogey of the round after an OB stroke on hole 5. Callaway was also able to put himself in position to score and his 100% C1X putting performance meant those opportunities didn't go to waste. Now with a share of the lead, Callaway has earned his first lead card appearance at an Elite Series or Major since the 2021 Des Moines Challenge.
"Coming into this event, I feel very confident. I usually play very well here at Maple Hill," Callaway said when asked how he felt coming into the final playoff event of the season.
Both Callaway and Orum are looking for their first Elite Series win. Callaway tied for 2nd place at the Jonesboro Open earlier this year and Orum is just coming off a 3rd place finish at the World Championships. Orum has had more experience on the podium with 12 podium finishes at Elite Series and Majors over the course of his career, the most of any MPO player without a win, per StatMando.
Callaway and Orum will be joined on the lead card by Kevin Jones, who made it to eight-under but took a bogey on the final hole to fall back into solo 3rd place. The lead card will also feature Bradley Williams, who is one of four players tied for fourth. As some players look for their first big win and some players look to score tour points to earn a spot on the Tour Championship, the action will continue in round 2 of the 2023 MVP Open.