Magical Maple Mayhem
Magical Maple Mayhem
2023 DGPT - MVP Open Final Recap
Monday, September 18, 2023 - 10:16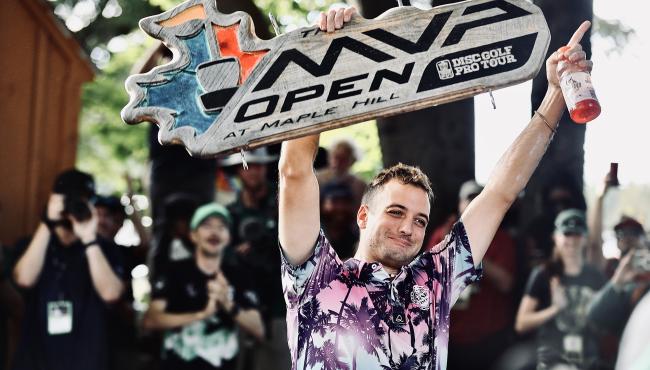 Maple Hill delivered once again.
Staying on script for the wild 2023 Disc Golf Pro Tour season, the final DGPT Playoff event of the year wrapped up with a wild finish on Sunday at the 2023 MVP Open at Maple Hill.
One win was decades in the making and the other set the stage for the on-deck PDGA Major.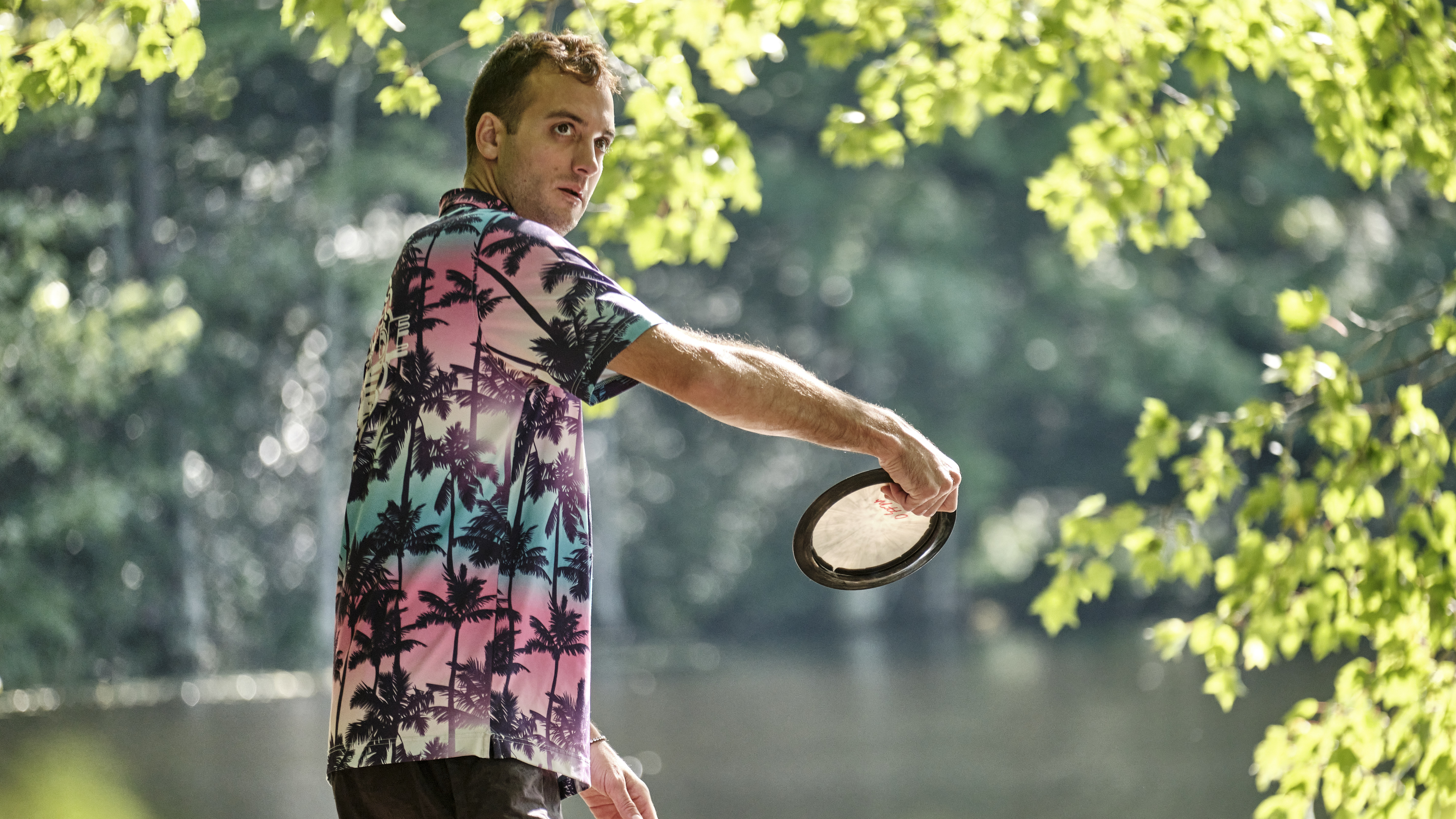 MattyO, Champion
20 years, three months and 16 days ago, Alabama's Matthew Orum competed in his first Elite Series event at the 2003 DG Hall of Fame Classic.
For the next two decades, Orum recorded 12 podium and 60 Top 10 finishes on the Elite Series and at PDGA Majors in 137 events.
On Sunday at Maple Hill — 7,413 days after that first attempt — Orum broke through with a dominant finish to take down the 2023 MVP Open, setting off a raucous and emotional scene at beloved Maple Hill from both the crowd and his peers alike.
An unconscious finish, Orum birdied seven-straight on the back nine on Sunday and with every made putt, the emotion grew. His 9-under round put him in the clubhouse from the chase card with a 5-stroke lead that no one, not even a star-studded lead card of Calvin Heimburg, Simon Lizotte, Eagle McMahon, and Ben Callaway, would touch.
Orum started his run with a 60-foot connect on hole 11. He added another Circle 2 make on 13 and, staring down a death putt on 17, he left no doubt.
The chants of 'Roll Tide' and 'MattyO' echoed through the hallowed grounds of Maple Hill during his run for the goal line. The crowd erupted when his upshot on the make-or-break 18th landed safely. It continued as he waited for the final card to complete their round and erupted once again when Orum, after two decades on the grind, was crowned champion.
According to StatMando, no out-right leader on Championship Sunday has gone on to win at Maple Hill since 2017 and that streak continued. Also from the chase card, Aaron Gossage surged to a second-place finish. Ricky Wysocki made a push as well from the chase, finishing in a tie for fourth.
Out of the lead card, McMahon would be the only one to podium, finishing second tied with Gossage. Lizotte and Heimburg finished tied with Wysocki and Callaway in solo seventh.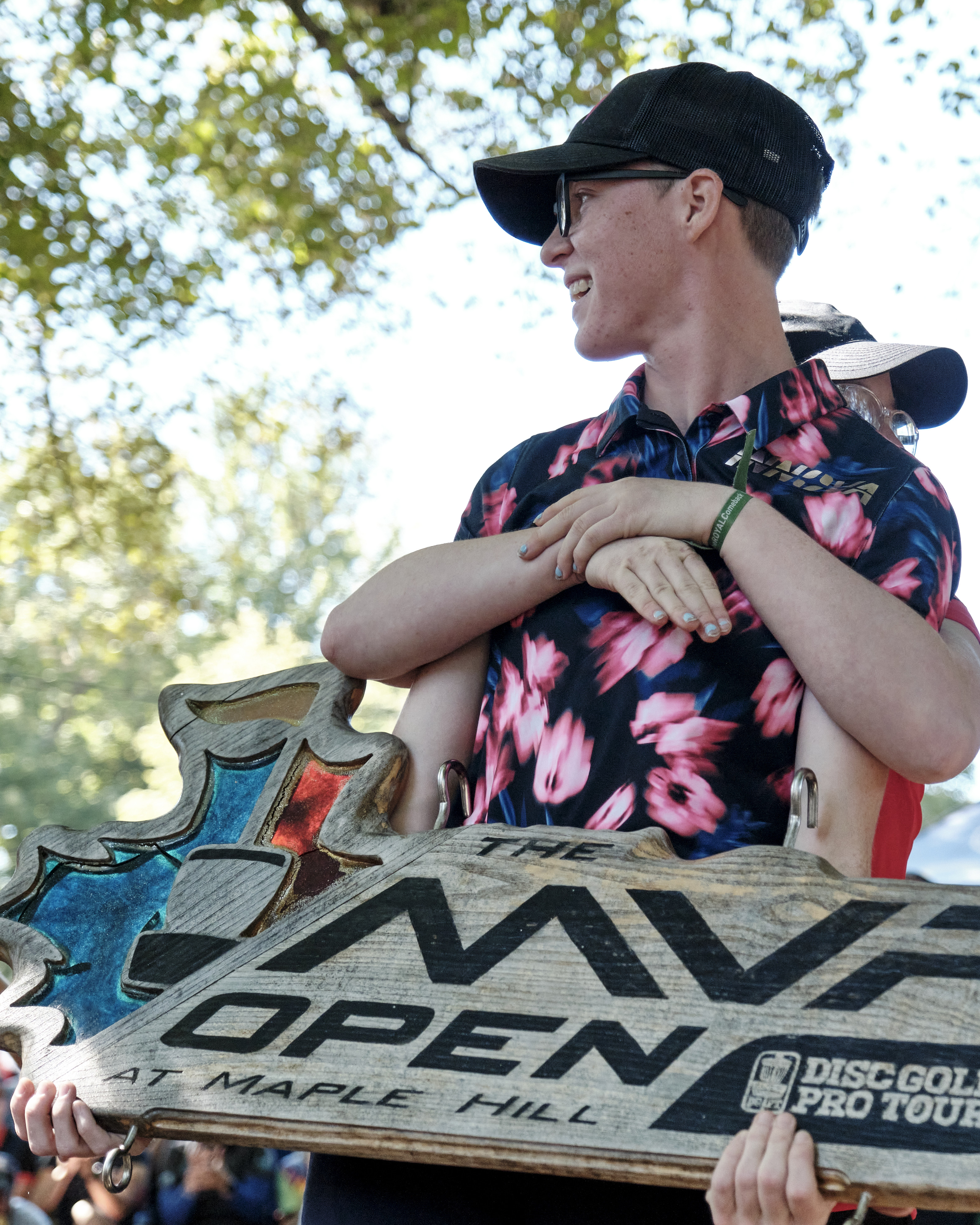 King Storms to the Finish
The stage was set Sunday morning with Hailey King recording her second DGPT win of the season with a clean finish in a showdown with Kristin Tattar.
They could run it back next week at the 2023 United States Women's Disc Golf Championship as King looks to defend her PDGA Major title and Tattar looks to complete the season grand slam at the Majors.
But this weekend, particularly the closing stretch, belonged to King.
It was a wild start with King, who entered as the co-lead with Ohn Scoggins, was slow out of the gate. Tattar was not, building at one time a five-stroke lead in a 5-under through eight-hole start.
But Tattar didn't keep it clean, starting with a double bogey on nine and three more single bogies down the stretch, including 17 where King birdied for a two-stroke swing. King wrapped her 4-down back nine with a tap-in birdie on 18 to slam the door.
Sticking to her gameplan which, in her own words, led to 'boring' golf, King kept it clean all four rounds for the most part. She led in strokes gained tee-to-green (13.53) and was first in fairway hits (69%), according to UDisc. She was top five in the major putting categories as well.
Tattar finished in tie for second with Scoggins, one stroke back. Eveliina Salonen was fourth and Holly Finley, battling for and securing a spot in the DGPT Championship in a few weeks, finished fifth.