Vibram Open Friday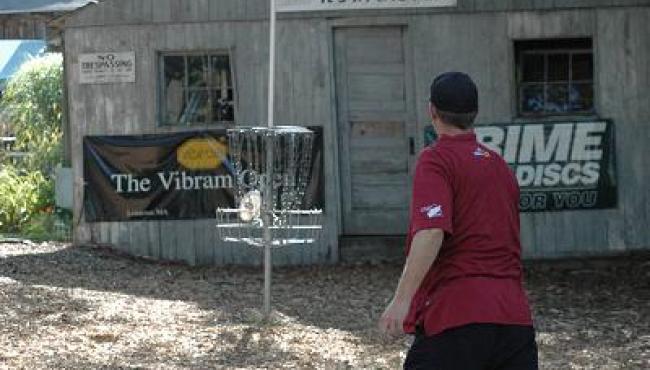 The disc golf lollapalooza that is the Vibram Open rolled into Friday with the start of singles rounds. After the whirlwind of activities on the previous day which included a "5 Spots" qualifier for late entrants, several different doubles contests, a National Tour clinic, and the Players Meeting, the first cards would go off from the first tee bright and early at 7:30 AM, with the weather forecast of sunshine and highs in the mid 80s: perfect weather for golf!

With beavers swimming in the fog-covered ponds and sun trickling through the lush woods and burning off the morning dew, the course was in simply pristine shape despite a nasty ice storm which nearly wiped out the course the previous winter. The world class Maple Hill course features a simply sublime mix of wooded gauntlet holes, open field shots over a working Christmas tree farm, several pond hazards with forced water carries, hefty elevation changes, and OB hazards galore making for a challenge which would frustrate some of the best in the sport today. With six pro par four holes and the pro par five 12th hole which plays some 860 feet through heavy woods before finishing out in the open, the Maple Hill course is a gold level par 62 course with a scratch scoring average of 64! By mid-morning, Charlie Holmgren had the early clubhouse lead with a 61, but shortly after lunch the first score under 60 was posted with John Fowler's 58.  Steve Brinster came in just minutes later with a 56, despite scores of five on two of the first three holes. By mid-afternoon, Jeremy Koling nabbed several early birdies and he went bogey-free for 17 holes before finally recording a bogey 5 on the 18th hole which is surrounded by OB. His 55 led the field at that point, but a palpable buzz starting growing around the grounds of the tournament: Barry Schultz had started off with a simply other-wordly six birdies and three pars on the first 9 holes to shoot an outrageous 22 on the front nine; this start was highlighted by holing a downhill upshot on hole#6 which was reportedly in the 150-180 ft. range for deuce!  
News of Barry's start spread like wildfire around the course, tournament central, and the legions of disc golf fans around the world following the live coverage on the internet. With a deuce on the 425 ft. 10th hole and a birdie 3 on the 840 foot pro par four 11th hole, it was apparent that Barry was simply in the zone. He would take his only 4 of the round on the 12th hole, but it was still a birdie on that pro par five hole. The three deuces in a row he took on holes #13,14 & 15 dropped jaws all around, and now on pace for a 47, at this point there were thoughts that we were witnessing history with possibly one of the highest rated rounds of all time. But as is the fickle nature of our sport, disaster would strike on the next hole when Barry's drive on the 16th hole went OB, and he was unable to recover, carding a circle 6. But with a strong finish of 3 on hole#17 and a birdie 3 on the par four 18th hole, Barry would "settle" for a 49, which was an isane -13 under par, a new course record, and an unofficial round rated at 1101, one of only a handful of 1100+ rated rounds in the ratings-era history of disc golf. With his next closest competitor at 55, Barry goes to sleep on a six throw lead. However, with 36 holes to play, there is simply too much golf yet to be played and anything can happen on a course with OB hazards lurking everywhere.

In the Open Women's division, Elaine King bombed in a nearly 100-ft. approach from deep in the Christmas trees to card a birdie 3 on the 18th hole and match 3-time PDGA World Champion Val Jenkins' score of 65. Sarah Stanhope lurks only two throws back at 67.

In Pro Grand Masters, Dean Pfeifer's strong round of 59, unofficially rated at 1029, has him 3 throws clear of Canada's Eric Vandenberg.

With live scoring of several of the top cards, live video feed covering the lead card, commentary by Billy Crump, player interviews, blogging by John Borelli, tabbed viewing of PDGA & NEFA discussion boards, one click access to Twitter and Facebook updates, the Vibram Open media blitz remains in full swing tomorrow. Be sure to follow along!
Links
Vibram Open Scoreboard & Tee Times at PDGA.com
Vibram Open Media Page
Vibram Open Official Website