Stay Sharp At Home: Physical and Mental Conditioning
Stay Sharp At Home: Physical and Mental Conditioning
There's more to disc golf than throwing
Tuesday, April 14, 2020 - 11:17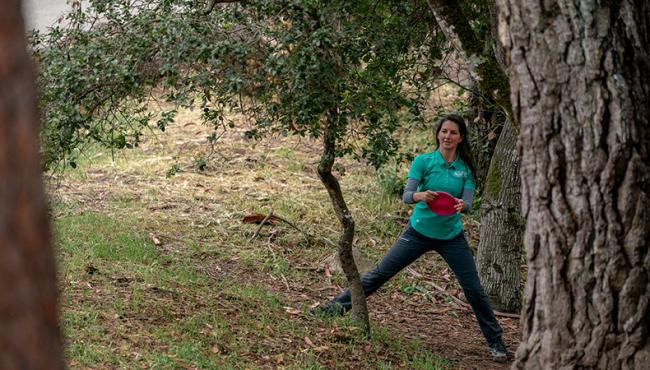 The COVID-19 pandemic has upended life for many, forcing millions on stay-at-home orders to stop the spread of the novel coronavirus. And while it pales in comparison to the loss of life, staggering unemployment numbers, and broken social ties, disc golfers are still feeling the impact.
The PDGA has driven the idea that the best way this sport and its passionate community can do its part is to stay home, and that hasn't been an easy message to send. We're the first to tout disc golf's benefits, both physical and emotional, which makes it especially difficult to not be able to lean on it during a time of widespread stress. We know that the sense of euphoria one can feel when hitting the perfect line can't be replicated from the basement. The rush of crashing the chains for an unbelievable par save, likewise, can't be felt in your backyard. 
But when the time comes to return to the course, it'll help to know that you've used this time to improve — or, as one of our interview subjects put it, "level-up." So we called on a few top professional players, a disc golf fitness expert, and some of our staff to offer this series of strategies to keep your game sharp while you stay home. We hope it provides some form of relief and helps scratch the itch we all feel always, but especially now. 
We're closing out this exercise with some of disc golf's more overlooked, yet still vital components, ones that are ideal for focus in these challenging times: physical and mental conditioning.
Run Up The Score
Paul Ulibarri's 2019 season was cut short early after he tore his ACL at the Portland Open last June. Now fully healed and ready to tackle courses, he had to work on his physical conditioning — beyond the knee — before he was comfortable coming back. He gained 20 pounds, he said, during his rehab, as he wasn't able to keep up his cardio.
Now, he is taking advantage of this downtime during the coronavirus, as well as Centers for Disease Control and Prevention guidance that encourages running, to make sure he keeps it off.
"I think that that's probably the number one thing," Ulibarri said. "Everybody's allowed to go out and take a jog. Working on your cardio is great."
The 31-year-old is back to running more than once a day, and he's pushing the pace, too: He mentioned that he and his girlfriend challenged each other to their best times, and that he cracked a seven-minute mile for the first time since high school.
"When everybody's out there playing and everybody's trying to set their goals for the year, for the next year, it's always the same thing: 'I wanna be in better shape,'" Ulibarri said. "...It's the hardest thing to do because you do have to stay on top of your disc golf game in order to play good, but you don't necessarily have to be in the greatest shape to win tournaments. But this is a perfect time to meet that goal and set those things up, which is one thing I didn't do when I got hurt."
Take A Ruck
Running not your thing? How about rucking? 
Derived from the military use of a rucksack, rucking is simply a hike with a weighted pack, said Disc Golf Strong Owner and PDGA Medical Committee Member Seth Munsey. He recommends this exercise to his professional clients, and it's easy for the average Joe or Jane disc golfer: Just toss some discs in your bag, add a little more weight in the form of rocks, bags of sand, or water, and get moving.
(As a bonus, you're also connecting with your disc golf bag. We know it misses you.) 
"It translates over to what we do in disc golf, where we are walking with a weighted pack on our back," Munsey said. "It forces us upright, it puts some tension -- forces our core to get engaged, puts some tension in our core."
Additionally, Munsey recommended mixing intervals of brisk rucking with recovery periods — two-to-five minutes of a heightened pace followed by two minutes of a relaxed pace — as a way to get your heart rate used to rising then falling as a means to boost endurance.
"If two disc golfers are walking up a hill at DGLO [Discraft Great Lakes Open] and they get to the top, the one that's gonna be the most cardiovascular fit is the one that their heart rate starts to drop down to normal the fastest," Munsey said. "You don't wanna try to make your next shot when you're still hearing your heartbeat in your ears."
Visualize Success
Madison Walker has battled a series of injuries to her wrist and elbow over the past 18 months, which has given her plenty of time to long for the course. She's also spent plenty of time, then, imagining what her play will look like when she returns, making her an excellent candidate to give advice for those seeking to stay sane right now.
The Florida native has increasingly turned to strategies to work on her mental fortitude, and visualizing her putt, she said, was key. And like many of the strategies we've suggested in this series, she took inspiration from a mainstream sport.
"When I came back, my putting was better than it's ever been," she said. "There's a study on free throw shooting where they separate a group of basketball players into three groups: one that practices free throws, one that does 50/50 practice and visualization, and one that only visualizes free throws. At the end of the study, they all had improved from their baseline the same amount."
Walker has experienced drastic improvements in her putting stats per UDisc Live, jumping from making 46% of her circle 1x putts in 2017 to 68% in 2018. She followed that up with a 70% success rate in 2019 before starting off 2020 at 72%. So let her be the proof: Even if you don't have a basket or would just rather be at the course, you can still get better without even having to throw a single putt.
Breathe
It's second nature, but sometimes we need a reminder: just breathe. Especially during times of uncertainty, it is important to be intentional with your breath so that you can control your body's fight-or-flight response, Munsey said.
"No one thinks the mental is important and tries to level-up their mental training until it's in that moment," he said. "They just got a bogey, now they just threw OB, they're starting to get really upset and now they're trying to search their brain like, 'What do I do for my mental game now?' They're trying to learn it on the fly, they're trying to do it in the moment."
Instead, do it now. Munsey mentioned several smartphone apps, like Calm or Headspace, that walk athletes through specific breathing exercises. It's not just for yoga, or martial arts, he said. Indeed, professional baseball, basketball, and hockey players all employ these strategies.
So, too, do disc golfers.
"I also did a lot of belly breathing, or diaphragmatic breathing, which is a tool you can use to get your body to fool your mind into thinking it's OK when it feels stressed," Walker said. "It's hard to practice high pressure situations when you're injured, like a death putt or coming down the stretch, but if I'm already good at belly breathing I can use that tool effectively."
What are you doing to keep your mental game strong during these uncertain times? Share with us, and your fellow disc golfers, in the comments.