Stay Sharp At Home: Drives and Approaches
Stay Sharp At Home: Drives and Approaches
You may not be able to air it out, but you can still get better
Wednesday, April 8, 2020 - 17:16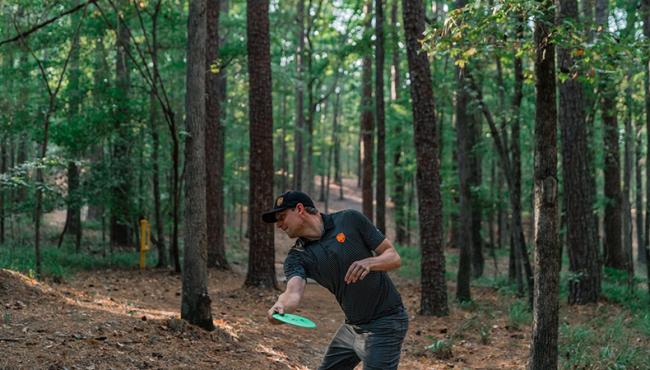 The COVID-19 pandemic has upended life for many, forcing millions of people on stay-at-home orders to stop the spread of this novel coronavirus. And while it pales in comparison to the loss of life, staggering unemployment numbers, and broken social ties, disc golfers are still feeling the impact.
The PDGA has driven the idea that the best way this sport and its passionate community can do its part is to stay home, and that hasn't been an easy message to send. We're the first to tout disc golf's benefits, both physical and emotional, which makes it especially difficult to not be able to lean on it during a time of widespread stress. We know that the sense of euphoria one can feel when hitting the perfect line can't be replicated from the basement. The rush of crashing the chains for an unbelievable par save, likewise, can't be felt in your backyard. 
But when the time comes to return to the course, it'll help to know that you've used this time to improve. So we called on a few top professional players, a disc golf fitness expert, and some of our staff to offer this series of strategies to keep your game sharp while you stay home. We hope it provides some form of relief and helps scratch the itch we all feel always, but especially now. 
Today we're looking at one of the more difficult parts of the game to confine to your home: drives and approaches. It won't be perfect, but is any shot really ever perfect? With a nod to a couple mainstream sports, let's see where we can get better.
Batter Up
You might not be able to air out a crushing drive in the backyard, but you can pretend you're a superstar disc golfer and a competitor in a home run derby if you've got a spare baseball bat handy.
PDGA Events Manager Shawn Sinclair was one of disc golf's early touring professionals, topping out with a career-high player rating of 1018 in 2002 --  the same year he won the Mid-America Open, Discraft Great Lakes Open, and Stockholm Open. Though he hasn't competed professionally since 2009, he boasts a wealth of knowledge and a sweet swing, which he's integrated into this mini-lesson he uses in the Nashville area:
The practicality and ease-of-implementation in this lesson are both high and both repeatable. That's exactly what you're looking for when it comes to drives, but how to practice them once you've got the Sinclair swing down to a science?
Nothing But Net
Well, you just might have to build yourself a driving range. That's exactly what Paul Ulibarri did, and he did it (relatively) on the cheap.
After rehabbing a torn ACL that derailed his 2019 season, Ulibarri -- a road warrior who averaged nearly 42 events per year from 2010 to 2018 -- was raring to pound the pavement again before COVID-19 put the season on pause. Undeterred, he decamped to his home in Seattle and, instead of dwelling on what he couldn't do, got to work doing it himself. 
Ulibarri is now the owner of a fresh turf teepad, as well as a driving net and bench, right in the comfort of his backyard. 
"[I thought] I can't go do anything, so this is what I'm gonna do," Ulibarri said.
With materials sourced from the Facebook marketplace and hardware stores, Ulibarri kept the cost to $150. He even added in a radar gun for fun. 
Still, that doesn't mean you have to go as pro-level as this seasoned pro did. If you've got a patio, or just a level space to serve as a teepad, you can skip the turf. And various online retailers have their own take on golf driving nets. Here's a sampling of choices under $50:
Yes, we know these might not hold up, and we'd suggest several alternative materials you might have around the garage to sub in, including a standard tarp or painter's dropcloth. But again, these are temporary measures to keep your game in check, and having a place to at least practice airing it out will do some good.
Take A Knee
From one injured Paul to another: Five-time PDGA World Champion Paul McBeth battled an ankle injury that shortened his 2019 campaign and saw him spend most of the offseason in a walking boot. But the extra hardware didn't stop him from throwing some tremendous shots.
As impressive as those were, McBeth was at his best when the boot came off and he was back in action at the Memorial Championship. Per commentator Jeremy Koling, McBeth had put himself in an "unbirdieable" position off the 10th tee during round three at Vista del Camino Park.
Sure.
Awkward-stance escape shots aren't exactly the typical attempts that come up in fieldwork, or even during a practice round. But now is the perfect time to get comfortable with being uncomfortable (such is life?) and add another piece of weaponry to your arsenal.
With the caveat here that he is a five-time PDGA World Champion and no doubt has a higher competence level than everyone reading this article, McBeth said executing this shot is all about flexibility.
"I think something that's very underutilized or overlooked is just the flexibility and the strength in your flexibility, being able to extend really far," McBeth said. "And having a lot of balance and strength in your legs is key."
With that in mind, try to incorporate lunges, planks, and other core strengthening exercises into your daily routine. Drop to a knee instead of bending over to pick up your kid's Lego off the floor, or try the golfer's reach when taking your pots and pans out of the dishwasher. It may seem silly, or simple, but these small adjustments can pay dividends. Here's an exercise from our sticks-and-balls cousins we particularly enjoy:
Break It Down
If we're being honest, smartphones became an essential part of our lives long before we were having national discussions about what activities could be deemed essential or not. That computer in your pocket can do more than just help you track scores, or watch videos, or entertain you while you're on the toilet. It's likely got a slow-motion camera on there, too, which means it's time to break down your form.
Set up the camera. Film yourself. Cringe, cry, or celebrate -- this is a safe space -- and then get to work fine-tuning.
If you're not sure what exactly to look for, though, it can be difficult to really get down to the nitty-gritty. Luckily, we asked one of the best drivers in the world to help.
For Simon Lizotte, the process extends beyond just taking a slow-motion video. From there, the German star suggests three specific screenshots for players to capture:
At the x-step: "For right-handed players, when your left foot crosses behind your right foot," Lizotte said.
At your full-extension reach back 
During your pull through. Lizotte: "The power pocket, where your elbow should go to 90 degrees where the disc is in front of your chest — basically where everything goes right or wrong."
"Then you have three pictures, and those three pictures you should compare with whoever you want — if it's me, or Eagle [McMahon] or Paul McBeth, or Ricky [Wysocki]," Lizotte said. "And then you can really see in those three frames — those are kind of the key frames. You can see differences really well if you have actual pictures to look at instead of video."
You've got the tips, and you've got the time. You know what to do next.