Decade on Display: PDGA Hits 100,000 Members
Decade on Display: PDGA Hits 100,000 Members
Member #100000 has the best birthday ever,
Thursday, December 26, 2019 - 20:19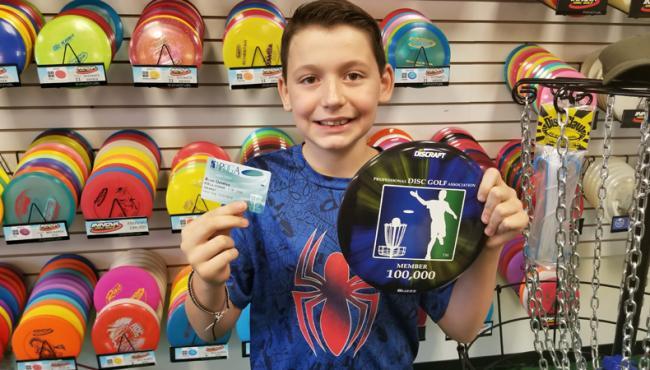 The 2010s saw exponential growth for both disc golf and the PDGA. We're looking back on a phenomenal 10 years in our Decade on Display series, where we reflect and reminisce about the sport's successes both on and off the course. Keep an eye out for more through the end of 2019.
The article below was published on October 25th, 2017, a few weeks after then 10-year-old Ryan Quinlan, by the luck of the draw (with help from his dad), became PDGA member #100000. What's even more remarkable than the chaotic click-race that took place is the dramatic growth that the PDGA has seen in the last decade.
"Steady" Ed Headrick, PDGA member #001, founded the PDGA in the summer of 1976. It would take another 35 years before PDGA #50000 was assigned to Iowa's Robert Huspen in 2011. That's an average growth of roughly 1,430 new members per year. The number of new members has grown virtually every year, with each year breaking the record for new members from the year prior.
"Every year I've said that there's no way we can keep up this kind of growth, and then every year I'm wrong," said PDGA member #003, Dan "Stork" Roddick, who is not only a legend of disc golf and a current consultant for the PDGA Board of Directors, but a legend in all flying disc sports.
Thankfully, Roddick's always been wrong, and the growth from 2011 to the end of this decade has been unimaginable. The 50,000-member milestone that took 35 years to attain was doubled up in a span of just six years (2011-2017). And what's even more impressive: In the 27 months that have passed since, another nearly 30,000 new members have already been added, with the latest member being #129491 as of 8:12 PM EDT on December 26th, 2019.
Thank you to all the new and renewing members of the last decade and of the last 43 years. Without you, there is no PDGA. Stay on the fairway, make your putts, and have a happy new year in 2020!
---
Best. Birthday. Ever.
October is always a hectic month for the PDGA when it comes to memberships, as hundreds of people are either signing up to become a member for the first time or renewing their already existing membership. This October, however, specifically Monday, October 2nd, marked a moment in PDGA history that will not soon be forgotten; the race for PDGA member #100000.
PDGA member numbers, once assigned, are assigned for life. For the thousands of people that compete in dozens of PDGA events each year, the number becomes as significant as repeated as an address, a phone number, a birthday, etc. Those signing up for the first time cannot request a specific number so whatever they end up with, they end up with for the rest of their career as a PDGA member, whether they renew their membership or not.
As 2017 progressed and the latest membership number crept closer and closer to #100000, it seemed that almost every day a request would come in to reserve it (by someone that did not know that is not an option). By the time we hit #99000, we knew a storm was brewing; a new membership click-race the likes of which we had never seen.
The Click-Race
There is essentially only one way to attempt to get a specific PDGA number and that is to open up the Player Search page on PDGA.com, sort it by PDGA number, and refresh the page over and over to see the most recently assigned member number. So, for example, if someone wanted to be PDGA #99500, they could refresh the page continuously until member #99499 appeared and then attempt to snag #99500 by signing up immediately after.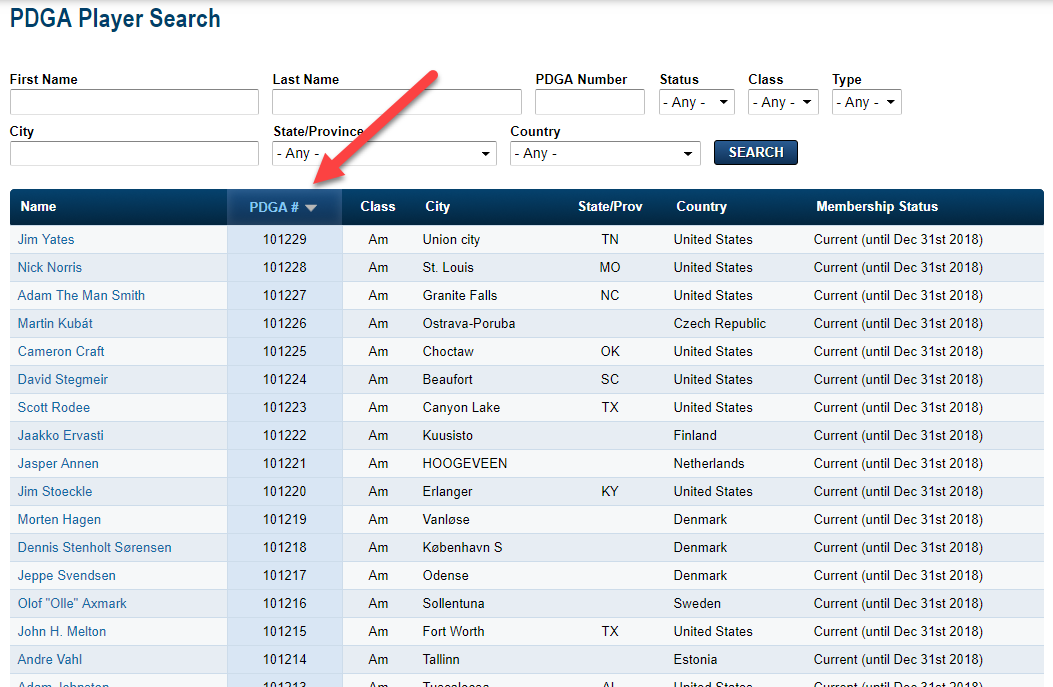 On the morning of Monday, October 2nd, hundreds of people were waiting, refreshing, and waiting some more as the coveted #100000 grew nearer and nearer. By 11:35am the latest number assigned was #99801. By 4:00pm it was up to #99905. Less than an hour later, at 4:50pm, #99950 was assigned and the click-race began.
17 minutes later (5:07pm); #99970. Seven more minutes (5:14pm); #99980. ONE MINUTE LATER; #99993. That was the moment. Everyone that had been waiting by that point had already clicked the last button in the sign-up process, and all they could do was wait while the page loaded. In a flash, the latest membership number assigned was up to #100050.
1,066 new memberships were processed that week, setting a new one-week record and crushing the old one, which was set one year prior at 474. October 2nd alone finished with a single day total of just under 500 new memberships, a record that will not be touched anytime soon.
The Winner
So, who won the click-race? That would be then 10-year-old Ryan Quinlan of Oxford, Pennsylvania. It was a shot in the dark that hit dead center, fired by Ryan's father, Dave Quinlan #93244, in an attempt to get his son a cool gift for his birthday that would follow two weeks later.
Dave is a father of five and newly-obsessed disc golfer himself and most of the kids are starting to get hooked as well, from the four-year-old that throws minis at his MVP Black Hole Micro basket to his oldest daughter of 16. He was considering signing up the entire family at once, but at last second, he decided to try to get #100000 for his son Ryan as a birthday present, as Ryan is the most active disc golfer of the children and it would mean a lot more to him than the rest.
"When I last looked at it [Player Search page], it was at #99992", said Dave, recalling the moment he decided to submit the membership form. "I was on my way home from work and I knew it was going to happen before I even made it to my driveway. We have a big farm and I had just got onto the property and I'm telling myself, 'As I go over the bridge I'm going to hit the button'. The loading icon started spinning and it kept spinning all the way up the road to my house, a mile or so. Now I'm sitting in my driveway and it's still spinning, it's still spinning."
By this point, Dave was sure that something had happened and the membership didn't process at all. His farm has very little cell signal and as far as he was concerned, he had lost the race. When he finally parked in front of his house, the loading finally stopped, revealing his son's membership was processed with the assigned PDGA number #100000.
"I flipped out and ran into my house," Dave continued. "I was trying to tell my wife, but my kids were home from school and in the room so I had to keep trying to get her to come talk to me in the other room while the kids were showing us their homework and the grades they got on their quizzes."
What Dave didn't know at the time was that his son was about to get a lot more birthday presents than just a cool PDGA number. Thanks to donations and support from a ton of disc golf companies, Ryan's 11th birthday was set to be one that he would never forget.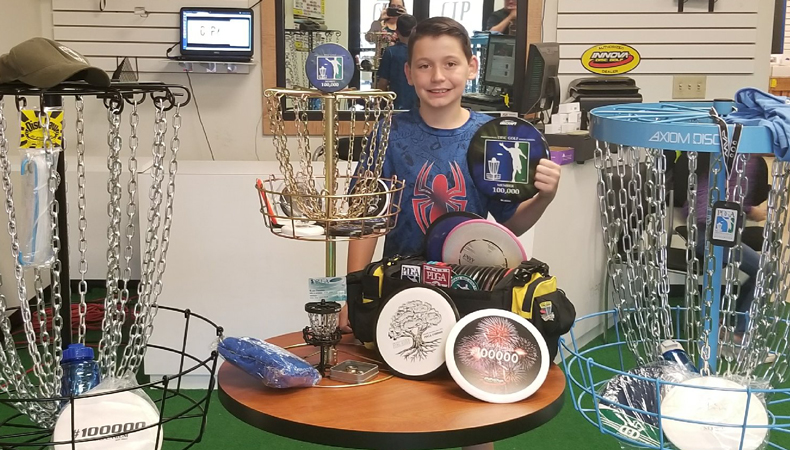 For two weeks, Dave had to do everything he could to make sure Ryan didn't find out, despite the coverage it was receiving on social media where Ryan's name is publicly listed next to the assigned PDGA number. Dave pulled it off, and on Sunday, October 15th, with help from his wife and his local disc golf pro shop (CTP Disc Golf), Ryan was surprised by not only a PDGA membership, but a mountain of merchandise customized with his PDGA number.
"Ryan wanted some new discs for his birthday so I told him let's go into the shop so you can pick them out yourself," Dave explained. "I had actually told him we would get him a PDGA number for his birthday too, but some kid already got member number #100000 and I even heard he got a bunch of cool stuff with it. Maybe we can sign you up while we're at the store and try to get you a cool number."
When they walked into the store, Ryan was surprised and probably a bit confused to see a pile of PDGA #100000 merchandise. Dave promptly handed Ryan his a PDGA Membership card and when he saw his name next to #100000 on the card, Ryan finally realized what was happening. He had been fooled, but it was well worth it!
As you can see in the photos, Ryan took home a stockpile of custom merchandise that would make any disc golfer jealous. At only 11 years old, this kid's collection is off to a pretty fantastic start. Ryan will be competing in his first PDGA event as a Junior on October 31st at the Hyzer Flipadelphia Open in Philadelphia.
None of this would have been possible without the support and donations from the many companies involved in Ryan's surprise. On behalf of the PDGA and of the Quinlan family, we simply cannot thank them enough. Everything in the list below that Ryan received, was given to him as a 100% donation thanks in part to a lot of hard work behind the scenes by PDGA Membership Manager, Vic Allen.