Decade on Display: Pierce Joins King, Korver in 5x Club
Decade on Display: Pierce Joins King, Korver in 5x Club
28-year-old reflects on the 2010s, future goals
Saturday, December 21, 2019 - 16:00
The 2010s saw exponential growth for both disc golf and the PDGA. We're looking back on a phenomenal 10 years in our Decade on Display series, where we reflect and reminisce about the sport's successes both on and off the course. Keep an eye out for more through the end of 2019.
After winning five PDGA Professional Disc Golf World Championship titles this decade, the casual observer might think Paige Pierce has this down, that victory is second nature. That it might be -- gasp! -- easy.
Wrong. For Pierce, every win has been difficult, every shot a challenge. 
It's part of the game, one she embraces.
"This fifth time -- I've learned so much since [my first title], but you're still going through that same mental battle," Pierce said during an offseason layover in London, where she touched down on her way to her second annual tourism sojourn in Croatia. "Maybe it's a different specific battle, but you're still going through ups and downs. It's a good reminder that everybody has those things and it's not something you're ever going to fully conquer. 
"Golf is such a mental game."
Even as the 28-year-old claims she hasn't fully conquered it, she's come close during a 10-year run of professional touring that syncs up beautifully with the 2010s: The first year was her first as a full-timer on the road, while she closes out the last as, once again, the reigning world champion.
In between, she has cemented her standing as one of the most talented, explosive women's players to touch the tee, amassing 122 victories this decade and moving her player rating from 904 to a record-setting 980. In addition to the five world titles, she's also taken down eight other PDGA Majors and 22 PDGA National Tour trophies. Her winning percentage over the span? .504.
Yes, Pierce has won just over 50% of the tournaments she entered from 2010 to 2019. She's been truly dominant.
Her first world title, at the 2011 soirée in Santa Cruz, California, saw her take a three-shot victory over de facto hometown hero and (at the time) three-time world champ Valarie Jenkins. Looking back at the tournament, Pierce said she knew that she had the physical skills to outdo the competition.
"I also didn't know if I could overcome the mental aspect of it and the pressure and all that," she said. "Just being able to see that I could do it in every way, physically and mentally, it was super overwhelming and super surreal for me.
"It was just super, super -- almost unbelievable for me at the moment, and I was just so young," Pierce continued. "It kind of set me on my path and made it clear that that's what I was supposed to be doing. 
"Then I was on a mission to prove to myself I could do it again."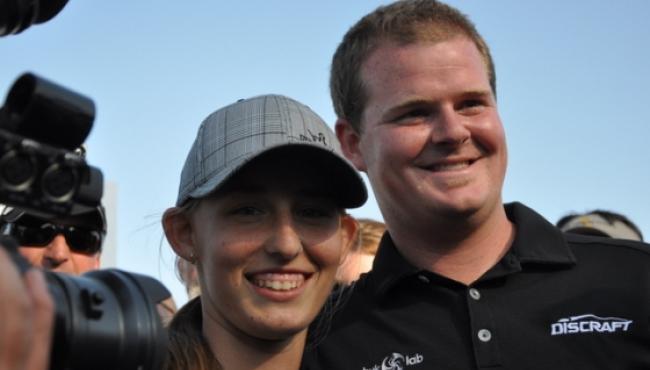 And so, she did. In 2013, it came at Lemon Lake with a single shot over, again, Jenkins. In 2015, Pierce collected a victory in Pittsburgh, and in 2017 she took home the crown in Georgia. The odd-year trend continued with number five in Peoria this year, where she joined Disc Golf Hall of Fame members Elaine King and Juliana Korver as the only women with a literal handful of titles. That came after she had to dig out of an early hole -- she was down by seven shots after round two -- before a rousing final at Sunset Hills that saw her playing to an ever jubilant gallery.
Once again, the mental battle was a theme.
"It was really exciting for me to prove to myself that it's never too late [to come back], for one, and for two, you can overcome any of these thoughts and any score deficit," Pierce said. "It was really cool to add my name right there beside Elaine and Juliana."
And yet, there is still a lingering feeling for Pierce that, while the history books say she has five world championships, she doesn't feel it. She's put a personal asterisk next to her 2015 victory, in which she was able to chase down an 11-shot deficit after Sarah Hokom got in a car accident on the way to the fifth round and received two holes' worth of penalty strokes for showing up late. Pierce displays all of her most significant trophies at home; that one is in storage.
"I still don't really think that I won it," Pierce said. "I think that I walked away with the trophy, but I think that Sarah Hokom truly won that world title and life kinda got in the way with the car accident." 
That's added motivation for Pierce, then, to win not just one, but two more world championships before her career is through. 
"Nobody else thinks that way," Pierce admitted. "But for me, my seventh world title will be the one [that has me pass King and Korver]."
There's plenty of time left for her to do that. Pierce said she expects to play at least 10 more world championships in the Open Women's division, and she already has the confidence that comes with winning half that number.
"I think I can win 50% more of the ones I play, for sure," she said. "I think it's something I'm gonna have to strive for and I'm gonna have to work for really hard, but I think it is obtainable if I put my mind to it."
We'll check in at the end of 2029 and see how the next decade has gone.