Headrick Memorial Museum
"Steady" Ed Headrick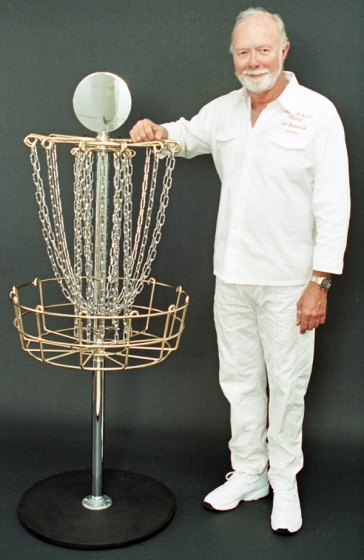 Edward Early Headrick was born on June 28, 1924 and grew up in Pasadena, California. Ed was an inventor, innovator, and marketing genius regarded as someone who could not only "think outside the box" but would redesign that box. His life experiences included traveling the deep seas as a diver/welder and being embedded behind enemy lines as an advanced military scout spying on the Nazi troop movements in World War II. He invented oil skimmers after seeing the destruction oil tanker spills left behind, and he shared Johnny Carson's stage as a toy inventor.
More than any of his many lifetime accomplishments Ed Headrick is most popularly remembered for his vision of turning a toy—the Frisbee—into the basis for a host of disc sports that have become a part of the lives for millions of people. Ed Headrick is known as "The Father of Disc Sports," and "The Father of Disc Golf." Ed was nicknamed "Steady" Ed for his composure and accuracy while making the toughest throws under pressure, traits he exhibited throughout his life.
Pioneering Spirit
Before joining Wham-O Ed worked for Pioneer, a water heater and plumbing company. While working for Pioneer Ed came up with an idea that was unheard of at the time: he devised a network of plumbers across the United States that would guarantee that a Pioneer water heater or garbage disposal would be installed within 24 hours of being purchased. At Pioneer Ed had gone from Salesman to Vice-President, as Pioneer went from one of the smallest manufactures of hot water tanks and garbage disposals to one of the leading manufactures. Ed had a passion for inventing, marketing his ideas and playing. Ed decided that it was time to move on from Pioneer. Working for a toy company was what he saw as a perfect fit.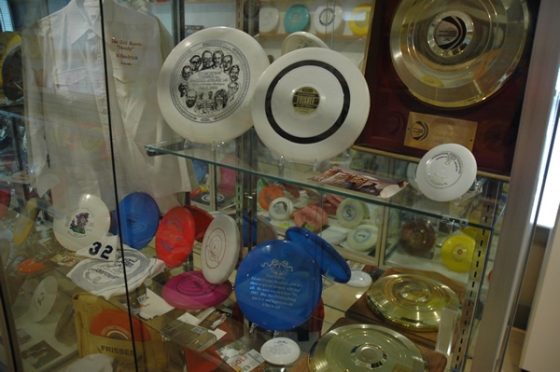 Toying with Success
Wham-O was close to home but wasn't hiring at the time. Ed made an offer to work for free for 3 months unconditionally; if he proved himself an asset to the company, Wham-O would pay him back for his three months of work and then pay him what he was asking. Wham-O agreed to hire him and set him to work on the first task of his 3 month trial period—to increase sales for a toy called the Pluto Platter, which had been created by Fred Morrison and sold to Wham-O in 1957. (Link to: The History of the Frisbee)
 
Ed realized that the main problem was that the Pluto Platter had been designed in the mid-1950s during the heyday of the U.F.O. craze and, thus, was looking out-dated. Further, Wham-O had always promoted the Pluto Platter as a toy aimed at the young Baby Boomers. By 1964 that market was coming of age…ready for grownup sporting activities.
Ed transformed the Pluto Platter into the Professional Model Frisbee by replacing all of the original flying saucer designs with a sleek new racing stripe, concentric thumb-gripping grooves and a shiny label boasting the sporty Olympic rings. He thickened the rim slightly adding weight for better flight performance and greater distance. After Ed completed his redesigns he filed a new patent application that claimed the grooves or "rings" on top of the disc made the disc more stable in flight. These rings are commonly referred to as "The Lines of Headrick".
With a new Patent and a new look Ed went about promoting the image of the Pro Frisbee with all of the marketing, sales and advertising tenacity he is famous for.

Off to the Market
One of Ed's first steps in marketing the Pro Frisbee was to create a new marketable concept for plastic flying discs used in sports. A toy's shelf life is short-lived. A sport can grow by creating its own avid following. In 1967 Ed established "The International Frisbee Association (IFA)" and began a membership drive to build interest. With Ed at the helm, the IFA established the standards for emerging Frisbee tournament events such as Distance and Freestyle.
The sport took off quickly. Ed "rented" the Rose Bowl and got Pepsi to sponsor the First Rose Bowl World Frisbee championships in 1974. The tournament sports were standardized using Wham-O's trademarked Frisbee discs. For his marketing vision Ed has become known as the "Father of Disc Sports."
Enter Disc Golf
During the mid-1970s, Ed coined and trademarked the term "Disc Golf" and standardized the sport by inventing the Disc Pole Hole, the first disc golf target to incorporate chains and a basket on a pole. Headrick founded the Professional Disc Golf Association (PDGA) and Recreational Disc Golf Association (RDGA) as governing bodies for professional, competitive amateur, and family-oriented play, and worked on standardizing the rules and the equipment for the quickly-growing sport. Headrick abandoned his trademark on the term "Disc Golf," and turned over control and administration of the PDGA to the growing body of disc golf players in order to focus his passion for building and inventing equipment for the sport.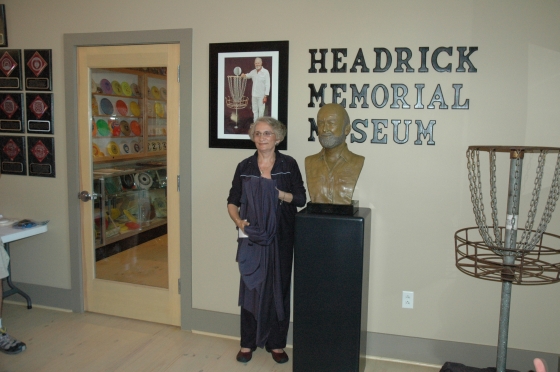 Headrick Memorial Museum
Upon his death in August 2002, Ed Headrick was cremated and his ashes were molded into a limited number of discs per his wishes. The discs were given to friends and family, and some were sold with all proceeds going toward funding the "Steady" Ed Memorial Disc Golf Museum at the PDGA International Disc Golf Center in Columbia County, Georgia. One of the discs that contains Headrick's ashes was thrown on to the roof of the center by his wife Farina at the grand opening to fulfill the addage, "Old Frisbee players are like old Frisbee's ... They don't die, they just land up on the roof." Those that believe in this philosophy are known as Frisbyterians.
Additional Information
International Disc Golf Center