'All Systems Go:' Barsby Adds Insurance Before Final Round Of Pro Worlds
'All Systems Go:' Barsby Adds Insurance Before Final Round Of Pro Worlds
Conrad, Ulibarri, Anthon knotted up in second place
Sunday, September 9, 2018 - 07:36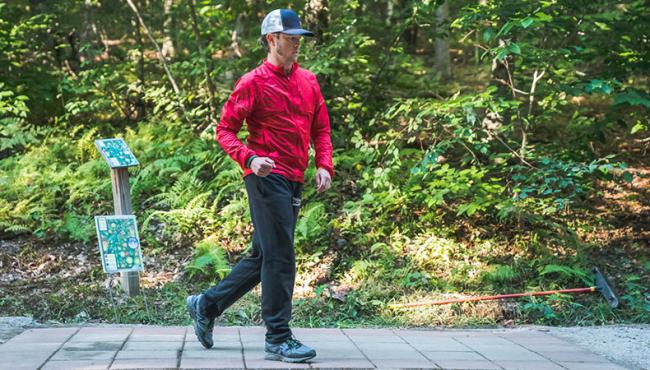 JEFFERSONVILLE, Vt. – Gregg Barsby shook his head in dismay, his long hair draped over one shoulder after he released it from the shackles of his mesh-backed hat.
Even with a 7-under par 54 in his back pocket and a two-shot lead heading into the final round of the PDGA Professional Disc Golf World Championships, he was still frustrated at the mistakes he made during round four at Smugglers' Notch Disc Golf Center's Brewster Ridge course. A missed putt here, an errant tee shot there, and a resulting final six holes where he only went one stroke under par.
And then, after getting the dissatisfaction out the way, he found the determination that has defined his 17-year pro career.
"It's the fourth round of the Worlds, so it's all systems go," Barsby said. "If something isn't working, make it work."
It's a mantra he'll need to carry alongside his 35-under par 213 before Sunday's close at Fox Run Meadows, as four competitors – plus a four-time PDGA World Champion – loom within five shots of his lead. Josh Anthon, Paul Ulibarri, and James Conrad all sit in second place with 33-under par 215s, with Conrad's 10-under par assault on Brewster's fairways putting him back onto the lead card. Matt Orum sits in fifth place at 31-under, while Paul McBeth will look to make some chase card magic happen as he slipped to 30-under par and into sixth place after a scramble fest on Saturday.
Barsby's round, despite his disappointment, was still a display of both his finesse off the tee and his proficiency on the green. His 60-foot putt for birdie on hole 4, for example, dive-bombed the chains with authority and was followed by an eruption from an enraptured – and increasingly growing – crowd. He added another 50-footer on hole 7, but left the true fireworks for hole 11, a lefthand-bending, downhill, 615-foot par 4. He unleashed a Millennium Scorpius that glided down the alley way and landed about 45 feet past the pin. He didn't convert on the eagle, but it was the shot of the day. "I was pretty emphatic when that missed the trees," Barsby said.
Later, though, he found them. His drive on the 360-foot 15th, which played as the third toughest on the course at 0.36 shots over par, caromed OB, and he still had to hit from circle's edge to save bogey. He again scuffled on 17 and 18, closing out the round with pars as he was unable start clean off the tee.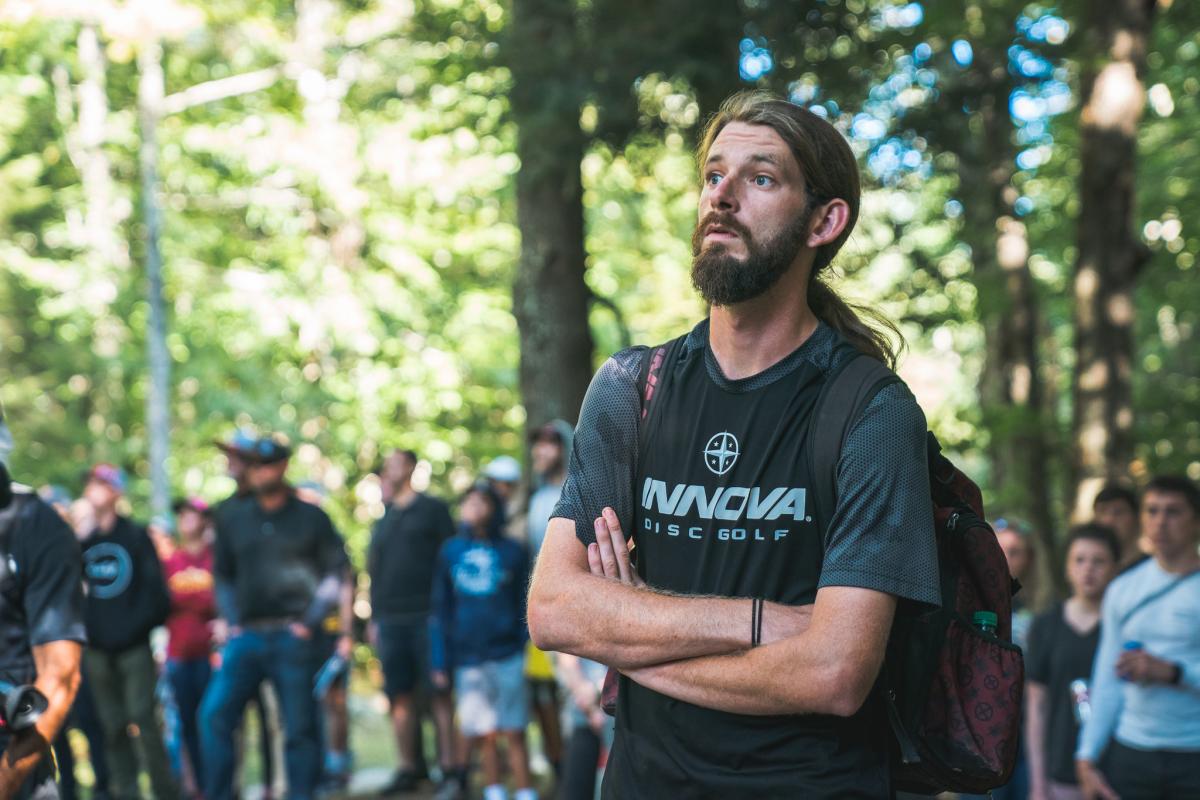 Ahead on the chase card, Conrad made his charge. Two days after he scorched the front nine but faltered on the back, he put together a more even-keeled round that was spurred on by a missed birdie putt on the opening hole.
"I was maybe just outside or right about on the line of the circle, and that kinda fired me up a little bit," Conrad said. "I pretty much was able to connect on just about everything else I was looking at, so that was a lot of fun."
Thirty feet. 50. Another 30, another 50, and a 75-footer. Conrad ended up with a 60 percent success rate in circle 2, and even mixed in a rare forehand to put him at 40 feet on the 400-foot 16th. Again, he converted. Now on the lead card at a Major championship, he was looking to apply the lessons he learned at last year's Disc Golf Pro Tour Championship, when he made an early mistake in the final round to fall off his torrid pace.
"I just kinda let my brain relax for a minute, didn't really focus on the shot at hand and it ended up biting me pretty bad," Conrad said. "Even if it's a routine shot I wanna take my time, focus on it, do what I can."
As much as Conrad brought the heat on the chase, it was Nate Perkins who tossed the hot round on the fourth card with a 1078-rated 11-under par. The Texas native only once strayed from the fairway, on hole 10, and was able to scramble and hit from 30 feet to save par. He was perfect from inside the circle and, despite knowing he lacks some distance off the tee compared to the rest of the field, was confident heading into today's final at Fox Run. In his mind, a comeback win wasn't out of the question.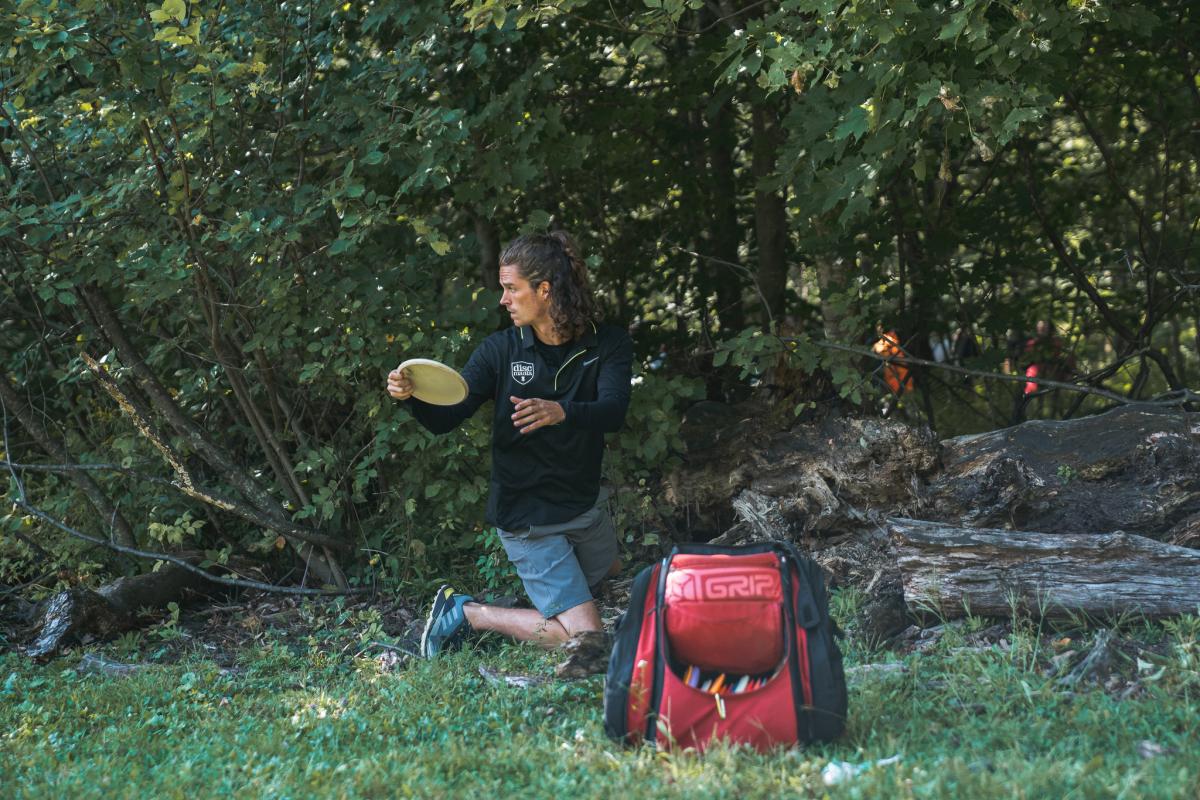 "A name like myself, it's – some would call it like a Cinderella story if something like that were to happen," Perkins said. "But I believe in myself and I know I have a lot of people who love me and believe in me, so I feel like I can make it happen."
Elsewhere on the course, some competitors' title dreams look to have hit an early end. Defending World Champion Ricky Wysocki dropped to 12th place after a 999-rated showing that put him 11 shots off Barsby's lead. Nate Sexton and Chris Dickerson are tied for 13th at 22-under, while Eagle McMahon and Simon Lizotte are 14 and 19 strokes off the top, respectively.
Barsby now enters the final round in familiar territory: He was up one stroke at the 2017 European Open before faltering on the last hole of the tournament. With the same pressure, and another large gallery, expected Sunday, there was only one way he planned to approach his date with destiny.
"Just ride it – ride the wave, the energy wave," Barsby said. "It's been an awesome crowd out here so far. Feeling the love from these guys has been great, so that kinda helps everything, I think. It's easier to play when you're having fun and everyone's having fun with you. There's just a vibe that goes with that, so try to just conjure that tomorrow and go out and play some golf."
The Open lead card tees off at 2:30 p.m. ET for one more round at Fox Run Meadows. Be sure to tune in live on SmashboxxTV as a new world champion is crowned.
2018 Pro World Championships