2018 Pro Worlds Feature-Length Production Now Available On YouTube
2018 Pro Worlds Feature-Length Production Now Available On YouTube
Relive a historic week in Vermont!
Thursday, March 7, 2019 - 20:37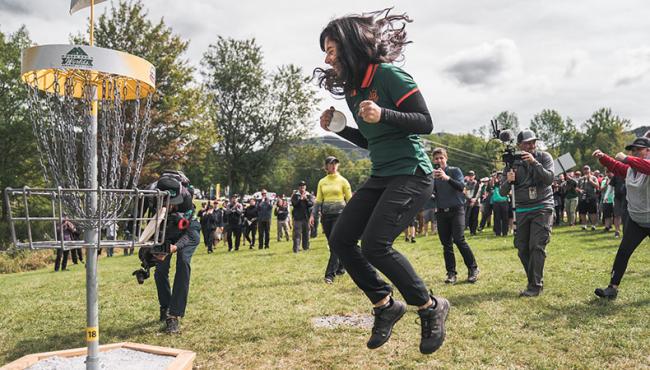 With a unique setting in the Green Mountains as its backdrop and a pair of unique winners, the 2018 PDGA Professional Disc Golf World Championships at Smugglers' Notch Resort in Vermont is an event that won't soon be forgotten. And now, even if you somehow don't remember how it all played out, you can relive it.
Originally aired last fall on OutsideTV, the 2018 Pro Worlds post-production feature is now available to watch on the PDGA YouTube channel and will live there to document a historic week. Produced with the cooperation of disc golf media stalwarts like Central Coast Disc Golf and Jomez Productions and the artistic vision of Philadelphia-based KEDA Creative, the nearly 50-minute film features more than just player highlights: It also delivers an inside look into the lives of the competitors.
The production kicks off with an introduction to disc golf, then brings action from Smugglers' stellar tracks: Brewster Ridge, which was designed by 2013 United States Disc Golf Champion Steve Brinster, and Fox Run Meadows, crafted by Tournament Director Jeff Spring. Viewers also get a peek at the rest of Smuggs and its annual FallFest, which features live music, craft beer, and local food.
The real treat, though, is the player profiles that offer a behind-the-scenes look at fan favorite and 2017 U.S Champion Nate Sexton; two-time PDGA World Champion Ricky Wysocki; four-time PDGA World Champion Paige Pierce; up-and-coming Ohio native Rebecca Cox; and the eventual champion of the event, Paige Bjerkaas. Find out how they fell in love with the game, what tour life is like, and how much competing for a world title meant to them.
So get your popcorn and pull up your favorite tripod stool: It's time to tune in.
Be sure to subscribe to the PDGA YouTube channel for more content all season long!