2016 WGE - Player Packs, Charity, and More
2016 WGE - Player Packs, Charity, and More
Women's Global Event Update
Tuesday, January 5, 2016 - 12:31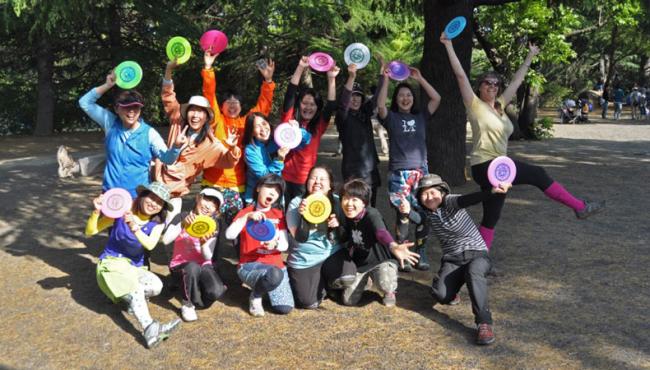 Happy New Year from the PDGA Women's Committee!
We have been steadily working away on the details for the 2016 PDGA Women's Global Event (WGE) since our Save The Date announcement in November. Thank you to all who have written and have expressed interest and support for the 2016 WGE on May 14th, the third running of this amazing biennial worldwide event!
Register Your Event
Now that the holidays have come to pass, it's time to register your Women's Global Event for 2016. We already have WGE events sanctioned in California, Colorado, Florida, and Oklahoma and the time is now to get your event added to the list!
If you are already planning on running a tournament on May 14th, you can include it as part of the WGE and give your lady disc golfers a chance to be involved. Full details on registering an event for the 2016 WGE along with a ton of other pertinent information can be found on the PDGA Women's Global Event page.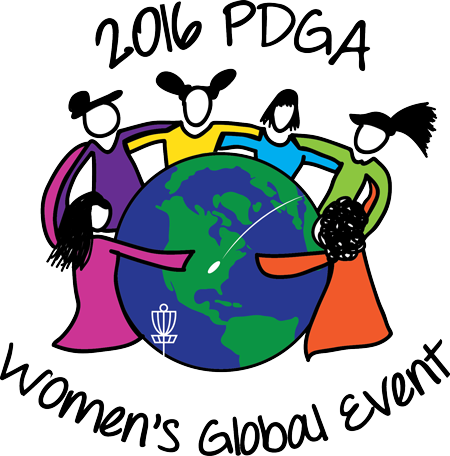 Players Packs
Player's pack signups will open on January 13th only to the women that are already pre-registered for a sanctioned WGE event. You will not be able to register for a player pack until your WGE event is sanctioned and listed on the official PDGA Event Schedule. It is essential that the tournament directors sanction their WGE event before Wednesday, January 13th to allow your women players to register for the event and reserve their WGE player's pack.
The player's packages will be available to the first 800 players on a first-come, first-served basis. These packs will be filled with incredible goodies from our sponsors, so don't let your players get shut out. Sanction your event today!
To find a WGE event near you, look for any event highlighted in pink on the May 2016 Events page.After you've registered, use the online WGE Player's Pack Registration Form to reserve your package. 
Charity
For the 2016 WGE, we will be supporting Right To Play, an international charity that focuses on providing quality education, health practices, and peaceful communities for children all over the world.  Right To Play uses the power of play to educate and empower children to be guardians of their own health and active participants in their communities. Their programs create positive experiences and teach important life skills that encourage behavior change.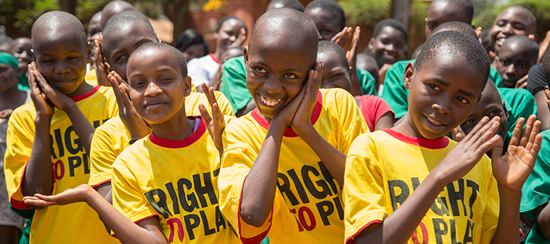 At the core of every activity is their Reflect-Connect-Apply approach, which encourages children to examine their experiences, relate those experiences to what they already know, and apply that learning to their daily lives. This strategy helps children adopt and maintain life-long healthy behaviors and attitudes. Their 14,400+ volunteers are helping over 1,000,000 children each and every week in 19 different countries.
Read all about the amazing work they do on the Right To Play website.
Merchandise
To further support the cause, Innova Champion Discs has created a special run of 2016 Women's Global Event discs, available only on Disc Golf United with a portion of the proceeds going directly to Right To Play! These discs won't last long, as they are a brand new run of the original Innova Mirage! Get your hands on a 2016 WGE Innova Mirage now while you still can and raise money for a great cause at the same time!
WGE branded apparel through Paragon Disc Golf will also be available for purchase in the near future, again with a portion of the proceeds benefiting Right To Play.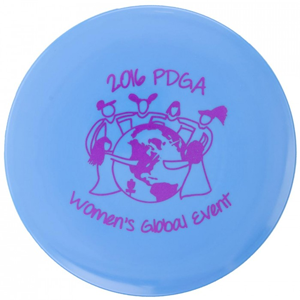 SmashBoxxTV will be featuring head of the PDGA Women's Committee, Val Jenkins #17495, as a guest once a month on their weekly live podcast on YouTube. On top of having lots of WGE info and updates, Val will be giving away some sweet merchandise donated by WGE supporters and sponsors whenever she is on the show, starting this Tuesday, January 12th. "Step inside the SmashBoxx" every Tuesday night at 10pm EST for WGE updates and information about anything and everything disc golf.
Sponsors
Thank you to all of the sponsors that have already committed to supporting the 2016 PDGA Women's Global Event.
We have more and more sponsors jumping on board every day to show their support for women's disc golf around the world. If you're linterested in becoming a 2016 WGE sponsor, please see the "Sponsor Levels" section of on the 2016 Women's Global Event page.
Stay Up-To-Date
There are several ways of making sure you have access to all of the most recent updates and information about the 2016 Women's Global Event.