Owens Owns Waco's First Round
Owens Owns Waco's First Round
McBeth, Koling tied for second place
Thursday, March 15, 2018 - 23:18
Devan Owens was in the zone Thursday, content to play placement golf through the woods of Brazos East Park and take what the course would give him. Even as he peppered in a 75-foot throw-in for birdie on the track's 462-foot 13th, he really didn't have a sense of how well he was playing.
That is until some company showed up.
"I just noticed I was probably doing pretty well once one of the Pro Tour guys showed up and [photographer] Alyssa [Van Lanen] showed up," Owens said. "I looked at my phone it said 'Pro Tour just mentioned you in their [Instagram] story,' and I'm like, 'OK.' And the next hole Alyssa was taking pictures, so it was fine."
Indeed, the laid-back lefty deserved the attention after an 11-under par 56 put him atop the Waco Annual Charity Open leaderboard through 18 holes. The Oklahoma pro's bogey-free 1052-rated showing has him one up on defending Waco champion Jeremy Koling and four-time PDGA World Champion Paul McBeth, who tossed matching 10-under par 57s to open play. Five players are tied for fourth place at 9-under, with Gregg Barsby and his lower PDGA number rounding out Friday's lead card.
The performance was Owens' second highest rated of the young 2018 season, coming up just shy of his 1059-rated second round at the Las Vegas Challenge. Thursday, though, proved to be more consistent than that performance in the desert: Owens hit the fairway on 75 percent of his throws and notched top 10 placements in both circle 1 (61 percent) and circle 2 (78 percent) in regulation. With gusts hitting 20 mph, Owens relied on his native Midwest experience and rarely tried to bite off more than he could chew.
"I really just worried about getting it far enough down the fairway," Owens said. "I didn't have a super stressful shot for an approach. If I missed a shot it was circle 2 range, so it was an easy up-and-down. I come from wind, so I didn't really run any putts from where you have a 25-foot comebacker."
Though McBeth opened the round with a "stupid putt" that he missed inside the 10-meter circle, he was pleased overall with a showing that put him in contention in his first career tilt with the course known as The Beast.
"Been working really hard on the putt, getting it together, getting it smooth," McBeth said. "The biggest thing I've done is relax. That's the biggest thing I've been telling myself when putting…It's a relief to get a good round in to start…It'll be good to be front and center, finally, after a few events."
McBeth was one of only nine players in the 108-competitor Open field to notch a birdie on the 610-foot 5th, which averaged 1.11 strokes over par as the venue's most difficult. He employed a forehand off the tee, but he said the downhill approach to a narrow green – he used a Firebird there – is more instrumental to success.
"It's an extremely difficult wind to read, and once you're there you're putting at the water," McBeth said. "It's not the drive that's the hard part. It's the second shot."
The elements were a hazard all day, and McBeth said the Waco wind was more difficult for tee shots than the gales that impacted the first round of last month's stop in Sin City.
"It was sneaking through the woods, so you couldn't really read it," McBeth said. "It's harder to read here…You would see the disc do weird stuff. That was a little tricky to read, but the putting was fairly simple in the sense of it's 20 miles per hour, but you wouldn't get anything weird happening."
Koling has had an inconsistent start to 2018, tying for 51st in Vegas and 15th at the Memorial Championship. As such, he was happy to return to the site of his biggest win in 2017.
"I've got really positive vibes in this town, and it was nice to play a course that's a little bit different than the hyzer Olympics we've been playing out West," Koling said. "It's nice to show off some of the touchy side of the woods navigation and controlling your shots at 250 feet."
Koling did just that, parking 33 percent of his shots to rank third in the field in that measure. But he also showed off power, particularly on an overhand shot he used to recover from an out-of-bounds tee shot on hole 5. The towering thumber put him in line to save par, but his 40-footer was a touch low and bounced off the rim.
"Risk-reward city," Koling said. "It's a shot that if I had another – if I had a twin and my twin was caddying for me, my twin would have said, 'Don't even think about doing that.'"
Why do it, then? It came with the confidence he felt all day.
"I wanted to go for the shot because I thought I could do it," Koling said. "A lot of times so far this year I've tried stuff where I thought I could do it and I wasn't able to do it, and this time I was."
The rest of the top 10 is comprised of a logjam of upstart pros, seasoned veterans, and Texas natives who know the lay of the land. Joel Freeman, who burst onto the scene with a second place Las Vegas Challenge finish, started his day with a 50-foot birdie putt and ended it tied for fourth place at 9-under par with Emerson Keith, Drew Gibson, and Nate Perkins. Masters-aged players JohnE McCray and Patrick Brown tossed 8-under par rounds and are tied for ninth place with Andrew Presnell and Lone Star Staters Miles Seaborn and Landon Knight.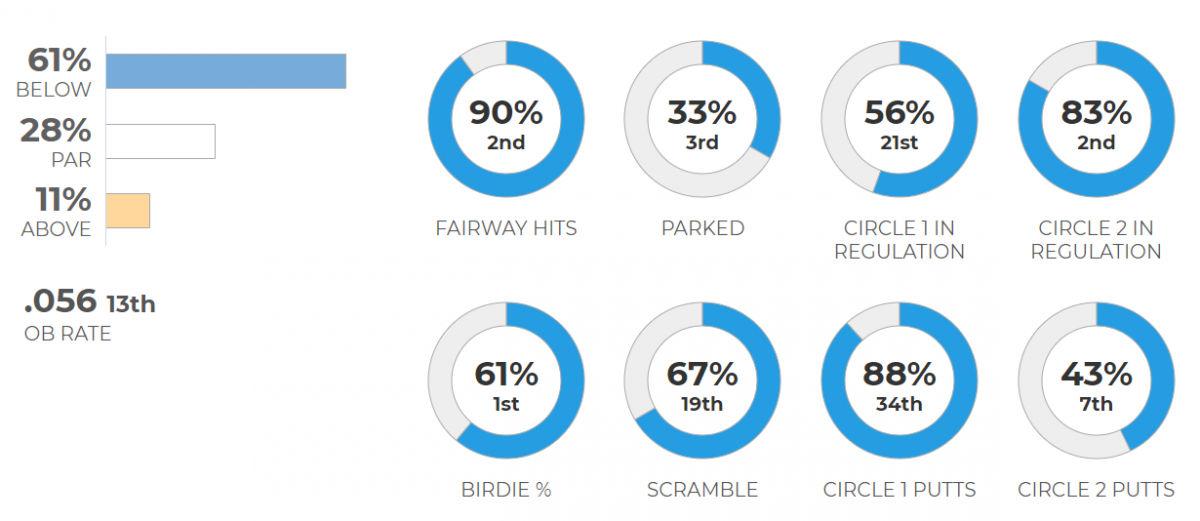 Owens, who has 39 career victories and top 10 finishes at the last two PDGA Pro World Championships, is looking for his first win at an A-Tier or better since the 2014 Mid-America Open. It was that same year that he suffered a broken leg when he slipped on some gravel, and after fully recovering – and adjusting to the responsibilities he took on when he recently purchased his first home – the 28-year-old is looking to take the next step in his disc golf journey.
"Now I'm in a happy place in life, just a progression toward that ultimate goal of winning a Major," Owens said. "I'm gonna go through ups and downs and roller coaster rides, and I'm cool with that. If I keep putting myself in opportunities, I think I'll get what I'm looking for."
The Open lead card tees off at 3:15 p.m. CT, with real-time scoring and statistics available throughout the round at UDisc Live.