Pierce Widens Gap After Masters Cup Marathon
Pierce Widens Gap After Masters Cup Marathon
Fajkus jumps to lead card; Jenkins disqualified
Sunday, May 20, 2018 - 12:39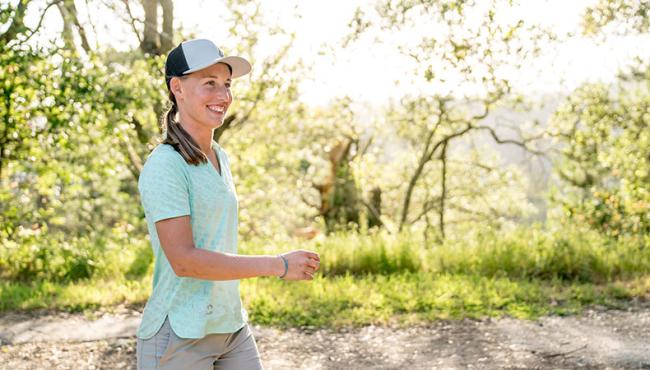 SANTA CRUZ, Calif. – Clocking in at just under five hours, Saturday's second round of the Masters Cup found the Open Women's division logging a marathon disc golf session. Though the number of holes at DeLaveaga Park, 24, comes up just shy of the number of miles in a great endurance race, both require physical stamina and mental fortitude.
It should come as no surprise, then, that the top-rated player in the field used the opportunity to pull away from the pack as she closed in toward the finish line.
Paige Pierce improved by five shots over her day one total with a 1-over par 73 that found her not only taking the lead, but comfortably padding it. The defending Masters Cup champion now sits at 7-over par with one round to play, far ahead of Catrina Allen, whose 7-over par 79 brought her two-day total to a 13-over par 155, and Lisa Fajkus, who climbed onto the final round lead card with a 15-over par 159 total. Jennifer Allen, meanwhile, tossed a 5-over par 77 Saturday to move into a fourth-place tie with Jessica Weese at a 16-over par 160 total.
Valarie Jenkins, whose 6-over par second round dropped her to second place on the leaderboard at 11-over, was disqualified from the event after the round when it was determined that her caddie was in possession of alcohol while on the course. As a result, Jennifer Allen will take the fourth spot on the final round lead card.
DeLa's occasional crossing fairways and penchant for dishing out demoralizing rollaways slowed the pace of play considerably. Both Pierce and Catrina Allen were at 1-under for the round through the first three holes, but as the woods closed around the field, backups became the name of the game. As a result, it was difficult to find a rhythm.
"I think we were all kind of, I guess you could say, frustrated with the pace of play, but we can't really do anything about it," Pierce said. "I think the one thing was trying to stay warmed up. There was so much time between each shot, so I kept walking to the side and kept mimicking my stroke, and I think that helped a lot…Just trying to stay warm and keep my mind off the waiting."
The routine did the trick. Though Pierce still found adversity with two penalty strokes – the second of which was another dreaded two-meter rule violation when her drive on hole 26a floated left – she leads the field in fairway hits (31 percent), circle 1 (17 percent) and circle 2 in regulation (31 percent), and circle 2 putts (42 percent). The latter statistic was boosted on hole 12, when she pitched a sidearm approach into the basket from 60 feet for birdie.
"There was a tree in the way and I had to stretch out to the right, and my putters don't really hyzer because I putt with a straight putter, so I had to go with a sidearm turnover with a putter," Pierce said. "I kinda aimed high and floaty and I was hoping it would stick.
"It was a good little boost of energy and kinda hyped me up a little."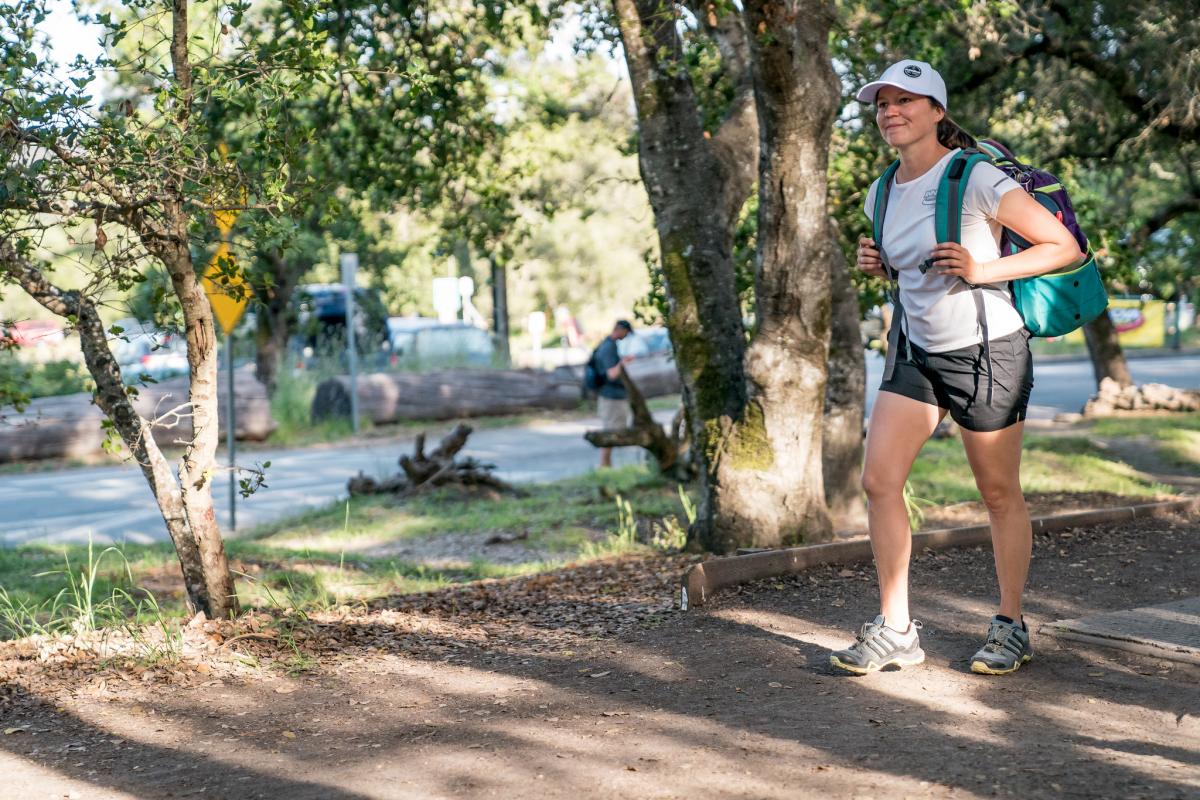 A similar energy was almost Fajkus' undoing. After landing a putt for birdie on the 348-foot 8th, she slapped her hand to the earth in excitement and wound up with a bruise on her thumb. She was unsure if she found some stinging nettle or simply was smarting from the impact, but it added some trepidation for the next few holes until she was able to put some ice on it.
"I get up and I just notice it's puffy as soon as I get to the next tee box, and I'm like, 'Ow?'" Fajkus said. "'I don't know if I can grip my Frisbee.'
"It's fine [now] and it's all good," she continued. "It was just a little scare at the time."
Fajkus was pleased with her move onto the lead card, and for how she sustained her first career tilt with the daunting DeLaveaga and its iconic rites of passage.
"I got Dela'd a couple times for sure, at least today," Fajkus said. "Yeah, besides this little minor thing that's luckily nothing now I survived, which is good. I wanted to do better, believe it or not, and I am very happy overall with how I performed."
The final round will be notable not only for its move down the hill to the DeLaveaga Golf Course, but also for Jenkins' absence. Tournament Director Braden Coolidge said the decision to disqualify her from the event was made in keeping with the integrity of the competition.
"This decision weighs heavily, to say the least," Coolidge said. "Val is one of the most respected players in our sport with contributions that resonate much wider than the casual observer might know. Unfortunately, the definition of the rules are clear in this instance, and they were applied to her as they would be any other player at the tournament."
With an eight-shot margin to close if she wants to catch Pierce, Fajkus said she would be selective with her approach at the DeLaveaga Golf Course for Sunday morning's final round.
"Being smart, going big when the opportunities present themselves is what's up," Fajkus said. "I'm gonna be conservative when I feel the time calls, but also aggressive when I can, if that makes sense. When there's scoring opportunities I want to be aggressive, because I know there's birdies out there."
And after two days of the restricted confines of DeLa, Pierce was looking forward to airing it out.
"I think the most accurate disc in my bag is a Defender, and I throw it on quite a bit of holes out there – that and a Ballista Pro – so it's just gonna be throwing long drives and trying to connect on my putts, which I've been feeling good about this weekend. I think it should be real simple if I just take the thinking out of it."
The Open Women's lead card tees off at 10:20 PST, with real-time scoring and statistics available via UDisc Live.