Once again, the field chases Pierce while Pierce chases history.
Once again, the field chases Pierce while Pierce chases history.
2020 Women's National Championship Day 1 Recap
Thursday, October 8, 2020 - 08:41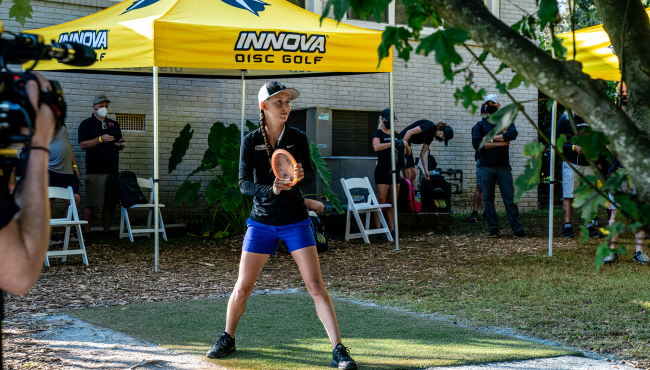 A disc golf writer is always in danger of running out of superlatives when covering Paige Pierce. Mine are just about spent.
On Wednesday Pierce casually picked up where she left off at Jonesboro and notched another mark on the all-time highest-rated FPO rounds list—a list which she is quickly crowding out all to herself—with a 1039-rated (unofficial) masterclass. It's her fourth-consecutive 1000-plus-rated round during which she has been averaging 1027-rated golf. Pick your own superlative, please.
Pierce's lone bogey of the day came on the 639-foot par-4 twelfth, when her approach shot came out too hot and crossed the hazard ropes. That aside, it was a sea of birdie blue across the champion's scorecard as she methodically navigated the roped corridors of the Winthrop University track on her way to a four-shot lead.
What's got to be disconcerting for the rest of the FPO field: Pierce only connected on one of seven chances from Circle 2, suggesting that she is far from hitting her ceiling.
"I could feel my competitors' seriousness, and I think that they could feel mine," Pierce said in her post-round interview. "Everyone is battling nerves. You can definitely tell it's a major, even without the crowds."
Catrina Allen did well to keep within striking distance of Pierce, finishing with a 1013-rated (unofficial) six-under that included the field's only eagle on the difficult 697-foot par-5 eighth.
Allen looked extremely composed as she patiently waited for the card ahead of her to clear out before executing a perfect backhand roller to approach the guarded pin. Even more encouraging for the 2014 FPO World Champion: her putter was consistent all day from C1x and—like Pierce—she has plenty of upside remaining if she can find her range from Circle 2.
Joining Allen and Pierce on Thursday's lead card will be two players pursuing their first major titles: Heather Young and Missy Gannon. Young is the only other player to finish under par as Gannon, who currently sits 10-shots back of the leader, kept pace until two hazard strokes on hole 10 cooled her momentum.
Live coverage of Round 2 of the Women's National Championship begins Thursday, Oct. 8, at 10:00am (Eastern).
Stats courtesy of UDisc.