McBeth Battles Barsby To Take Down Hall Of Fame Classic
McBeth Battles Barsby To Take Down Hall Of Fame Classic
McMahon ties for third to win PDGA National Tour points competition
Monday, October 15, 2018 - 07:17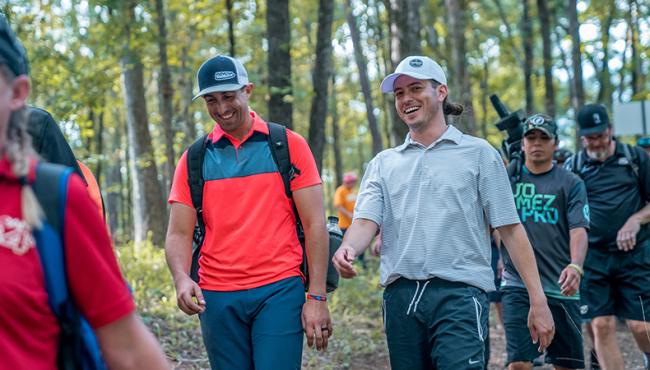 APPLING, Ga. – When PDGA World Champion Gregg Barsby started Sunday's final round of the Ed Headrick Disc Golf Hall of Fame Classic by throwing a pink Aviar into the chains from more than 100 feet down hole 1's fairway, the birdie connection did more than create a cacophonous roar from the gallery that could be heard on the other side of the International Disc Golf Center's W.R. Jackson Memorial Course. It also signaled the beginning of yet another memorable battle between he and four-time world champion Paul McBeth.
"You start a round like that, it's just like 'war!'" Barsby said with a laugh as he signed autographs in the shadows of the Dan "Stork" Roddick Tournament Pavilion Sunday afternoon. "Immediately, everybody on the next couple cards is [thinking] 'Dude, what's going on?'"
"This has happened a few times now with Gregg," McBeth said. "When we're on the card we go back and forth the whole time – no one's letting up, no one's missing a putt. He's even throwing them in at times. So it was expected with Gregg there."
Indeed, the duo traded volleys all afternoon, with no basket safe from their assaults. At the end of the day, though, the more decorated champion got the better of the most recently crowned one, as McBeth endured Barsby's heavy artillery and took a one-shot victory for his first career Hall of Fame Classic title.
McBeth and Barsby each fired off 10-under par 58s during their final tilt at Jackson, giving McBeth a 28-under par 176 and the $2,500 first place purse. Barsby pocketed $1,870 for his 27-under par 177 second-place performance, while Michael Johansen, Eagle McMahon, and JohnE McCray each took home third place and $1,223 for their 22-under par 182s.
McBeth averaged 1055.33-rated golf over the tournament's three rounds. Both he and McMahon only carded a single bogey during the PDGA National Tour finale.
Though Barsby's hole 1 warning shot meant it was game-on from the start, the action picked up steam on hole 7. McBeth had added an insurance stroke before successfully navigating the winding par-4 for a 15-foot birdie, then parked his approach on the downhill, righthand bending 8th for a tap-in 3. That gave him a three-shot advantage on Barsby, who had canned a 60-footer for deuce on hole 6 but also couldn't connect on two other early bids from beyond 10 meters.
That all changed on hole 10. McBeth laced a forehand clean down the parenthetically-shaped fairway, while Barbsy's sidearm couldn't make the corner and smacked a tree. He put his upshot to 40 feet, but McBeth parked his and was looking at taking a four-shot lead into the most scorable stretch of the course.
Barsby though, wasn't letting that happen. He tossed his yellow Aviar on a high hyzer line, and it crashed chains for a momentum-staving birdie. He repeated the effort on the 420-foot 11th – this time from 50 feet – to match McBeth, who hit from 40 feet after leaving a towering anhyzer wide left of the pin.
Barsby clawed back a stroke with a 16-footer from the ditch in front of hole 12's basket, while McBeth missed a long attempt off the top band to end his run of five straight birdies. He got back on the train with a perfect forehand on 13, and Barsby left his short. Again, though, Barsby persisted, connected from 40 feet to take his fifth consecutive birdie.
"Just making sure that he knows I'm not going anywhere," Barsby said of the run. "I'm playing golf and I'm here to play, and no matter what I'm gonna keep pushing."
That's what the duo did on holes 14 and 15, as they struggled off the tee and each scrapped for pars. Both of those holes found McBeth with chances to close the door on Barsby, who had the box and was struggling to execute his tee shots. Still, McBeth – who scolded himself as he implored his shots to stay higher – remained in control on the scorecard.
"I never had bogey in my mind. I didn't feel like I was ever close to a bogey today," McBeth said. "I wasn't giving any strokes up, so it was a little frustrating when he was giving me opportunities and I wasn't taking advantage of them, but I was never really worried about giving the lead up at any point."
McBeth parked 16 and 17 for two more birdies, but Barsby matched and took that same two-shot deficit into hole 18. Still first to tee, Barsby sprayed his Boss too far left, but got a friendly kick back into the fairway short of the top of the hill. The lie essentially left him out of range for an eagle, and McBeth hit the gap clean off the tee and had the win secured.
That didn't mean Barsby went down without a fight. He launched a roller that veered left and into the gallery, leaving him with seemingly no look to even save a birdie. Instead, he flicked a putter through a tiny window and nearly put it in, saving the 4 and showing the grit he's been known for during his distinguished career.
"It was like a two-foot gap, maybe two-and-a half," Barsby said, demonstrating the size of the space by holding his hands apart. "The line was actually there to put it in, so I was a little disappointed when I left it short and it rolled up onto the post because I knew I hit the line perfectly and I just didn't throw it far enough.
"That would have been some real, real drama if I would have cashed that in."
McBeth, though, had put himself to 45 feet with a look for 3. He simply laid it up and was able to tap in for the victory.
Those weren't the only fireworks on the hole, though. McCray, who missed three times from inside the circle as he fell off McBeth and Barsby's pace – including once for an eagle on 14 – checked the scores before the final hole and still had a chance to get into third place if he could muster up a 3 on 18. He smashed his drive to the right side of the fairway, then put an aggressive roller pin high, but wide right about 60 feet.
Then, he unloaded the shot of the tournament: A turbo putt that knifed through the air and smashed chains, giving him an eagle and the share of third place he was seeking.
Playing on the third card, Johansen moved up to third place with his own 10-under par performance. The 2015 Hall of Fame Classic Champion finished the event in first place in circle 1 in regulation (67 percent), and he corrected some mistakes on the green that plagued him earlier in the tournament.
"It was much nicer to actually finish the round and putt worth a damn, not miss a bunch," Johansen said. "…The last two days I missed two or three 20, 25-footers both rounds, and it just kinda killed my rounds."
Like McBeth, McMahon only logged one bogey during his three days at Jackson. More importantly, he was able to fend off Ricky Wysocki – who finished tied for seventh place after a dip in the standings on Sunday – and take home the PDGA National Tour points title and its $6,000 bonus. The 20-year-old won the circuit's first three events and never finished outside the top 5 at its six stops.
"It was kind of a happy accident," McMahon said. "Of course I want to play good at every tournament, including the National Tour. But I think winning Vegas, and then all of a sudden winning GBO, I was like, 'Wow, I'm in first place in this series. I might as well put more of my focus into this than anything else.' And looking back, I'm happy that I did."
Chris Dickerson started the day on the lead card, but found some inaccuracy off the tee and finished the tournament in sixth place with a 21-under par 183. Zach Melton jumped up four spots to tie Wysocki for seventh, while Kevin Jones mixed in two double bogeys to slip to ninth place. James Conrad finished his tournament on a high note, climbing up eight spots to tie for 10th place with Paul Ulibarri at 16-down.
Jones was excited to head home to Arkansas after his first full season on the road, one that exceeded his expectations. His weekend performance helped him jump into fourth place in the NT standings, as he managed two top 5 performances and averaged a 10th place finish during the series.
"That was a goal that I did not imagine myself fulfilling this year, to be honest, with the people on tour," Jones said. "But I think this year shows me what I can do and that I can compete with the best in the world in this sport. It's really exciting."
McBeth has now won three consecutive tournaments since coming up just shy at Pro Worlds last month in Vermont. Squandering his early lead at the season's biggest event, it seems, has reignited a spark in his game.
"I don't want to have that feeling of inconsistency again," McBeth said. "…I think that was the biggest focus. I can't be making those same mistakes and not taking the higher opportunity shots and getting myself closer to the basket. I think it was a bigger wake-up call to get my shots together."
Call that mindset a product of high expectations: McBeth still shares the top rating in disc golf, and he's only finished outside the top 3 once since July.