How To Follow the 2019 European Open
How To Follow the 2019 European Open
Media details for this weekend's PDGA Major
Wednesday, July 17, 2019 - 05:38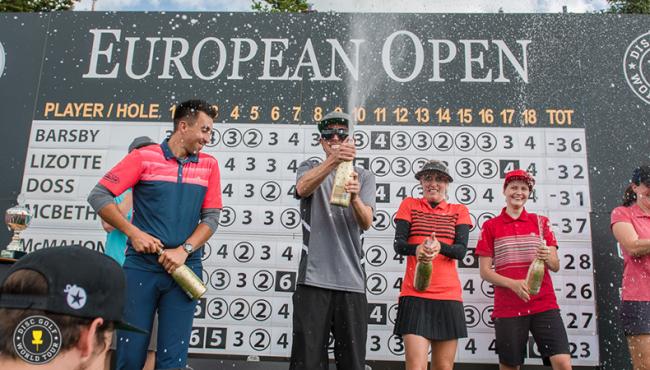 NOKIA, Finland -- The European Open will take center stage this week as 2019's first professional PDGA Major, with 144 competitors ready to tackle "The Beast" for the first time since 2017. If you can't be in the crowd of thousands here at Nokia DiscGolfPark for European disc golf's most prestigious affair over the next four days, there are still plenty of options to keep track of the action.
Here's everything you need to know to follow the European Open:
In-Person Spectating
If you're ready to be part of disc golf's largest gallery, the European Open staff has all the information to take in the event here. There are even opportunities for you to take on "The Beast" yourself throughout the week. Thank you, midnight sun.
Instant Scoring
With more stats than you can shake a stick at, keep an eye on UDisc Live all week for in-the-moment moves from Nokia.
Post-Production Video
MPO Feature/Lead Cards and FPO Feature/Lead Cards
In recent years The SpinTV has shifted its coverage to focus on the burgeoning European disc golf scene, which is good news for global fans who want to follow this week's Major. Feature and lead cards from the MPO and FPO divisions will be published on Spin in next-day, shot-by-shot form in cooperation with teams from Epic Productions and Tee Time Disc Golf. 
Post-Round Articles/Podcast
PDGA.com
You're here right now, and this is where you should stay to read up on player reactions, stats, and storylines from each round of the European Open. 
Prefer listening to your recaps? Be sure to subscribe to PDGA Radio and keep an ear out for daily episodes of Chain Reaction, where Steve Hill will run down the day's highlights with a mix of statistics and player soundbites.
PDGA Social Media
PDGA Media will be on the ground all week bringing the sights and sounds from the event, including live look-ins via Facebook. Whether it's behind the scenes shenanigans on Instagram stories or photos and interviews on Facebook and Twitter, we'll be communicating across all of our platforms for the week.
European Open Social Media 
The EO media crew will also be providing check-ins on the action throughout the week, including photo galleries and video highlights.