Clutch Eagle Leads McBeth To Inaugural San Francisco Open Title
Clutch Eagle Leads McBeth To Inaugural San Francisco Open Title
McMahon jumps into second place, while Wysocki slips to third
Tuesday, May 29, 2018 - 16:58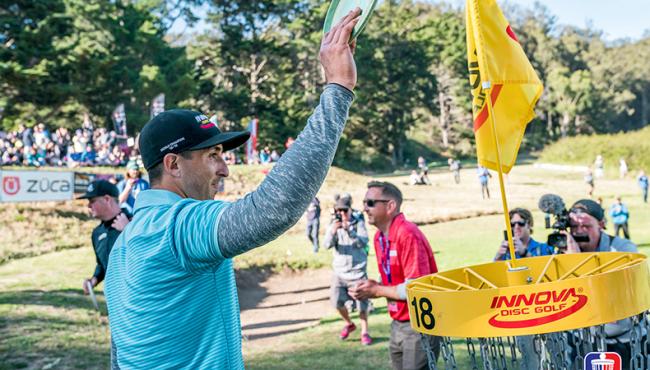 Gleneagles is great, but doesn't Pauleagles just roll off the tongue?
Paul McBeth followed up a devastating spit-out on Gleneagles' 8th with a 75-foot eagle connection on hole 9 Sunday in a sequence that proved to be the turning point in a wind-addled San Francisco Open victory. McBeth's 5-under par 57 led to a 19-under par 167 that gave him a two-shot margin over Eagle McMahon, who moved up from the chase card to take sole possession of second place with a 17-under par 169. Ricky Wysocki dropped in a long putt late in the game, but ultimately couldn't ride the breeze with the same success as his main adversary and dropped to third place at 16-under. Simon Lizotte and Drew Gibson shared fourth place with 15-under par 171s,
Scoring came at a premium during the early going of the final round, as steady 20 mph winds off the San Francisco Bay made par tricky enough to sustain. Neither McBeth nor Wysocki, who entered the round knotted up at 14-under, could separate early, with the duo taking their stalemate through seven holes. Then, McBeth was presented with his first opening.
Wysocki's tee shot sailed left and hopped over the out-of-bounds wall in the middle of 8's fairway, leaving McBeth with a chance to take a one-shot lead. But his birdie bid from 20 feet on the elevated pin was rejected, and Wysocki saved par to push.
McBeth's bad break was followed by a 10-minute back up on hole 9's tee, but he said he wasn't stewing about the adversity.
"I wasn't upset at that spit out, you know?" McBeth said. "Any time they elevate baskets it increases the chance for spit outs. Baskets aren't made to catch like that, so it's not a surprise…I knew I wasn't losing a stroke in that situation, so I knew there's no reason to be upset."
If his words weren't enough to prove that he was in the right mental state, then his actions certainly did. McBeth, first to tee on the majestic 747-footer, launched a Destroyer that ended up 75 feet short of the pin with a wide open look for eagle. He'd been in the same spot during round one and missed on the opportunity, but that wouldn't happen again.
Taking advantage of a lull in the breeze, McBeth quickly fired off a line drive jump putt into the chains for the eagle and a one-shot margin over Wysocki, who chipped away for his birdie.
"I was just standing there reading the wind, contemplating if I should lay up or go for it because I knew it was a fast green," McBeth said. "…I was kinda contemplating whether I wanted to run it, and the wind settled down and I was like, 'Alright, here's my moment.'"
He nearly had a follow-up moment on the 1,188-foot 10th, when his eagle bid there hit just low off the cage. Wysocki, meanwhile, two-putted on the hole, and McBeth took a two-stroke lead into 11.
There, Wysocki kept pace with a signature Sockibomb, a 50-footer through the wind that rattled the chains and the gallery of 300-strong, but not McBeth. He'd parked the hole with a soaring turnover shot and tapped in to keep the gap at two.
It stayed there until hole 14, when both McBeth and Wysocki's drives through the 263-foot tunnel shot failed to fade left, straightened by the sustained headwind. Wysocki missed his attempt from 35, while McBeth connected from just inside the circle to move the lead to three.
That would be all the cushion he needed, but he gained a couple more on the 465-foot 15th. McBeth's tee shot ended up pin high, and he was content to lay up from 35 feet and collect a par on another elevated pin. Wysocki, forced to go for the birdie to make up ground, sailed his bid wide right, then missed two more attempts before collecting a double-bogey 5. Those extra strokes effectively canceled out McBeth's two out-of-bounds shots down the stretch, and he was able to tap in on hole 18 for his third victory of 2018.
As much as the wind played a factor in making the round about more than just he and Wysocki, the four-time PDGA World Champion said he didn't think it did much to change an already difficult Gleneagles course.
"The only hole I think it really showed was the four-putt from Rick and the hole before that, too," McBeth said. "They weren't huge adjustments because the fairways are so big."
McMahon mounted enough of a comeback from the chase card to move into second place, as his three birdies in the last five holes found him leapfrogging Wysocki. He led the field in three statistical measures – fairway hits (84 percent), circle 1 in regulation (56 percent), and circle 2 in regulation (81 percent – but had an uncharacteristically poor showing on the putting green. His 79 percent success rate from inside the 10-meter circle was his lowest of 2018 and well below his season-long average of 91 percent.
Though McMahon said he had grand ideas of a chase card comeback –"I was definitely in sniping distance" – he battled not only a lack of confidence on the green, but also an upset stomach for most of the round that he chalked up to some mushroom pho he ate Saturday night. Between that and his putting, then, he was ultimately pleased with his final showing.
"To chip away and not feel well and kinda persevere through those feelings to get second, it felt really good," McMahon said.
Elsewhere at Gleneagles, Grady Shue logged the hot round with a 1070-rated 8-under par to move up 23 spots and into a tie for 13th place. Lizotte, who slipped from the lead card after four-putting on hole 18 to close round two, climbed to his fourth-place tie with a 6-under par finish.
The professional circuit now moves up to the Pacific Northwest for the Beaver State Fling, a PDGA National Tour event, on June 8. The Disc Golf Pro Tour resumes with the Utah Open on June 22.