Barsby, McBeth Set New Hall Of Fame Classic Course Mark
Barsby, McBeth Set New Hall Of Fame Classic Course Mark
PDGA World Champion trails McBeth by one heading into Sunday's final round
Sunday, October 14, 2018 - 00:22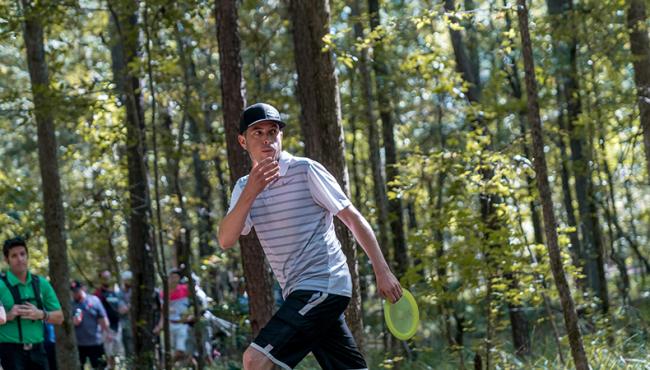 APPLING, Ga. – As PDGA World Champion Gregg Barsby sauntered down the fairway of hole 13 Saturday afternoon at the International Disc Golf Center's W.R. Jackson Memorial Course, an eager spectator approached and quizzed him about his score. Even though he was at 7-under par for the round, the Northern California native replied that he wasn't keeping track of his numbers, instead focusing on staying in the moment.
He made good on that promise minutes later, when he lined up a 30-foot putt as golf carts hummed through the adjacent parking lot. With a few spins of the disc, Barbsy reset, concentrated, and connected on the long-range bid for birdie, and the hole went down as a master class in mental fortitude.
"It's all about what you want to let in, what you want to let into your brain," Barsby said. "I'll hear some people talking under their breath, like 'Oh this guy's like this, this guy's like that.' I'll try to avoid it because my brain starts going to the result.
"If I can stay process-oriented, then I can just play and I don't have anxiety about what the end result is or what the hole is," he continued. "It's just, 'OK, I'm gonna play this shot and do the best I can here and move to the next one.' Almost like, tally 'em off. One shot at a time, like pitching a baseball game."
Barsby, then, put in a Cy Young-worthy performance during round two, as his 1067-rated 11-under par 57 moved him five places up the Hall of Fame Classic leaderboard and into second place with a 17-under par 119. It's a former shortstop, meanwhile, who leads the National Tour finale, as Paul McBeth matched Barsby's course record-setting mark to take a one-shot advantage into Sunday's final round with an 18-under par 118.  
Chris Dickerson rocketed eight spots up the standings with a 9-under par performance to land in a third-place tie with JohnE McCray at 14-under par, and Eagle McMahon and Ricky Wysocki both dropped from the lead card to the chase with their 13-under par totals. They'll be joined there by a pair who made the most of moving day, as Seppo Paju climbed up nine slots with an 8-under par 60 and Patrick Brown jumped up four places with a 7-under par 61; they are part of a four-way tie for seventh place that also features Michael Johansen and Kevin Jones with 12-under pars.
Barsby had his putter trained on the chains early. He sandwiched a 40-footer for birdie on hole 3 between two park jobs for deuce, then hit inside the circle in regulation on holes 7 and 8 to close out the front nine at 5-down. He charged ahead with another 40-footer on 11 and almost cashed in on a long bid on 14.
"I knew I had a pretty solid round going," Barsby said. "I didn't know the number, but I knew I hadn't really made many mistakes, and the couple mistakes I did make I was able to get over them."
Never was that more apparent than on the 714-foot 15th, which played as Jackson's second-most difficult at 0.39 strokes over par. Barsby hit an early tree off the tee and caromed to the left side of the fairway, leaving him plenty of work to do to save his 4. He then lined up a forehand smash with a Scorpius that crested the hole's rolling fairways and skirted through the treeline, dropping his cardmates' jaws in the process. He was left with a long look for birdie, and he drew metal as he flicked a sidearm approach off the cage.
"The forehand there was pretty big just because it got me back on track," Barsby said. "Almost made the forehand [approach] over there, little 80-foot chipper."
Barsby took that momentum into a powerful closing stretch. His Jordan-stamped Eagle hit a root that slowed down its progress on the 297-foot 16th, but he still saved the deuce with another 40-footer. He then dissected the par-4 17th for an easy 15-foot conversion before unleashing an aggressive drive through the left-side gap on hole 18. His neon green Boss flexed smoothly through the trees and settled in the ideal landing zone to play the par-5 for eagle, and Barsby then put his approach 25 feet right of the pin.
With a chance to go to 12-under par and have the course record to himself, Barsby misfired just slightly, and his Aviar slid off the right side of the chains. He still recorded a birdie, but the error left a bitter taste in his mouth.
"Obviously extremely disappointed I didn't make that last putt and frustrated emotionally just from not bagging it and finish out that round as well as you can," Barsby said. "You can't play the last three holes any better if I make that putt."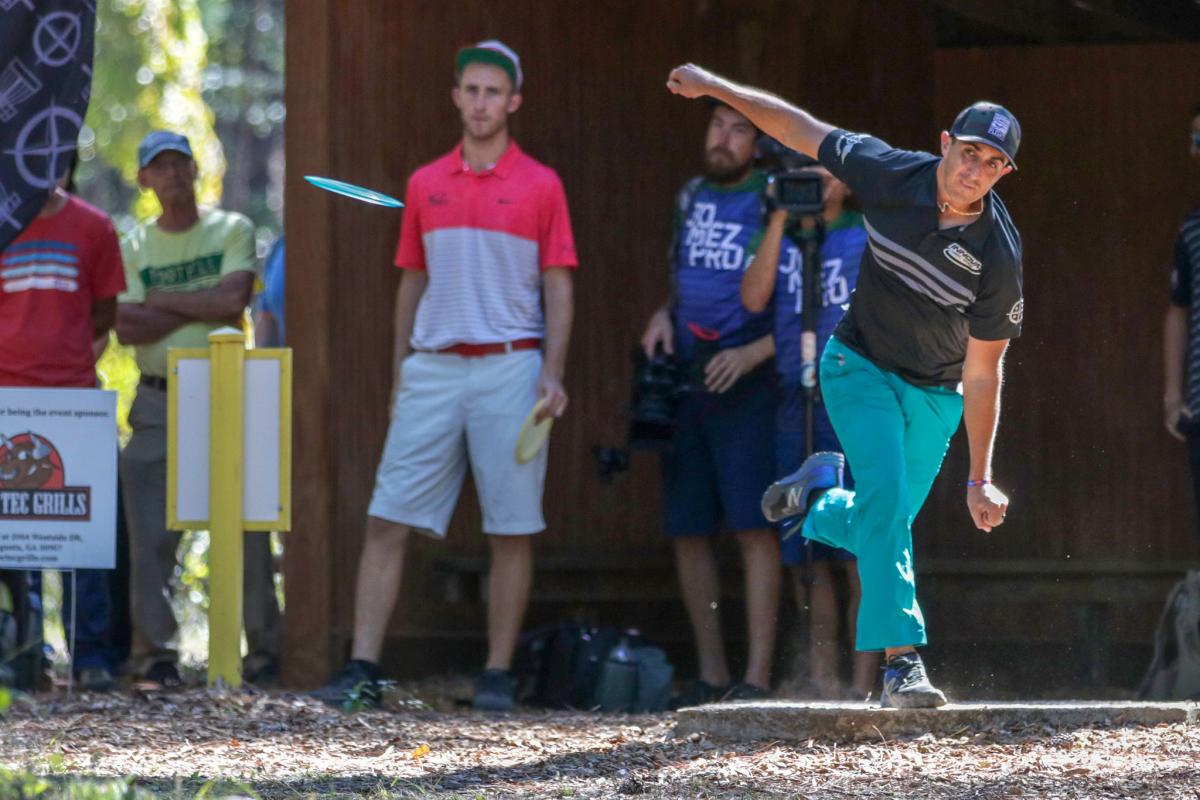 McBeth came into the round in third place and took advantage of Jackson's latter half to move into the pole position. He only had two attempts from beyond the circle all round, and he leads the tournament in parked shots (19 percent) and circle 1 in regulation (53 percent). Those opportunities led to a run of four straight birdies on holes 12 through 15.
"The back nine's more scorable, I think, because of the par 5s," McBeth said. "If you don't go into the trouble you're having eagle looks, if not really easy birdie looks…The tee shots are a little more important on the back nine to where if you can throw a good tee shot your upshots aren't too difficult, where on the front there are a lot more par 3s. The fairways seem to be a little bit tighter, and it's hard to get it to land in the perfect spot."
Like McBeth, Dickerson also played hot on the back. He peppered in putts from 40 and 50 feet during a run of five straight birdies on holes 12 through 16, then missed from inside the circle to take his second bogey of the day on 17. He shook it off quickly, though, by being one of three competitors in the 67-player field to land the eagle on 18.
Elsewhere on Jackson, a pair of Arizona pros moved up six places with matching 6-under par 62s, as Paul Ulibarri climbed to a 13th-place tie and Anthony Barela took a share of 18th place. The other player in that slot, James Conrad, carded one of the more unique 5-under par efforts in recent memory, rattling off 10 consecutive pars before cobbling together one birdie and two eagles to close out a bogey-free showing.
Coming off his second career United States Disc Golf Championship title, McBeth was out to prove that he is immune to a post-Major hangover.
"It's a consistency thing," he said. "I feel like I'm probably one of the most consistent players in the world week in and week out, whether it's a Major or a B-Tier. So I think I should be in the mix regardless, whether it's right after a Major or right before a Major. I'm still gonna go out there and play, and I think my bad days are still pretty good."
Barsby, meanwhile, admitted there is pressure to follow up his world championship crown with another signature victory, but that he's been "trying not to think about it." After tying for seventh at the USDGC, though, he felt like he had finally recovered from the comedown after his first career Major victory and was ready to hunt for more hardware.
"I was happy with that because I finally got through the couple tournaments after Worlds to where I'm hungry to go play my best golf," Barsby said. "I still feel like some of my best golf's in front of me."
Perhaps he's left it for Sunday, then.