Allen Repeats With Runaway Win At Hall Of Fame Classic
Allen Repeats With Runaway Win At Hall Of Fame Classic
Pierce takes second place to secure PDGA National Tour points crown
Sunday, October 14, 2018 - 23:48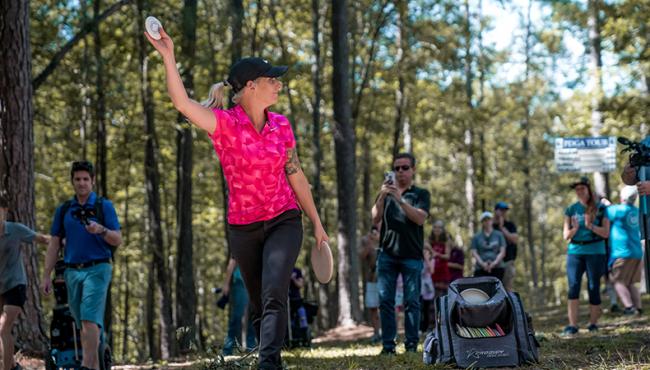 APPLING, Ga. – Over the three rounds of the Ed Headrick Disc Golf Hall of Fame Classic, Catrina Allen played Jekyll and Hyde golf.
The Minnesota native's showings on the front nine of the International Disc Golf Center's W.R. Jackson Memorial Course represented the good doctor, docile performances in which she only managed to card two birdies in 27 holes. On the back half, though, she unleashed the monstrous scoring machine within, showing no remorse for the baskets or her opponents' diminishing hopes of coming back for the win. With 12 birdies on the track's second half, including four on Sunday to close out an even-par round that brought her three-day total to a 1-over par 202, Allen was able to cruise to an eight-shot victory to close the PDGA National Tour season. It was her second consecutive win here at the PDGA's global headquarters, and she took home a $1,700 payday to go along with it.
Paige Pierce and Sarah Hokom were able to keep pace early but fell off late en route to their 5-over par and 2-over par showings, respectively. Pierce's 9-over par 210 for the weekend kept her in second place and helped her secure the National Tour series points title, while Hokom finished in third place with an 11-over par 212. Five-time PDGA World Champion and Disc Golf Hall of Famer Elaine King took home fourth place after a 16-over par 217.
Allen kicked off her romp to the title Sunday morning with a circle's edge connection for birdie on the 390-foot 2nd, but quickly ran into trouble. Her aim went awry as she two-putted on holes 3 and 4, the latter of which resulted in a double bogey. She followed that with yet another shot over par as she failed to scramble on hole 5's narrow fairway, and Hokom canned two birdies to shave three shots off the lead over the same stretch.
Still, Allen never panicked. Even when she had a chance to score the lead card's lone birdie on hole 7's uphill pin, she thought back to round one, when she hit the basket and rolled away on consecutive bids. (On one of those, her putter ran into her bag, but the group failed to call her for an interference penalty.) Instead of risking déjà vu, she decided to toss her disc safely under the basket to take a par.
"On 7 I couldn't get the rollaways out of my head," Allen said. "So I was like, 'That would be dumb [to run it].'"
That meant it was time to relax on hole 8's tee box with the continuation of the USA Today crossword Allen brought with her from Saturday. From there, she was about to enter the stretch of the course that served as her security blanket all weekend.
"I had a couple hiccups at the beginning, but I kept thinking in my head, 'Well, the back nine's there,'" Allen said. "For some reason the back nine doesn't scare me."
It did threaten to keep the front half's slower pace, though. Allen started the stretch with two pars and one bogey, as her drive on hole 11 – one of Jackson's six new shots – came up short of the desired landing zone and she failed to scramble. On hole 12, though, she started the feast by again connecting from just inside the circle. She added another shot under par on the par-4 14th before launching a high, beautifully arcing anhyzer to park hole 16. Allen birdied the hole all three rounds.
By then, her competitors were out of the mix. Pierce struggled with her grip throughout the day, and she said the tennis wrap she put on the handle of her pull cart was leaving residue on her hands. It was apparent as early as hole 1, when she shanked her drive to the right and found an early tree, and the issue persisted throughout the round. Her fairway hit rate jumped back up into the 60s, but her second shots were often inaccurate as she limped to a 55 percent scramble rate.
"I don't wanna make excuses," Pierce said. "…I kept telling myself, 'Grab it with the left [hand] and I kept getting – or if it wasn't sticky, I was thinking it was and early releasing…It is what it is. I wasn't getting off the tee. Whatever reason it was, I wasn't putting myself in position to make these strokes up."
Even if she had played better, Pierce wasn't sure she would have been able to oust her longtime Open Women's rival.
"Looking back, if I even would have cut down half of those [mistakes], she outplayed me today and this weekend," Pierce said. "…She shreds the back nine all three days and kinda leaves no room for error. If you're already behind it's hard to catch up when she's parking shots."
Pierce did, however, play well enough to secure the season-long points title. The 27-year-old Texan took home an extra $2,500 in prize money for her performance on the NT circuit, and that took the sting out of coming up short in her comeback bid.
"It's huge," Pierce said. "It's my goal every year, besides winning the world championship, is these year-long standings, so it doesn't just show that you're winning a tournament. It shows you're consistently playing well compared to your competition. I think it's a huge accomplishment, and I feel honored to say that I was the most consistent at the top this year."
King, meanwhile, was relishing the afterglow of three days in the National Tour spotlight. She led the 21-player field in scrambling (67 percent) and came in fourth place on the putting green (90 percent), and she said she was motivated to prove she can still compete with the best in the game.
"I want to hang with the touring professional women if I possibly can," King said. "I know there's some courses that do not play to my strengths, like wide open courses where they're power courses – I cannot hang with the Open Women. But you put a few trees to stop some of the big booming shots if they're not true and I'm finding I can keep up. That's a huge thrill to me."
Lisa Fajkus moved up one place to tie for fifth with Jessica Weese at a 20-over par 221, while Ellen Widboom and Holly Finley shared seventh place at 23-over. Kona Panis dropped two spots on the leaderboard during the final but still snagged the last cash with her ninth-place finish at 26-over.
Allen's two NT victories this year matched her 2017 performance on the circuit, and she credited a late-season rededication to working out for her recent success. It was a shift that had her ready for the offseason.
"I think I need to stay in the gym," Allen said. "It helps me mentally and physically. Playing well here is just motivation to keep on the gym regimen and get back in the field."