Elaine King Joins DiscGolfer Magazine as Associate Editor
Elaine King Joins DiscGolfer Magazine as Associate Editor
Adds another chapter to decades of service and a Hall of Fame career.
Monday, September 28, 2020 - 18:25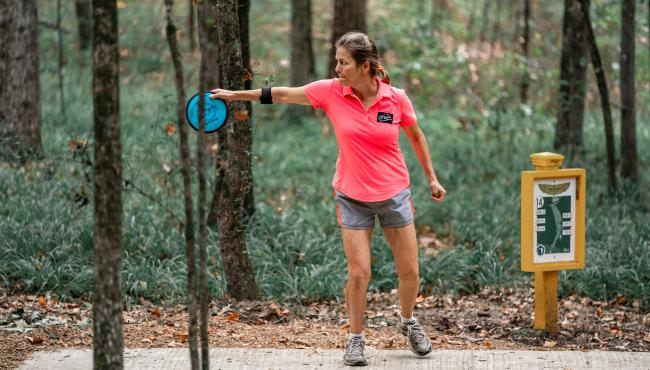 DiscGolfer Magazine has added a true heavyweight to its writing staff with the addition of Disc Golf Hall of Fame member, Elaine King, as the new Associate Editor.
The role, which is freelance in nature, will have King contributing a feature article or interview for each of the publication's quarterly installments beginning with the upcoming Winter 2021 Issue.
King's accomplishments on the course are the stuff of legend. She is a five-time Open Women's World Champion (1991-1994, 1997), two-time US Women's Disc Golf Champion (2003, 2007), three-time Masters Women's World Champion (2009, 2017, 2019), four-time Women's Player of the Year (1990, 1993, 1994, 1997), Senior Player of the Year (2012), and the winningest PDGA tournament player in history with 287 victories and counting. But it is only when taken in concert with her extensive work off the course that the true scope of her contribution to the sport comes into view.
King currently serves on the PDGA Board of Directors, a post that she also held from 1990-1999, and again beginning in 2017, and has held key positions including Regional Director, Commissioner, and, currently, chair of the PDGA Women's Committee. She is a founding member of the Disc Golf Foundation, a charitable organization (501c3) which brings disc golf to underserved populations, and established the PDGA Medical Committee, which has played a leading role in guiding the organization through the COVID-19 pandemic.
As Associate Editor, King will have yet another opportunity to put her distinctive stamp on the sport as she helps the magazine transition into the modern media environment.     
"For decades people have been tuning-in to their TV and catching sports live," she explained to me in a recent phone interview. "Yet, magazines like Sports Illustrated still have great readership. Why is that? Well, they're not trying to provide the results of events—because everyone's seen them. What these magazines are doing is they are providing insight. They are providing the reader something that they cannot get by just watching the sportscast.
"So this is where I think DiscGolfer needs to move to. We're going to have to shift to more analysis and less reporting to keep the magazine relevant."
King, who holds a Ph.D in analytical chemistry, and combines a storied competitive disc golf career with decades of experience in industrial research and manufacturing in the pharmaceutical industry, will bring plenty of analytical firepower to bear as she takes on the new role.
Still, she told me, transitioning from academic writing to the less formal confines of the PDGA membership publication may present its own kind of challenge–but it is one that she is eager to take on.
"Writing is something that we can all improve at all the time," she said. "You can experiment with different styles, but it's got to feel authentic. If it's humor, it's got to be your sense of humor. If it's self-deprecating, it's got to be coming from a place of honesty and not an affectation."
As chair of the PDGA Women's Committee, and as the only woman on the DiscGolfer Magazine Staff, King will be tasked with representing a historically underserved demographic in disc golf. Still, she told me, her goal is to produce content that will appeal to the vast majority of players.
"When [DiscGolfer Editor] Joe Feidt recruited me for this position, he emphasized the fact that a woman's point of view is necessary and valued in the magazine," she said. "So, I'd be providing a woman's point of view and also, presumably, making sure the content is balanced, reflecting the female demographic.
"But it's quite interesting—I've heard quite a number of people who, when they talk about viewing disc golf, they say, 'I like to watch the women play because that's much more like my game.' And I've been reflecting on that. Of course, there are a lot of viewers who just like seeing the men just absolutely crush their drives. And the men can do things that the women can't, in terms of distance. But if the pro women played much more like the average PDGA male member, then by analyzing the women's game, and looking at choices in how to attack or other instructional topics, that's where we can get—not just the female audience—but the average player who throws 300 to 350 ft."
DiscGolfer Magazine readers can look forward to the authentic writings of a disc golf legend coming to a mailbox near them this winter.