McMahon, Wysocki Finish Strong Among Five-Way Tie At GBO
McMahon, Wysocki Finish Strong Among Five-Way Tie At GBO
Lizotte, Gibson, Shue share lead after round one
Friday, April 27, 2018 - 01:22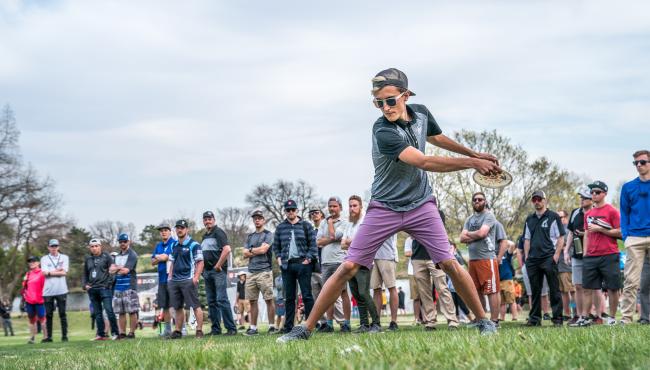 EMPORIA, Kan. – "I want to act the same if I'm 18-under or if I'm 18-over."
Though Eagle McMahon has the talent to achieve the former and was never in danger of the latter during round one of the Dynamic Discs Glass Blown Open, his message was clear: Composure in the face of adversity was paramount Thursday at the Emporia Country Club, as the 20-year-old phenom and his feature card compatriots endured the peaks and valleys of this otherwise board-flat Midwestern landscape.
For McMahon, that meant recovering from an out-of-bounds shot that was mere inches from safety. Ricky Wysocki had his own struggles keeping it between the lines, while Simon Lizotte lost his way on the putting green. When all was said and done, though, that trio – along with Drew Gibson and Grady Shue – emerged from the fray tied atop the leaderboard after 10-under par 63s to open this three-day tournament. The group effort was good enough for a 1071 round rating.
Hometown hero Eric McCabe is one off that pace with a 9-under par 54, while Andrew Presnell and defending GBO Champion Paul McBeth logged 7-under par 56s. Nate Doss, who is playing in his first event since withdrawing from the Memorial Championship in early March, rounds out the top 10 with Jordan Castro, as the duo tossed matching 6-under par 57s on the 2:50 p.m. card.
McMahon was mostly steady on the front nine. Even though his drive on the 709-foot 2nd sailed right and out-of-bounds, he approached effectively to save par. He scrawled three straight birdies on his scorecard from holes 4 through 6, then slowed a bit as he scrambled after some short drives. Hole 10, though, served as his wake-up call: His tee shot on the 658-foot, right-bending par 4 stayed just safe inside the left boundary, but he sprayed his upshot and leaked just beyond the OB paint. It was a situation that might have daunted the young pro at previous GBOs, and he showed a hint of outward emotion as he scolded himself for the miscue.
Instead of carrying that negativity with him, though, he put it behind in authoritative fashion. The Colorado native put his drive on hole 11 inside circle 2 before converting on the 40-footer for deuce, then lofted a wide hyzer over the gallery on 12 that nestled next to the pin. Another birdie came on hole 13, and the turkey eventually gave way to six straight shots under par – including McMahon's first time landing safely on hole 16's island green – before he carded a 3 on the final hole to tie for the hot round.
"To get those three 2s in a row and then – was it six birdies in a row? – that just felt really great," McMahon said. "It kinda made me forget about all that I did wrong earlier in the round."
Wysocki shared a similar sentiment about his scalding finish, where he also cobbled together six consecutive birdies. The reigning PDGA World Champion was smarting from two OB strokes – one on hole 8, when he was trying to lay up off the tee but misfired left, and another on 10 after a "horrible drive" – but got his groove back with a drive on the 371-foot 13th that skipped off the cart path and over the basket. He connected on the 40-footer from the left side of the fairway and was on his way.
"I think that's what started it back, yeah," Wysocki said. "You know how it is for me – once I get one thing going, that's what it takes and I can get going. I do it a lot, where I'll have one bad hole and then it'll carry over to two or three, so definitely still [need] to clean up on the mental side as far as letting go of one hole if you make a mistake."
Lizotte, too, blamed cerebral lapses for his missed opportunities. The German pro, who was playing with a Velcro brace on his lower back as he rebounds from injury, led the field in both circle 1 in regulation (67 percent) and circle 2 in regulation (89 percent), but converted on only 80 percent of his putts from inside 33 feet. That left him lamenting what could have been.
"I was putting for birdie on 17 holes, and then shooting 10-under is not very good," Lizotte said. "But I'm happy with my drive. I kept it in bounds except for one hole. If I keep putting myself into the position to get birdies, I think I will capitalize better in the next two rounds and there's chances to win."
While McMahon, Wysocki, and Lizotte all left some shots on the course, Gibson said he played "pretty clean." The 22-year-old Northern California product was just behind Lizotte in greens in regulation, and his 94 percent circle 1 putting rate was six points higher than his season average. He's logged seven top 10 finishes to start the year, and most of those performances have come after poor first rounds. As a result, he's looking forward to competing on the top card instead of trying to claw his way back to the surface.
"If I can play like I should and then keep the first round where it should be, then it actually puts me in a position to compete for the win," Gibson said.
Shue, the 2017 PDGA Rookie of the Year, went bogey-free through 16 holes and leads the field in parked shots at 28 percent. He added a 75-footer for birdie on the 766-foot 14th for good measure and was looking to repeat the effort in round two.
"As long as I don't bogey I think I'll shoot decent," Shue said. "The birdies will come on this course."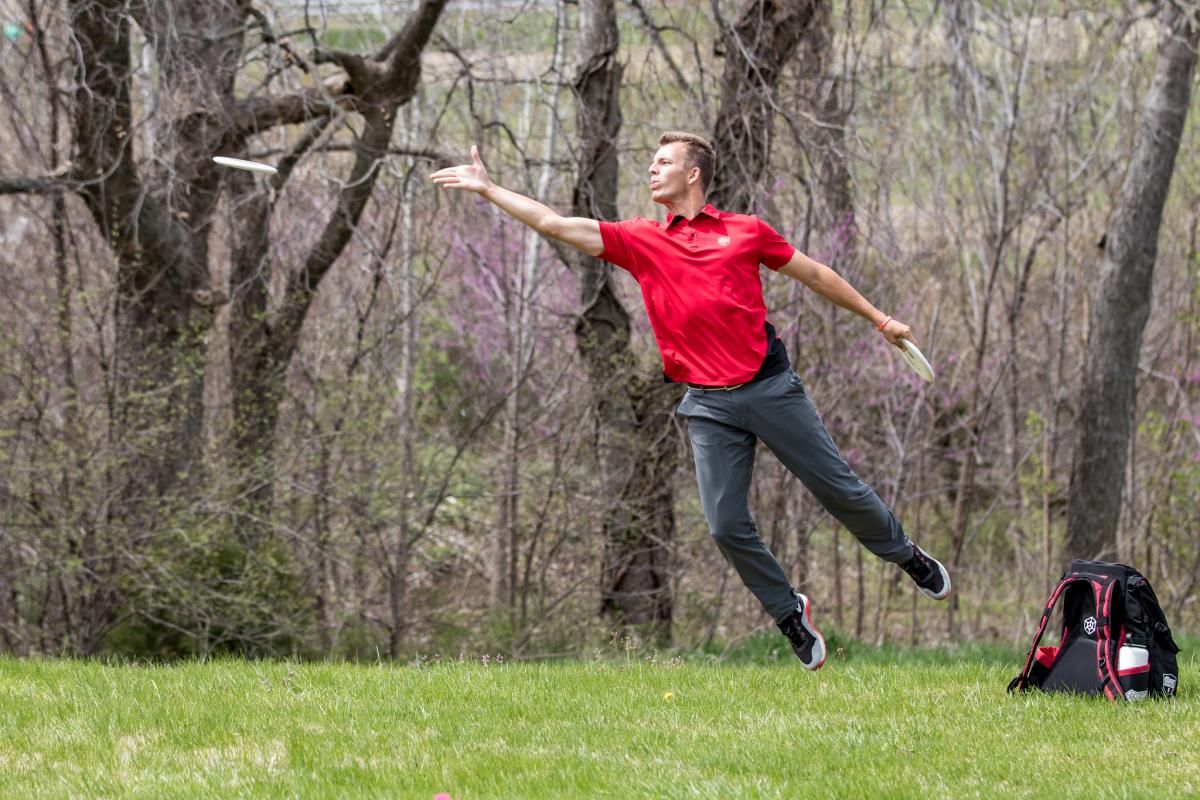 That is if the weather continues to trend in the right direction. After two straight years of inclement conditions, players were treated to mostly sunny skies and temperatures around 70 degrees Thursday afternoon. The mercury is set to climb a few notches higher Friday, with wind speeds that should yield scoring.
"It's 100 percent on the wind," Wysocki said. "It could be 20-under could win if the next two days are really windy. If it's days like today, I think you're gonna have to shoot 10, 11, 12-under to finish the last two rounds to win, and I very well could have [shot that today], so I'm taking this round as a plus for me."
The Open lead card will be broadcast on SmashboxxTV at 3 p.m. local time Friday, with real-time scoring and statistics for all groups available at UDisc Live.