Five for 10, Three for Two to Start off Memorial
Five for 10, Three for Two to Start off Memorial
Scoring separation slight during round one at Fountain Hills
Thursday, March 1, 2018 - 02:08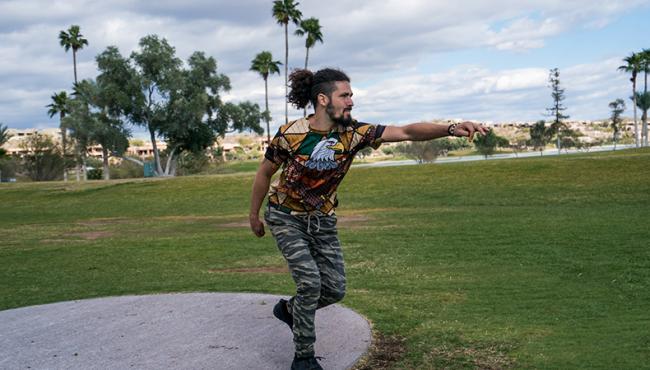 A handful of competitors tossed double digits under par Wednesday to kick off the 2018 Disc Golf Pro Tour season, with 10 coming up as the lucky number on the leaderboard at the Memorial Championship outside Phoenix.
JohnE McCray, Nikko Locastro, K.J. Nybo, Ricky Wysocki, and Teemu Nissinen all fired off 1062-rated 46s at Fountain Hills to seize an early share of the lead, while Simon Lizotte, Eagle McMahon, and Eric Oakley are tied for sixth place after their 9-under par 47s.
The Open Women's field finds a similar logjam at the top, with Sarah Hokom, Paige Pierce, and Catrina Allen knotted up with 2-under par 54s atop the scoreboard. Jennifer Allen and Jessica Weese threw matching 1-under pars, while Kona Panis, Colleen Thompson, and Madison Walker are tied for sixth at 1-over.
As if all those ties weren't enough, try this on for size: The top 26 players in the Open field are separated by three strokes. Extend that margin to five strokes, and 55 competitors are in the mix.
Wysocki came to the event seeking his first career Memorial victory, a particular bugaboo since he makes his winter home in Scottsdale. He said he thrived under the pressure of being on the day's featured card, piling up seven birdies on the first nine holes, and indeed thought about how this tournament has eluded him throughout his career.
"It's something that I've been thinking about since last year, really," the two-time PDGA World Champion said. "This is my next opportunity to give myself a chance to win, and me coming out with a strong round is good for me and my confidence."
Though Wysocki mixed in two long putts on the course's front nine, he stalled a bit on the back and two-putted on holes 16 and 18 to miss out on extra birdie bids. He admitted that his putting, which is normally his calling card, has suffered in the early weeks of the season, but that he spent time after the round working out the kinks.
"I think I'm thrown off a little bit because I've had to change my style up the last couple weeks with Vegas being real windy," Wysocki said. "…I think it's coming along and I think it's gonna be better as the season goes along, and even here at the Memorial."
McCray's showing represented a rebound performance, as he failed to make the cut last weekend at the Las Vegas Challenge. The 45-year-old Florida pro recovered from two early out-of-bounds strokes with impeccable accuracy, ending the day by hitting 83 percent of his fairways. And when he wasn't parked near the basket, he was making his putts to the tune of a perfect rate inside the 10-meter circle.
For McMahon, it was a tale of two rounds. Coming off a resounding win in Las Vegas, the 19-year-old stumbled out of the gates Wednesday after his birdie attempt on the opening hole at Fountain Hills spit out. "That set the tone and nothing felt confident," he said. McMahon failed to card a stroke under par until taking a three on the 570-foot 8th, but he quickly gave it back with a bogey on 9.
Still, he relied on his past experience at the Memorial and waited for the back nine to come to him, and come to him it did: McMahon was perfect on Fountain Hills' second half and rocketed up the leaderboard. It wasn't just perfection as far as birdies, either; he also hit every fairway, green in regulation, and circle 1 putt down the stretch. There was no hangover after his first career National Tour victory, and he said there was barely a change in his mental game even with the lack of downtime between events.
"Hardly different at all except the fact that I felt like I had a little more swagger than before," McMahon said. "I feel a bit more relaxed and confident."
Each of the top trio in the Open Women's field kept it relatively clean off the tee – only Pierce went out-of-bounds, twice – but missed numerous scoring opportunities inside the circle. Catrina Allen (five) and Pierce (seven) two-putted several times, while Hokom missed three putts inside 33 feet on the front nine before making all of her putts on the back. Only Walker (90 percent) and Thompson (89 percent) bested Hokom's rate inside circle 1 during the round.
Play now moves to Vista del Camino Park, where the total course length is augmented by nearly 1,700 feet. Still, given the Memorial's history as a tight affair – four of the last five iterations of the event have been decided by one stroke, two of those via a playoff – Wysocki did not expect the longer track to add more air to the scoresheet.
"It'll still probably be pretty close tomorrow," Wysocki said. "But I think it'll be a little more separation…as the tournament goes each round further."
The lead card will take on Vista today at 4:00 p.m. ET and be streamed live on the Disc Golf Pro Tour's YouTube channel. Statistics and real-time scoring for all groups will be available via UDisc Live.