Nate Doss & Val Jenkins Win Green Country Open NT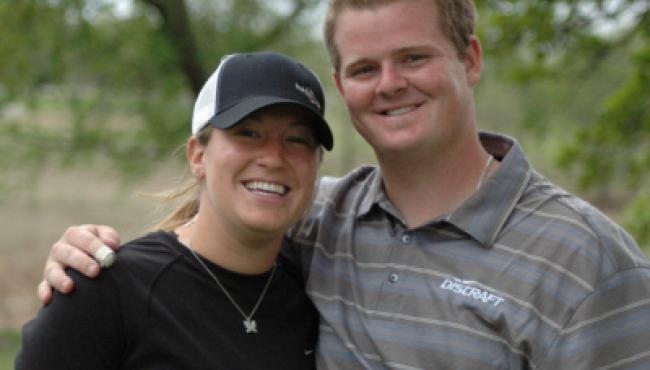 Pawhuska Playoff Propels Doss to First NT Win of 2009 at Green Country Open
Val Jenkins Remains Unbeaten this year on PDGA National Tour
By Dr. John G. Duesler, Jr.
---
Despite coming off an impressive pair of 51s from his Saturday rounds during the 2009 Green Country Open in Pawhuska, Oklahoma, Nate Doss knew his four-throw lead could be literally blown away in one-hole given the 30-50 mph winds that players faced during final round action at the Taylor Lodge facility.  Josh Anthon, knowing that Sunday's one round would be his only chance to close the gap from the second card, played a steady front nine on the Island Course before catching fire on the back.  Anthon figured it would be his day after smashing chains and scoring an ace on the uphill hole 14, but a bogey four on hole 18 left Doss with just a par, par, par finish on 16, 17, and 18 to force a playoff.  And Doss sort of knew it. 
"I saw Josh kind of across the fairway, where on 14's tee pad he gave me a tip of the hat, so I figured he was doing pretty good," Doss said after the event.  But it was the tip that Anthon provided on his lead drive during the playoff that really helped Doss his first National Tour event of the young 2009 PDGA season. 
"I played the hole Saturday, and threw what I thought was a pretty good shot, and it held out right and landed, and I actually up pretty much right where Josh was [on his drive on the first playoff hole]," Doss said.  "Now this morning I threw another shot that I thought was pretty good, and it held out right.  So I just figured with this big crosswind to just hammer it inside.  I aimed at the inside trees, and the wind just pushed it right around the trees and it hooked right up to the pin." 
That drive from Doss landed about 17 feet from the basket, forcing Anthon to do the only thing he could, knowing well that his friend from northern California was sure to make that putt, regardless of the conditions.  Anthon's birdie attempt flew by the basket and carried 24 feet away.  The missed uphill third shot from Anthon left Doss to just layup and drop-in for the over $1000 first place check. 
On the women's side, Val Jenkins made it three-for-three on the 2009 National Tour by capturing this weekend's Green Country Open title.  Jenkins admits that she approaches the National Tour events differently than other tournaments. 
"It's just a different mind-frame when I'm going into these bigger tournaments.  I know they are more important and more prestigious to win these events," Jenkins said.  "These are the events that add up to a title in the end, so I like to do very well in them." 
Jenkins did face strong challenges from Des Reading, who continued her outstanding play, as well as rising disc golf star Liz Lopez, who carded the low score in the women's open division on Sunday on her way to capturing third place.
Green Country Open Photo Gallery
---
LINKS: