Juniors in Droves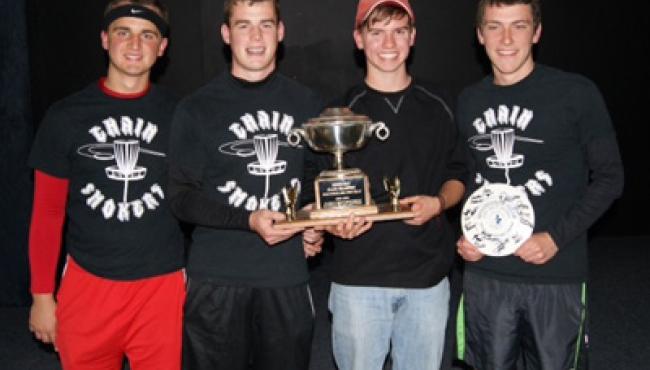 On Saturday, November 9th, 86 players converged on the Ironworks Hills disc golf course in Winchester, KY for the 6th Annual Kentucky Rec, Novice and Junior Disc Golf Championships.  Of the 86, an astounding 47 juniors (more than half of the field!) competed in the event, proving that Kentucky is a hot spot for junior participation.  A modified version of the Ironworks course was used for the event; nine permanent holes, plus 11 more temporary holes were set up to create a challenging but fun 20-hole layout for the participants to enjoy.  Although the wind was present all day (gusts up to 20 mph), it was a picture perfect day for disc golf.
Jacob Varner, out of the Under 19 Juniors division and competing for George Rogers Clark High School, had the hot scores of the day, carding two solid rounds of 58 on the par 60 course for a total of 116, or -4.  Brandon Lowery won the Recreational division by three, carding a total score of 122, or +2, while Joe Godbey won the Novice division by three throws as well.
In addition to some heated competition, the Kentucky High School State Team Championship was embedded within the event this year.  Any high school from Kentucky with more than four players was invited to compete.  The four lowest scores would count toward an overall total, and the school with the lowest total would be declared the Kentucky High School State Champions. 
Four teams competed in the State Championship; George Rogers Clark High School from Winchester, Anderson County High School from Lawrenceburg, Franklin County High School out of Frankfort, and Lexington Catholic High School from Lexington.  GRCHS won the first State Title in 2008, then after a year hiatus for the event, Anderson County High School had dominated from 2010-2012.  Varner helped his team out by shooting the hot score of the day, but the rest of the team contributed immensely, and the Cardinals won by an astounding 28 throws over their closest competitors to reclaim the title. 
TD Lewis Willian had this to say of the winning team, "The GRC boys have been holding organized practices all Fall as well as participating in our 25-person Fall PDGA league. When the course was damaged 10 days ago in the strong windstorms that moved through the area – it was the GRC boys that helped clear the damage and get the course playable again.  They're an important part of the local disc golf family at Ironworks Hills DGC." 
Final scores: GRCHS- 542, ACHS- 570, FCHS- 603, LCHS-636.  For complete results of the event, click here.  Congrats to the newest Kentucky High School State Champs, the George Rogers Clark High School Cardinals!