Promoting Your Disc Golf Course
Promoting Your Disc Golf Course
Make your course a star player
Monday, November 25, 2013 - 14:16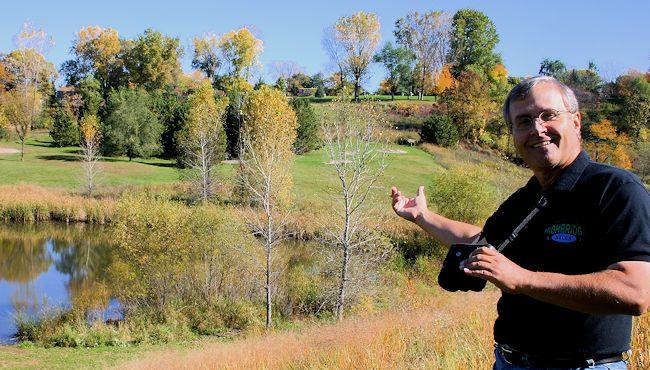 This "player" shows up to "play" with you every round. It's a course, of course. And yet, other than a directory listing, many courses don't get promoted as well as possible, even those with top ratings. For many courses, especially pay-for-play, attracting more players is worthwhile. Even if not to produce more income, more play keeps reminding the Park Dept. and community that your course is an important recreational resource to support.
Promotion 101 - Listing
Get your course listed in national directories such as PDGA, DGCR, DGU and The Disc Golf Scene. Provide the most current and complete information. Pay special attention to providing not only good directions to your course but also the address and/or GPS coordinates for the parking lot. Make sure directions are clear for players who may arrive from all directions, not just the most common route in your area.
Listing in the PDGA Directory is important if the course will be used in sanctioned events. Tournament scores are connected with course layouts as part of the player rating calculations. Courses listed in the PDGA Directory will build up a stats history. If the course is not listed, the stats go into database limbo. As a shout out to TDs, especially those outside the U.S., please get your course listed in the PDGA Directory before running your event. Many players like to check out the course directory listings for the courses they will play in upcoming events, at minimum, to get directions.
Once listed, your course will likely get rated. This can be a two-edged sword and might hurt your promotion if it receives lower ratings. If your course is new or being upgraded soon, there may be elements of the course not yet completed like hard surface tee pads or signs. Some course raters are likely to jump to review your course as soon as it's listed. The way to defend against a lower rated early review is make sure readers know about the pending upgrades and when they will happen. If comments from poor reviews of your course are justified, you can't do much about that. However, sharing poor reviews with course owners can help persuade them to make the desired changes or improvements.
What's in a Name?
It's hard to believe a weak course name would reduce course traffic if the course itself is good unless it's really disquieting like maybe Mosquito Bog DGC. On the other hand, a strong disc golf oriented name like Orange Crush may help. But do you know where it is? Common course names are the same as the park they are located which can help players find it. But those names can lack personality. A naming trend that can provide both personality and location combines the two. Some examples are Badlands DG Course at Camenisch Park, Moccasin Creek @ The Lodge or Squaw Creek Gold DGC @ Fairfield Park. The emergence of GPS navigation may have triggered this naming trend since the park or site name is likely in the GPS database.

Got a good name? Get a good logo. Get minis made. Get discs made. I'm surprised we haven't seen more custom discs featuring course names and logos in comparison to thousands of tournament logo discs over the years. Tournament logo discs are nice for money raising and player packs, specifically for the event, but are likely to have a short shelf life after the event.
On the other hand, course logo discs can produce sales all year for the club or course owner and can still work well for events. Just add an event tagline to your course disc such as "Home of the Zarnia Open" so it features the event, especially if this event is held each year on that course. After the event, the course disc even with the simple tag line will likely sell as well as those without it. Consider that a primary attraction for many players is the course(s) played.
Here's an example how the High Bridge course discs and minis were labeled by adding a "PW07" for Pro Worlds.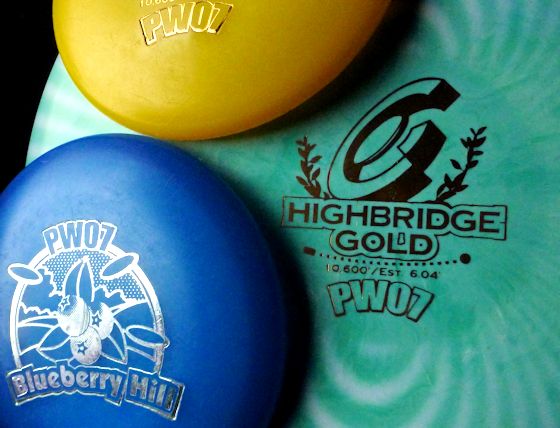 If good names can help courses attract players, great holes help players remember the courses. Hole names like "Lobber's Leap", "See Der Tree" or "Leaf it to be There" can be more memorable than hole 6 or 13. Hole numbers can be subject to change, not just when a course gets significantly rearranged, but simply for temporary tournament setups where signature hole 9 may become hole 7. A hole name always stays with it even if its number changes.
One more naming step was taken at High Bridge where each course name incorporates a color and the baskets are that color: Blueberry Hill (blue), Granite Ridge (grey), Highbridge Gold (yellow) and Woodland Greens (green). All holes on each course have names which follow a theme such as "Rock" Music on Granite and golden/yellow objects/themes on Highbridge Gold. Going all the way with naming and color coordination has been helpful for High Bridge to distinguish multiple courses each with unique identities. But even doing some of these naming steps might help boost both initial visits and return visits to your course.
Even More Names
A pet peeve of many who play on courses with multiple pin placements is not knowing how well their score compares to the course record when that day's pin placements are random and haven't been used in competition. While variety is nice, consider moving pins in a more organized fashion by establishing named layouts with specific pin placement combinations. Two common ones to start with are when all pins are short and when all pins are long.
On the Steady Ed course at the IDGC, eight named layouts have been established which include all short (The Steady Ed) and all long (Steady to the Max). Most holes have two pin placements. Each pin placement is included in four of the eight layouts so they get used about equally. The six layouts in-between have some sort of theme where the Edge of Wetness pin combination brings the most water into play and Rockin' Out has the most pins on or near rock formations.
By plan, the eight layouts are set up in a rotation where the fewest number of pins need to be changed going from one layout to the next. The reality is that due to the tournament schedule, the layouts used have jumped around a little more than planned. For destination courses, it would be great to see an online schedule posted that shows when different layouts will be in place so players could plan their travel or at least know what to expect. Maintain scoring records online for each layout so players can compare how well they threw a layout.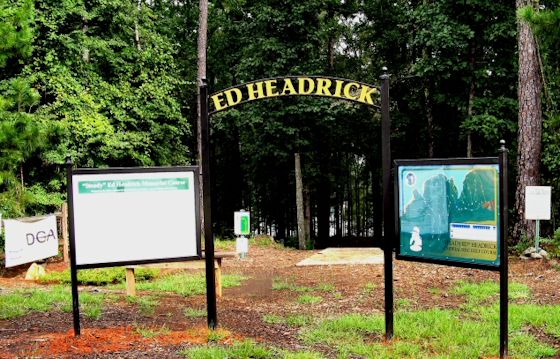 Sanctioning Events
Speaking of scoring records, there's nothing like getting events or leagues PDGA sanctioned to get your course on the radar for competition players. Be prepared for a higher level of course quality scrutiny the higher level you sanction above leagues by the players who attend. Check the PDGA Tour and Course Guidelines to make sure your course meets the desired standards or hold off until your course is ready for competitive play.
Park Department & Community
Promoting your course to your Park Department and community can be just as important in the long run as promoting to players. What can happen for many new public courses is the money for building it comes from a one or two year capital budget outlay. After that, unless there's damage or theft, the disc golf course barely shows up or doesn't show at all in the annual Park & Rec budget. It's uncommon for disc golf to show up on the Recreation side of the budget because in many cases, the Park Dept does not run any events or leagues. Why? Because by and large, we still do it for them.
Do what you can to encourage the Park Dept by either teaching them how to do some sort of DG event or helping them do it so there's money being budgeted and spent toward disc golf in some way every year. In some cases, it may simply be sponsorship dollars they provide for your event. Out of sight, out of mind can be riasky if this is not done. When it comes time to improve the course or defend it from changes or removal, those looking at the previous budget years may not have been there when it went in. They may not know how successful the course has been because there's nothing officially in the financials indicating much, if any, activity.
Even if your course is in the directories, it can help to have the course represented on the Park & Rec website so they know what's going on. They can let players and organizers know when there are conflicting activities that may impact play such as a cross country event coming through the course or sewer work that needs to be done. One idea is to have a Hole-in-One honor roll on the P&R website. Have signs near short hole tees where to report holes-in-one to the P&R so your name can be added to the honor roll. Maybe it's optimistic but perhaps this would reduce graffiti for aces marked on benches and targets.
As a fundraising idea for the Park Dept., consider an OB stake sponsorship program. For say $20, a person gets their name on an Out-of-Bounds stake. Once you have lots of stakes with names of players and people in the community, it's a little tougher for future administrators to decide to scale down or remove the course.
Video Promotion
Prepare a video tour of your course and post it on YouTube and your Park Dept website if they can handle it. Here's a tour of the Lake Olmstead DGC in Augusta, GA prepared by Matt Cooper using a DJI Phantom quadcopter with the Gopro Hero 3 camera on a ARRIS CM2000 brushless motor gimbal.
For your video tour, no need to do a hi-tech fly-through. Try to at least include an overhead map of the course and each hole, stats for each hole (number-length-shape-par) as it's being shown, maybe players throwing tee shots (dressed appropriately), and a soundtrack possibly including commentary on how the holes could be played.
Get ambitious and see if you can get coverage from a local TV station. You'll probably need a creative angle beyond just highlighting your course. Perhaps get your players to do tree planting on the course for Arbor Day to demonstrate environmental support. Or perhaps become part of a bigger story on the park summer programs for kids. A charitable effort of some sort might also work.
Make 9 Equal 18
Many 9-hole courses seem to have much lower traffic than similar style 18-hole courses, especially when located in the same area. Here's one strategy that has worked in Minnesota to boost 9-hole course traffic. A 9-hole course (Red Oak) which already had short and long tees on each hole was partially redesigned to enhance the differences between tees where possible. One more hole was added and they were simply renumbered to make it seem like a 20-hole course. The short tee on the first hole was marked as hole 1 but the long tee marked as hole 11. The next hole long tee was marked hole 2 and shorter tee marked hole 12. This numbering process continued alternating short and long tee marking.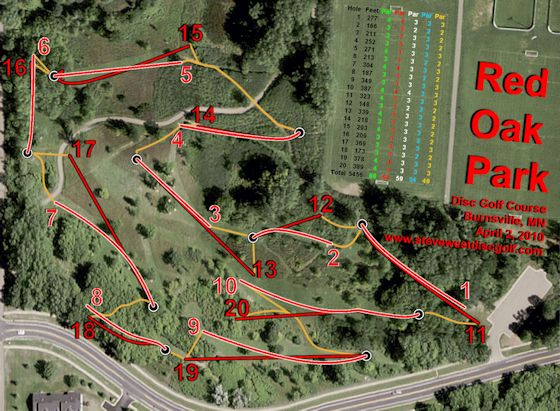 This has been a hit on two Twin Cities courses blowing new life into one 9-hole course that had lost popularity over the years and a newer course (Brockway) that started with this approach. Both courses have active leagues and local players who have taken "ownership" in keeping the course clean and in good shape. Trying this strategy in your area might take some of the load off your 18-hole courses. This way they can handle all the new traffic you might generate after implementing some of the other ideas above.
Outreach Promotion
Okay, so your course has been around for years, seems well respected and has hosted many tournaments bringing players from outside your area. Do your State Tourist Board, Convention & Visitors Bureau (CVB), Chamber of Commerce or Real Estate Associations know about it? As our sport continues to expand, many courses become just as legitimate for tourist activity listings as the local miniature and ball golf courses. There are players moving to certain disc golf areas primarily due to the courses, club and tournament activity in those areas. If you haven't already been working with your CVB or Chamber for help with events, do so now. Their partners and constituents have a stake in the success of your event when bringing players even from just outside your suburb or town let alone outside your state.
You and many others may have put lots of time and energy into your course. You know it's good, perhaps even great. Don't just keep it to yourself. Let the world around you know and turn your course into the shining star for others to see.