Hot Scores at Hawk Hollow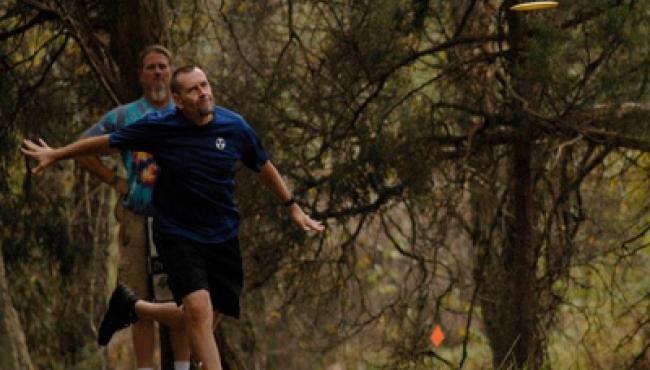 This year's Hawk Hollow Open in Spotsylvania County, VA was attended by 49 pro players.  The field was made up of 21 Open, 4 pro women, 14 masters and 10 grandmasters.  Both days, the course played the original 18 hole, par 63 Hawk Hollow layout which is spread out on a working cow farm and extends for 8,089 feet.  A creek meanders throughout the course, which gives players ample opportunity for additions to their score card for either throwing their disc out of bounds into the creek or having it ricochet in the creek.  In order to score well, you have to keep your disc dry.  Also, the fence lines along some of the holes and behind some of the baskets also require you to have excellent placement of your shots.  So with all this OB, is it possible to have a clean round?  Absolutely, but it is a rare feat that someone finishes a two-day tournament at Hawk Hollow without at least one errant throw.
Saturday morning's round found newcomer to the course Tighe Holden in the lead after shooting a hot round of 54.  Although his 54 would end up being the lowest score put up by any player over the weekend, his lead only lasted for the first round.  After a brief lunch period of smoked pork, the second round around the grueling hills began.  Two-time Hawk Hollow Open Champion Erik Smith followed his 56 from the first round with a 55 to take the lead.  One would think that after two rounds of some very physically and mentally demanding disc golf, the players would want to rest and relax; well, that is exactly what they did.
Saturday night festivities included a dinner and some jocularity.  This year's dinner, hosted by Vegan Ray Parrish, consisted of smoked turkey, John Biscoe's famous mashed potatoes, roasted carrots, rolls, and homemade cookies – YUM!  But throughout dinner, the participants were anxiously awaiting the evening's highlighted activity – the hot pepper eating contest.  Because of Biscoe's ingenuity, the Hawk Hollow Open's main event always seems to be an hour or so of watching men and women, young and old, test their prowess against the hottest pepper's in the world, fresh from the Glenburnie Farm Produce Company. 
Sunday morning found the players back on the course with cool temperatures and clear skies.  You can call it fatigue, or just a tough course, but after the third round ended, there were only four MPOs that shot rounds in the 50's.  Stephen Miller followed his 58's from rounds one and two with the low score of the morning, a 55.  This propelled him to a two shot lead over Erik Smith.  The MPO top four finished the day with a final 9 to determine the Champion.  Stephen Miller maintained his lead by shooting a three under 29 for those 9 holes, winning by three strokes.  This was his second Hawk Hollow Open win and was the only player to shoot all three rounds in the 50's.
Other winners included Pro Woman, Becky Sonnheim, Pro Master, Tom Kim, and Pro Grandmaster, Chris Hysell.
So, why is this one of the toughest C tier events in the U.S?  Is it the terrain?  Is it the physical challenge on each hole?  Is it the mental challenge to determine whether to play it safe and take your par, or to risk the ricochet into the creek?  I think if you asked any of the players that ended up with last cash in MPO, it might be the fact that although this is a C tier, you still have to average between 995 and 1,000 rated golf to even cash at this tournament.  Come next year and see for yourself!  For a complete listing of the results, check out pdga.com.  Also, for photos of all the action, check out the PDGATour Fickr page.