Member Spotlight: Benjamin Baxley #126118
Member Spotlight: Benjamin Baxley #126118
Sunday, May 8, 2022 - 08:00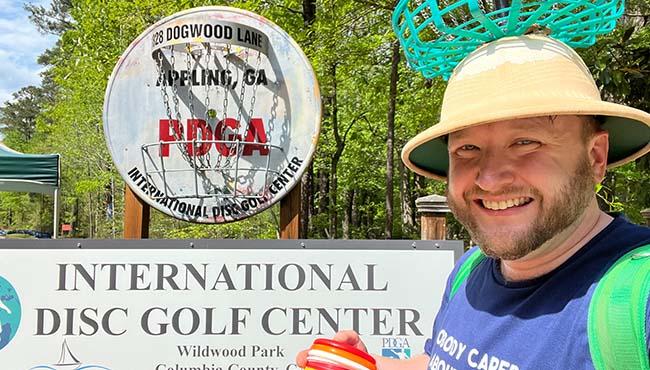 This story is part of a series of member spotlights, featuring players of all ages and skillsets.
Back in April, we met Benjamin at the 2022 PDGA Champions Cup. The day before the event started, he was looking for a way to help. He ended up carrying some boxes for us.
Through the next few days, we would see him hanging out in the vendor area with his basket hat, handing minis to pros and spectators (and staff) alike, offering pins or pop bracelets if they could throw a mini into his basket hat.
More impressive than the professionals' abilities to make the shots (it is actually much harder than it looks) was Benjamin's infectious cheerfulness and gleeful personality. He is definitely a disc golf superfan if there ever was one, so naturally, we wanted to get to know him more.
Name: Benjamin Baxley
Member #: 126118
Age: 33
Hometown: Marietta, GA
Profession: I work in IT (my current title is "Mac Architect"), and have successfully gotten a few former coworkers to try disc golf with me.
Favorite course: Boundary Waters 1
When and how were you first introduced to disc golf?
My gym class in high school had us throwing frisbees across the school property at trees or poles, but I played my first real round of disc golf in the fall of 2018. My friend Jimmy Wallace introduced me to the sport, and I really started playing regularly with him in the summer of 2019.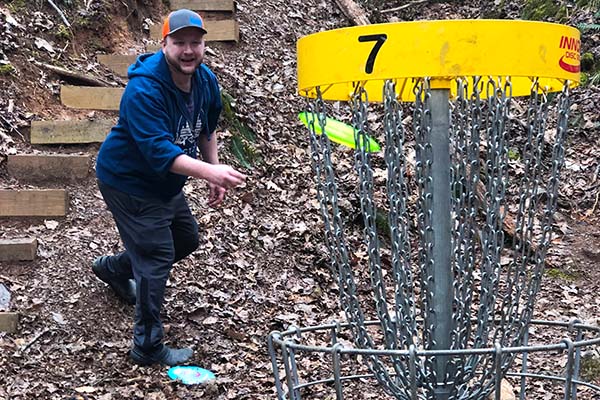 How often do you play?
I try to make it to league night at East Roswell Park most weeks, if not I'll try to do field work or squeeze in a round at a local 9-hole course nearby. On the weekends I usually play two or three rounds, unless I'm traveling (and even then I'll try to play a few rounds if time allows).
Who do you play disc golf with?
I have a group of friends I like to play with regularly - Jimmy, Jim, Ryan, Dick, Josh, and Jesse. I also enjoy playing with my family when we meet for holidays - my grandparents, parents, siblings, nieces, and girlfriend Brittani. Our time bonding and sharing stories as we throw is my happy place.
I still have fun playing solo rounds, but during those I often meet people on the course and bond over our shared love for the game.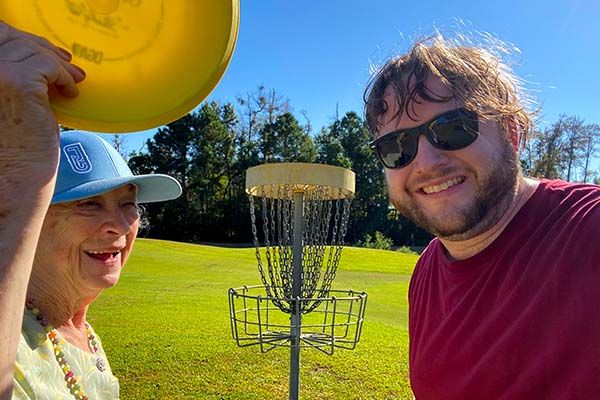 What is your favorite thing about disc golf?
I love that almost anyone can play! I've taken my nieces playing when they were as young as 6, and my grandmother played a round with me last year when she was 85.
Discs cost very little compared to most sports/hobbies, and you really only need one disc to get started. I keep a spare disc in my bag to give to people who come up and ask me what I'm doing when they see me play, to grow the sport.
Most courses are free to play on public land, and some courses in my area are handicap-accessible so there's availability for basically anyone who wants to try it out.
What makes disc golf different than other sports/hobbies for you?
It's such a simple and complex sport - it's easy to get started once you learn the basic rules, but developing technique, shot shaping, working in a disc to the perfect stability, learning how much better dirt is from your home course than anywhere else - these are all such elaborate nuances that I think can only come from an individual sport like disc golf.
The community is also fantastic! I think fans of any sport can argue how great their sport's community is, but I feel that many disc golfers are especially kind, fun people that I enjoy spending time with off the course as well as on.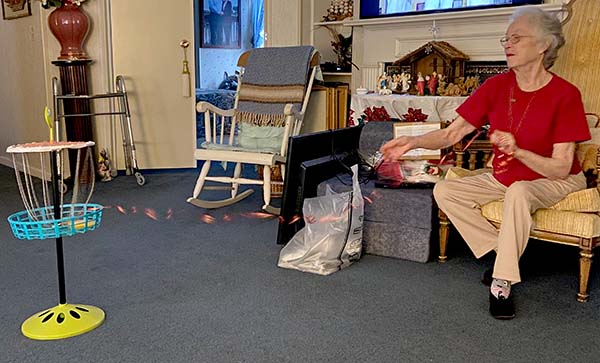 What is your favorite ever disc golf memory?
My favorite ever memory happened at Champions Cup when I pulled into my campsite on Wednesday and found out I was camping neighbors with Gregg Barsby, Casey Jillson, and Matt Bell! I was nervous to say hi, but they were all incredibly nice and about the coolest people I've ever met.
I also got to keep score for Matt Bell on two different rounds, and saw him throw an amazing roller on 18 to get the eagle in round 1! Definitely the best way to start an unbelievably great tournament experience for me.
Our team met you when you offered to help us set up for Champions Cup. Do you go to a lot of tournaments? What other events have you been to?
My first experience at any tournament was at the 2019 Hall of Fame Classic - I drove there for the day just to spectate, but found out that I could volunteer to keep score for a round of professional players. I ended up keeping score on a card with Nate Heinold, who had Paul McBeth as his caddie! I spent a round watching amazing disc golf and listening to McBeth and Heinold chat. It was humbling, and also an experience that propelled my interest in disc golf even further.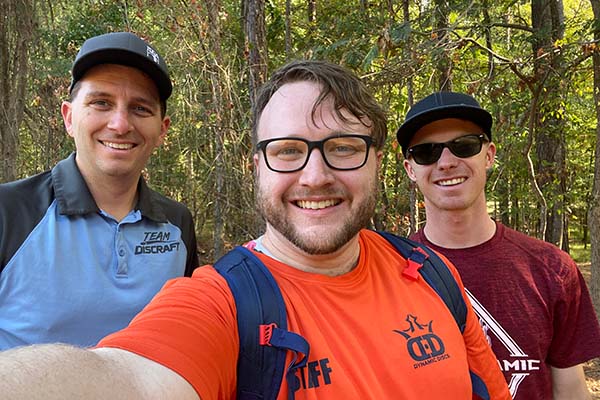 I also volunteered at Music City Open last year, helping with parking and keeping score for FPO & MPO cards.
I play multiple tournaments each year, and hope to volunteer at another later this year.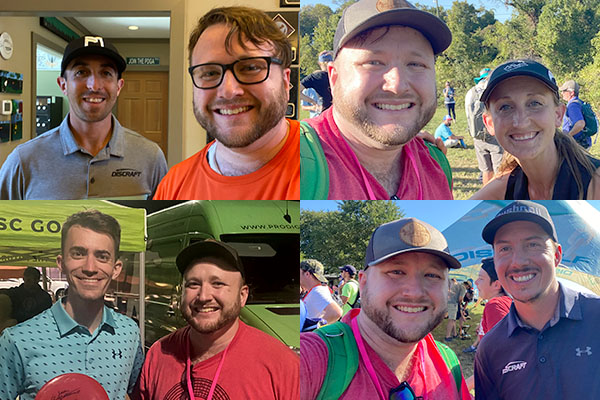 What has your experience been attending big events?
I get the same sort of feeling going to a big disc golf event that I did when I was going to Disney World as a kid - the excitement builds as you get closer to the course, and there's a buzz in the air as everyone moves about with high energy and anticipation. It's difficult to describe the feeling of seeing top level pros throw discs with so much power and precision, but it's difficult not to say "Wow!" after every shot.
Tell us about the basket hat (and prizes—thanks for the pin by the way, it's now on my bag).
I introduced my grandparents to disc golf and got my grandfather to try putting on a full-size basket for a while. Last year he had health problems and couldn't walk far, so I bought a mini basket and tied strings around the discs - that way we could practice putting in his living room and he wouldn't need to get out of his chair to retrieve the minis.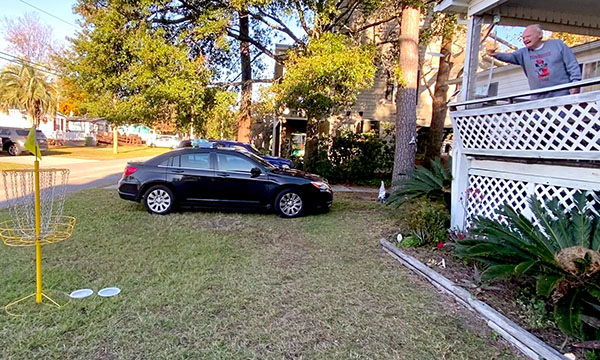 He passed away in June, and as my family went through his things I was given this old safari hat. I always had a mini basket pole attached to my disc golf cart to practice mini putting between rounds or during long backups, so I had the idea to put a basket on a hat and be a portable putting station. I went through all my disc golf hats and couldn't find one suitable to hold up the basket, but then I came across my grandpa's safari hat. I figured it would be a great way to remember the time we spent putting together, and that hat also turned out to be structurally sound enough to support the basket.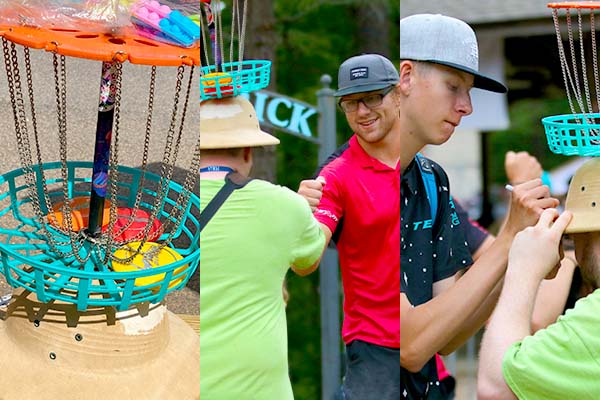 As for the prizes - I wanted to reward people brave enough to putt at a basket on my head, and also have something to remember the experience (if I got a free prize for putting, that would make my day). I figured most people probably don't want to carry something big and bulky around the whole day, so I landed on pins and fidget bracelets as two small, affordable choices. Unfortunately I severely underestimated how many people would want to try putting on the hat, and I ran out of prizes on the second day of the tournament. I'll make sure to stock up for the next event so everyone can have a chance to win a prize!
Anything else you'd like to share with the disc golf community?
I made a meme a while back about Calvin Heimburg using a putter with his face stamped on the bottom so we can see his face when he putts. Last year I bought three KC Pro Aviars and drew a pizza stamp on top and his face stamp on the bottom. Those putters should be making their way to Calvin soon, so keep an eye out in future tournaments if he decides to use them!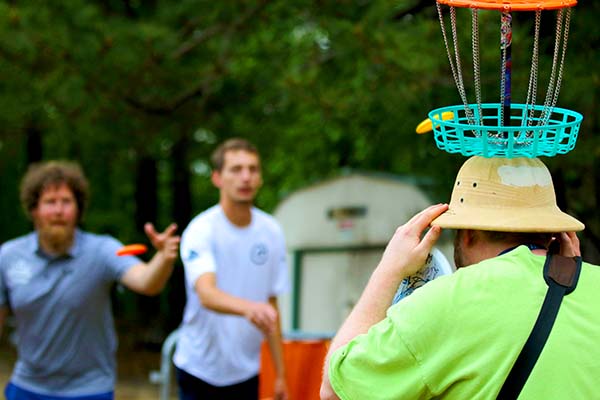 Thank you Benjamin for being a PDGA member, a volunteer, and sharing your enthusiasm for disc golf with all of us. You can follow Benjamin on his instagram account.
Comments
Really enjoyed the Benjamin Baxley profile!