Club Spotlight: Northern Virginia Women's Disc Golf Club
Club Spotlight: Northern Virginia Women's Disc Golf Club
Sunday, March 20, 2022 - 09:00
This story is part of a series of member spotlights, featuring players of all ages and skillsets.
Names (and member #s) of those participating in answering these questions:
From an earlier e-mail: We will respond as a group because we always look at this as a collaborative effort among this tiny but mighty team!
Approximate age range of club members: We are excited to share that we have juniors under 10 and ladies in their 70s!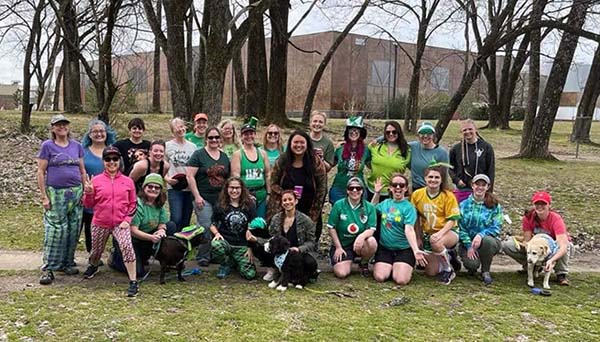 Area where you all are located / meet up:
Our Board Members are located in Northern Virginia and our club members are located all throughout the US but predominantly in Delaware, Maryland, DC, and Virginia. We are very fortunate that we have a variety of stellar open + wooded courses so we like to meet up at different spots whenever possible! Our Board Member, Emily organizes fun "Road Trips" to courses within an hour or so of our home base to feature new courses + entice ladies from different areas to come out!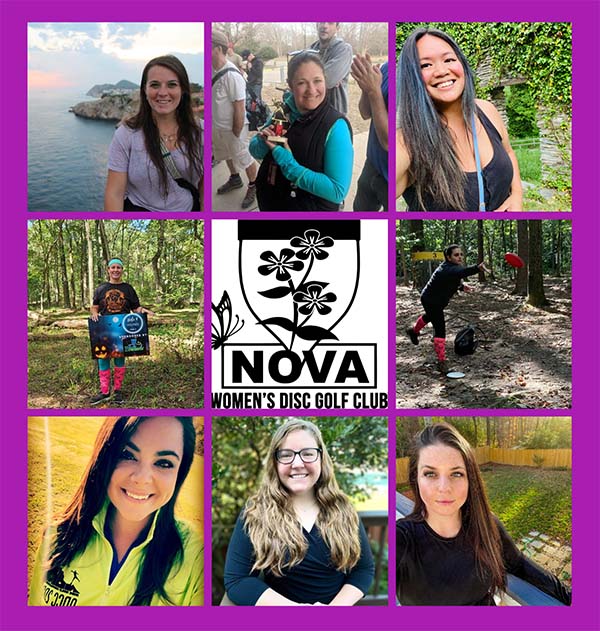 How many members are in your club?  As of today, 3/3/2022, we have 60 Female Members and 77 Honorary (Male) Members. 
You are a PDGA Affiliate Club. How did your club get started and how did you grow your membership? 
This year all members received a fun swag bag that included a dry chalk bag and Nova Women's Club Logoed Knee-High Socks. They also have access to Member Only Appreciation Events throughout the year. We recently hosted a tournament for 70+ players called Virginia is for Disc Golf Lovers! It was a member appreciation event with cookies, snacks, and a hot cocoa station and all the yummy toppings that you could imagine. We are active on the course recruiting members and active on social media (Facebook & Instagram).
Our Mission & Purpose was created by our founding members: To introduce, encourage, and welcome women and girls of all ages. To inspire the ability to learn, play, and enjoy the sport of disc golf. NOVA Women's Disc Golf Club was formed by a small group of women united in their passion for gender equality within disc golf and growing the sport for women and girls.
A) To create an environment that fosters friendships, sportsmanship, and camaraderie, in which we support, empower, and teach one another. 
B) To grow and retain participation numbers of women and girls at disc golf events, by way of hosting women's only clinics, casual rounds, leagues, and tournaments. 
C) To be a resource and partner for neighboring clubs, tournament directors, schools, organizations, or individuals interested in attracting, promoting, or advocating for women's growth in disc golf.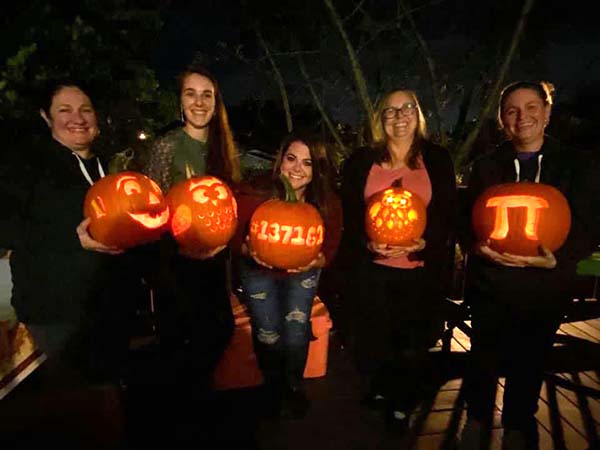 How did you all find this group or each other?
The founding board realized the need for a dedicated space where women could grow and learn from one another and with (25) founding members, we launched the club in 2018. 
Individually, the current board members each found the group through playing with others and being introduced to the club on the course and through social media. Now anytime we cross paths with new women we share our excitement for the club and invite them to join us!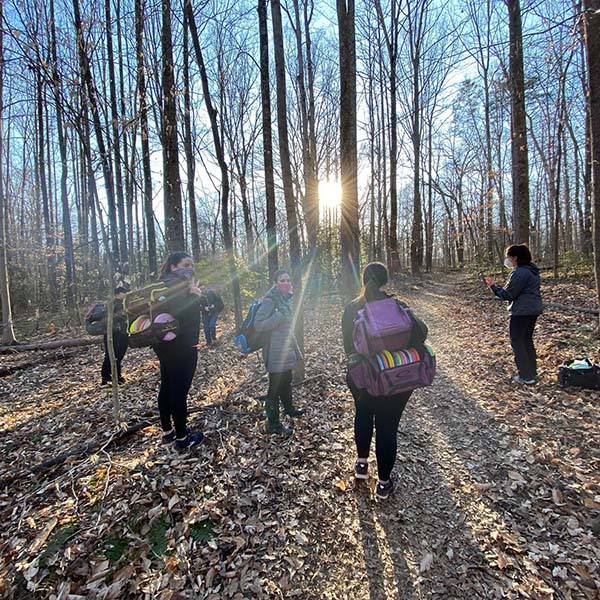 What makes disc golf different than other sports/hobbies for you all?
You can play solo or with another person or with an entire group of people!  You can travel just about anywhere in the world and find a course to play and likely find some locals to show the way. The casual nature allows you to pick and go anywhere without much organization.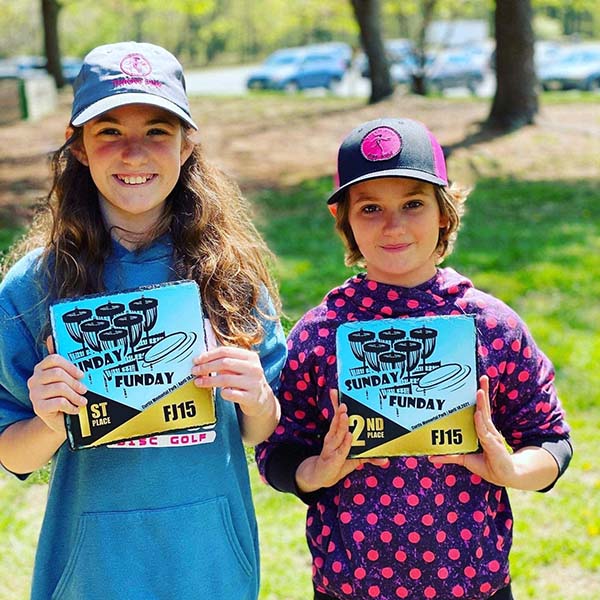 What kinds of events do you have locally?
We host casual meet ups, members appreciation events, road trips to visit other courses.  We coordinate road trips for larger events and sometimes housing together. 
We are also so fortunate to have the (2) largest Co-ed clubs in Virginia right in our backyard! Between both clubs, we have indoor putting leagues, ice bowl fundraisers, weekly casual doubles, summer weekly league play, a myriad of beautiful PDGA sanctioned tournaments, Monthly Club tag matches by Nova Disc Golf Association and more! We work with the clubs to increase women's participation in all events.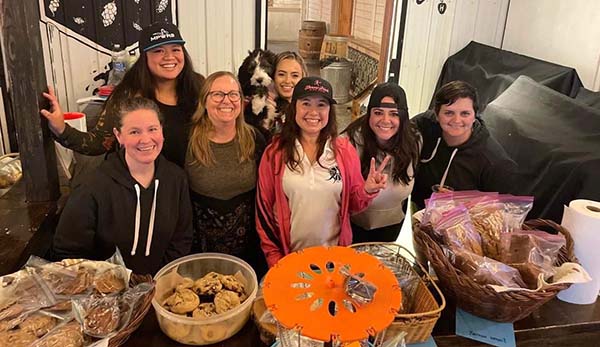 What are some local favorite courses?
Why a women's focused club?
We believe that the disc golf community that we have created fosters friendship + community beyond the course! We celebrate one another! We love to ask why women started playing; some wanted more exercise, some wanted to get outside, some wanted to find a network of new people, some came from a sports/athletic background of softball or Ultimate and they were looking for something new! It can be intimidating to walk into an event that is primarily full of male participants. By joining forces with other women, we are able to gain confidence as a group to attend larger events and go out on our own.
What do you think is an important consideration with females in disc golf that may not be obvious to the majority?
Disc golf is a sport for all skill levels. If you want to compete, you can compete with yourself, or you can compete with others. If you want to play casually and have fun and not take it too seriously, that is also an option! All abilities and personalities can find a home within the disc golf community.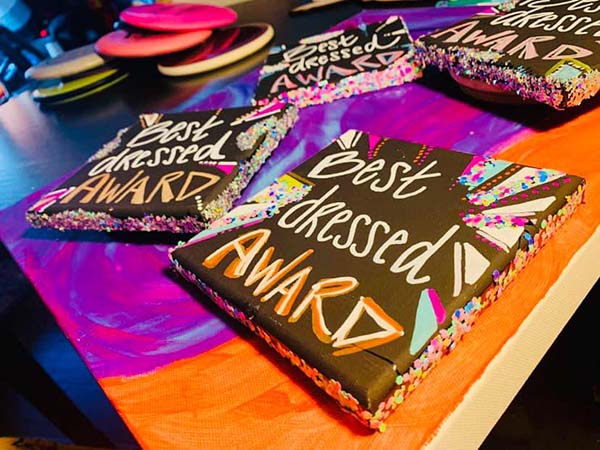 Anything else you'd like to share with the disc golf community?
As a club, we hope to be an inspiration to women everywhere! Our goal is to provide a safe space for all women to feel welcome and included. We want to collaborate with other women disc golf clubs and grow the sport as much as possible! 
We are organizing a group of 8-10 ladies that will all be heading out to USWDGC in Madison, Wisconsin later this year. We have (2) National Champs from USWDGC last year in Cali and (1) Junior World Champ in our Club as well. We like to celebrate our club's accomplishments and support one another!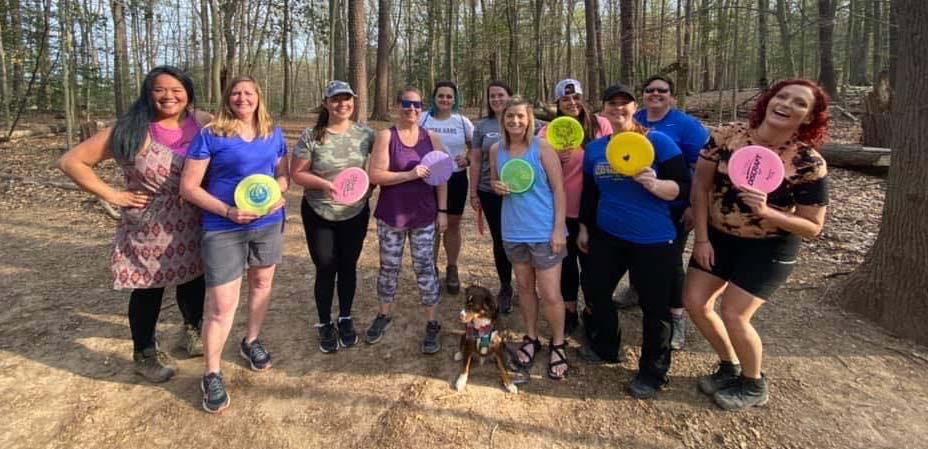 Thank you to the ladies at Northern Virginia Women's Disc Golf Club for being a PDGA affiliated club, creating safe and fun spaces for women to play, and sharing your disc golf experience with all of us.