McBeth, Ulibarri Shred Brewster On Pro Worlds' Second Day
McBeth, Ulibarri Shred Brewster On Pro Worlds' Second Day
Pauls go one-two, while Conrad keeps pace
Friday, September 7, 2018 - 11:40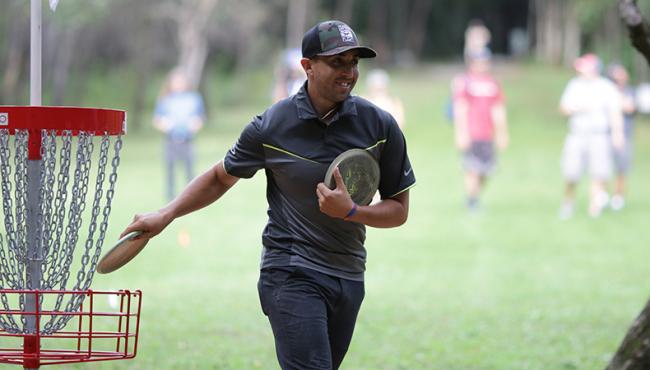 JEFFERSONVILLE, Vt. – Paul McBeth was loose.
The four-time PDGA World Champion had just come off a 1082-rated round at Smugglers' Notch Disc Golf Center's Brewster Ridge course, a bogey-free, 12-under par tour de force that put him atop the leaderboard with three days to play in Vermont. Ready for one more interview before calling it a day, he realized he didn't need the bottle of Dasani he was carrying in the hand that had powered his round, so he gave it a casual flip to the ground.
Of course, it stood up perfectly. That's just how things are going for McBeth right now.
Now at 21-under par through two rounds, McBeth holds a one-shot lead over Paul Ulibarri, who established a new Brewster Course record with a 1090-rated, 13-under par 48 to move into a tie for second place with James Conrad at 20-under par. Gregg Barsby's 11-under par 50 found him moving six places up the leaderboard and into fourth place at 19-down, while Andrew Presnell and two-time Open World Champion Barry Schultz make up fifth place at 17-under.
While McBeth was clean enough through Brewster's front nine, it was the back half that bolstered his performance. He started the effort with a 95-foot jump putt on the 410-foot 10th to capture some serious momentum, and from there it was off to the races. Three putts from just inside circle's edge kept him perfect on the green as he finished with five straight birdies to take the pole position.

"I just stepped up to that one and knew I was gonna make it," McBeth said of the long jumper. "I think that really kickstarted the back half of the course."
Conrad took the opposite approach to Brewster. The Virginia pro shredded the front, going nine-for-nine as he assaulted the fairways with trademark accuracy. Even when he was off the beaten path – his tee shot on the 565-foot, par-4 7th veered right and into the woods – he made tremendous saves. After putting his second shot to 60 feet, he canned the long bid to keep his early streak alive.
He cooled off, though, when he slipped on hole 10's tee pad and ended up in the brush on the left side of the fairway. He followed that up with an errant kick on the par-4 11th and carded his lone bogey.
"I knew that a couple of the holes I struggle with, a couple of the tee pads I struggle with, were coming up, so that might've been lurking a little," Conrad said. "But I was hoping to get those holes clean and rack up some more birdies, maybe come in around a 47, 48. Didn't quite make that happen, but held it together pretty well."
That stood in stark contrast to the performance of his cardmate, Nikko Locastro. The veteran pro endured some early bad breaks on the way to his 7-under par round that dropped him into seventh place. Locastro was outwardly emotional for much of the round, and after missing a 15-footer on hole 8 he was issued a courtesy warning for profanity. After a par on 11 he again paced the green and chastised himself, and Conrad admitted that the outbursts were a distraction.
"[He was] throwing a lot of negative energy toward the card, and that might have had a little to do with [my difficult back nine]," Conrad said. "I try to keep positive as much as I can, I think it helps me play my best. Having that much 'arrrgh!' kind of anger and negativity is something that you have to deal with time to time, and it's unfortunate."
While Locastro struggled with some bad bounces, Ulibarri said he was the beneficiary of Brewster's birches. The now 30-year-old – Friday is his birthday – came up from the fourth card to take the virtual lead on the course when he tapped out for par on 18. And as much as the trees were his friend, he's made enough shots to be in third place in circle 2 in regulation for the tournament (78 percent) and second place in circle 1 in regulation (58 percent).
"It was probably the luckiest round I've ever shot, honestly, along with I threw really goods shots sprinkled in there and I putted really good," Ulibarri said. "I started off with a solid tee shot, missed the putt and that kinda calmed me down. I had a great group – Barry Schultz is so smooth, and it was nice to see his lines. Josh [Anthon] is one of the greatest putters ever. Seppo [Paju] is a great sport and he was throwing incredible shots. So the whole group kinda settled down and grooved really well, and that helped me. Especially when I was getting really good kicks damn near every time."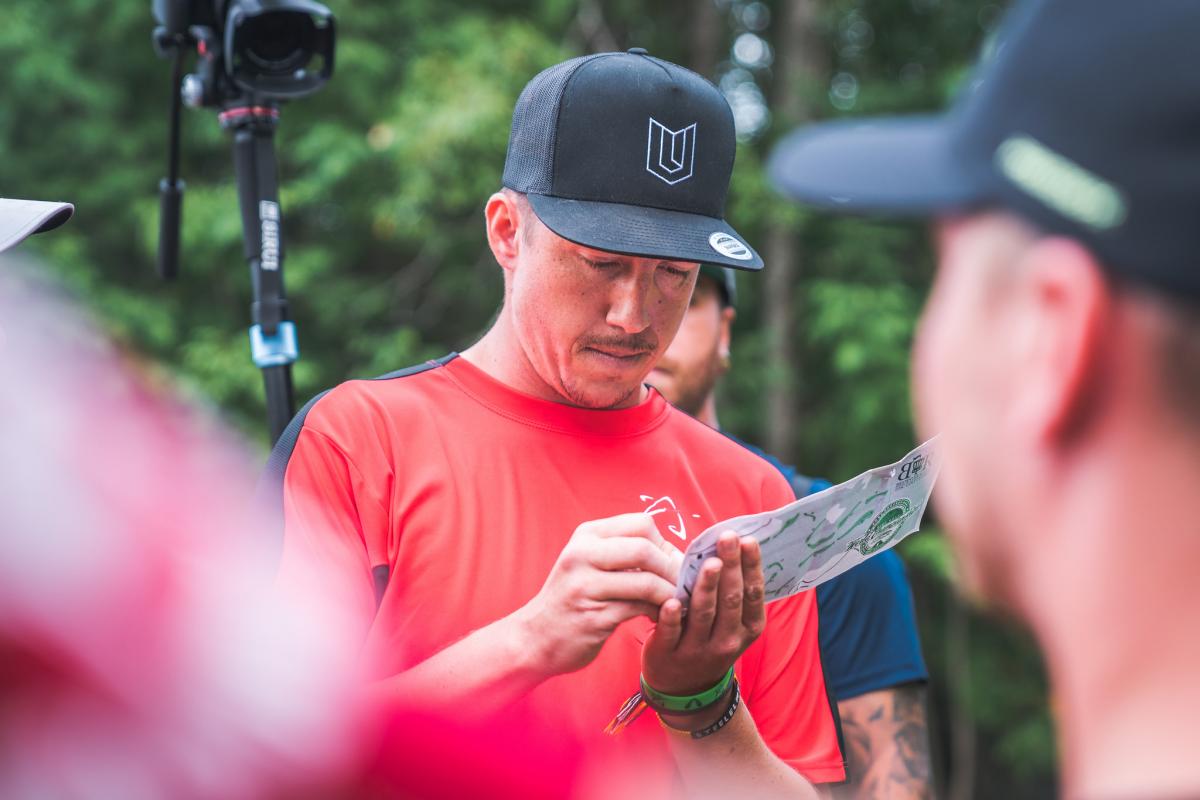 Barsby hit three putts from beyond the arc to make his climb, and it didn't hurt that he was on a wooded track that suits his style. He's been on lead cards at Worlds in the past, but he admitted that he is trying to take a different approach this week to conquer a tournament where he hasn't cracked the top 10 since 2014.
"I've never really had a great Worlds," Barsby said. "This tournament's kinda my kryptonite, so I'm treating it a little differently this year. I'm just trying to relax."
Elsewhere at Brewster, defending champion Ricky Wysocki canned a 75-footer and a 60-footer, but failed to capitalize on a bevy of circle 2 opportunities as he fell to 10th place at 15-under overall. He shares that spot with Nate Sexton and Calvin Heimburg, who both fell off the lead group. Heralded favorite Eagle McMahon, meanwhile, continued his difficult week with a 3-under par round that dropped him 11 shots off McBeth's lead and into a tie for 27th place.
Play now switches back to Fox Run Meadows, and McBeth hinted that he might take a more conservative approach than he did to Brewster Ridge as he tangles with the course's copious OB.
"If you get too aggressive you can give away some strokes on Fox Run," McBeth said. "…It's a little bit more cautious, a little bit more precise with the shots, and there's wind variance."
Ulibarri, meanwhile, was taking the poise of an elder statesman into his birthday round.
"I played good [Wednesday] as well, so if I can just shoot another solid round – you gotta take each shot as its own and see where it lands me," Ulibarri said. "We've got a lot of golf left."
The Open lead card tees off at 2:30 p.m., with live coverage coming via SmashboxxTV.
2018 Pro World Championships