Decade on Display: 2014 Pro Worlds Playoff Showdown
Decade on Display: 2014 Pro Worlds Playoff Showdown
The McBeth vs. Wysocki drama was one for the ages
Friday, December 13, 2019 - 16:38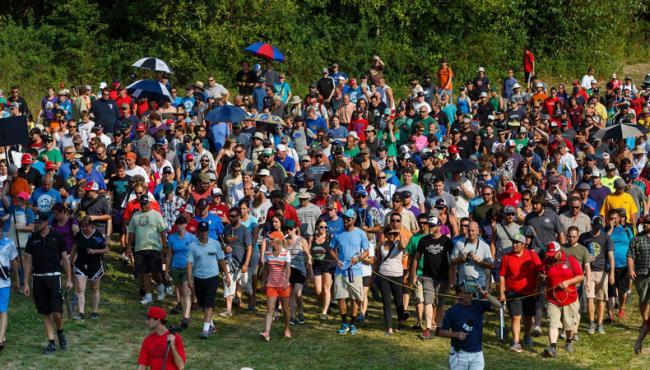 The 2010s saw exponential growth for both disc golf and the PDGA. We're looking back on a phenomenal 10 years in our Decade on Display series, where we reflect and reminisce about the sport's successes both on and off the course. Keep an eye out for more through the end of 2019.
Not long after Ken Climo tapped in for his 14th world title (12 in Open, two in Masters 40+) and Catrina Allen did the same for her first title in Open Women, a swarm of adrenaline-fueled disc golf junkies were sprinting across the tall weeds of the rough of Portland, Oregon's, Blue Lake Disc Golf Course in an attempt to get a good view of what was about to go down on hole one. After six 18-hole preliminary rounds, an 18-hole semifinal round, and a nine-hole final at the 2014 PDGA Professional Disc Golf World Championships, Paul McBeth and Ricky Wysocki were still tied. One hundred seventeen holes weren't enough, and the gallery of more than 1,000 couldn't have been happier about it.
The semifinals left Wysocki two ahead of McBeth heading into the final nine, with Paul Ulibarri one stroke behind McBeth joined by Nate Doss to round out the foursome. McBeth quickly tied it up after three holes and would lose the lead on hole 6, only to regain it again on hole 7. Now down by one, Wysocki's only hope was to do what no one else had done all week: eagle the wooded, 960-foot par-5 on the eighth hole of the final nine (course hole 14). And, of course, he did just that with a 90-foot uphill putt that left the crowd in an absolute frenzy.
After easy birdie putts on the last hole of the final nine, someone yelled "PLAYOFF!" and the gallery began making their way over to hole 1.   
"I think that whole last round it was kinda like…it was my first time of really getting a dosage of having a chance to win Worlds," Wysocki said this week. "It was kind of like I was blacked out a little bit. It was the biggest crowd I ever played in front of. It was the biggest spot I was ever playing for. I think the whole being blacked out thing was actually a good thing, because if I wasn't in that state of mind I think I would have let it overwhelm me. It's hard to explain. I was blacked out mentally to the point where it benefited me."
What progressed from there on was like nothing the disc golf world had ever seen. After each nail-biting putt, the gallery stampeded to line the fairways of the next hole. The amount of pressure in the air was palpable to everyone, not just the players: In videos of the event, you can literally see the gallery holding their breath during every putt.  
"The biggest thing I take away from [the stampedes] was the vibe," Wysocki said. "You can tell when there are people at the tournament casually watching and don't really know what's going on, or you can tell when they really realize the situation. The people of Portland have a really high disc golf IQ and you could tell everyone knew how important the situation in the moment was. So that just increased the vibe that they were giving off. They really appreciated the moment, and we really felt that as players."
It wasn't until the fifth hole of the playoff that fate was finally determined. Wysocki's drive left him with a tricky lie, and he had no choice but to run it despite knowing the potential of an unfavorable outcome.  
"I knew I had to throw an aggressive shot to get back into position," he said. "I had a little tree in my way that I definitely might hit, but I knew I had to take a risk to get up and down for a 4.
"Looking back, I wouldn't have changed my shot," he continued. "If I would have won that year, I may have only won that Worlds and wouldn't have been as pumped up and inspired to go back and win in 2016 and 2017. Obviously, you never want to lose. But looking back at it, it really inspired me to know that I can play at that high of a level for years to come."
When McBeth made his uphill putt for birdie and his third Pro Worlds win in a row, he raised his hands in celebration before being completely surrounded by a media circus.  
The playoff did more than just inspire the gallery and the people following along from home. It further fueled one of the sport's greatest rivalries.
"It definitely increased it, you know?" McBeth said last week. "There was '14, '15, '16, '17, [Wysocki] and I, [where] he took second place [and] when he won his two I was second.
"There were the battles at Worlds before 2014," McBeth continued, "but that probably put more eyes on it and people followed that rivalry more than ever after that."
Wysocki stills feels it today.
"From a spectator, player, venue perspective, it was one of the -- if not the -- most epic playoffs in disc golf," he said.
It was a picture-perfect ending to a grueling week of disc golf, one that we will likely never see again.