Throwing From The Heart
Throwing From The Heart
St. Jude Charity Invitational Gets Underway
Sunday, May 24, 2015 - 01:21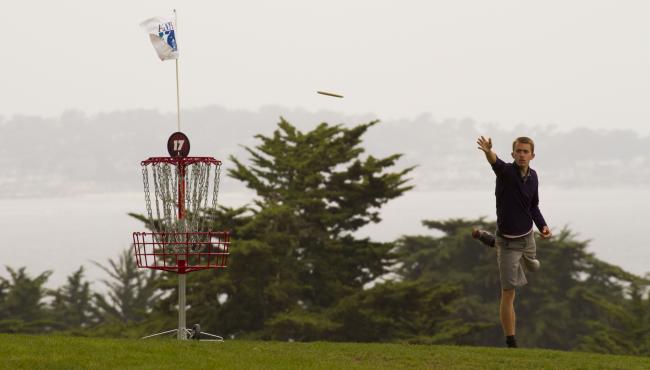 Last night officially began the celebration that is the St. Jude Disc Golf Charity Invitational. Several representatives from the regional chapter of St. Jude Children's Research Hospital were in attendance last night for the Opening Ceremony and Player's Meeting, as well as tournament organizers, promoters and nearly 200 competitors playing in the tournament this weekend. Something was different, however.
We see a lot of player's meetings, but this was like no other. There was a different atmosphere, and it was almost obvious that everyone in the room knew that they were a part of something much bigger than we could ever comprehend. We all know the disc golf family is close, but this event has brought forth the greatest in all of our competitors and has given them an opportunity to give something back. At this point, the efforts of the friends, family and participants in this event have raised almost $200,000 for St. Jude. There was a special member of the congregation in attendance last night to say thank you.
You might remember reading a story on our website about a young man named Conor. Conor was diagnosed with a brain tumor at 6 months old. The day the news broke, his parents were told to take him home and enjoy the rest of their time with him. Unsatisfied yet determined, they reached out to St. Jude. Long story short, Conor (now 20 years old) was in attendance last night. As he threw the ceremonial first putt into the basket last night, he was showered with cheers, and there was not a dry eye in the house. What a special moment. At that point, the competition almost seemed to fade into the background and St. Jude and these amazing families took center stage. Everyone left last night eager for play to start, but with a different sort of anticipation. They would be playing for a greater cause.
As the players arose this morning, so did the wind. Steady around 20 mph all day, it brutalized and taunted players. Both courses are so immense; they tempt players to open up and throw hard, but the tight OB lines can wreak havoc on the scores. Have a look at the scores for yourself and see. So often we come to events and watch the winner waltz through a course, shooting 10-12 under par, per round. Well, not today.
Will Schusterick #29064 is leading the Open division with a round score of -6 (57). He was able to make some long putts today, and if it weren't for a double bogey on the 17th hole, he would have come in with a rather sizeable lead. As it stands, he sits three throws in front of Paul Ulibarri #27171, and four in front of a gaggle of other top names in the sport.
In the Open Women's division, a similar story is unfolding. Paige Pierce leads her division, but this time she is closely chased by three PDGA Professional World Champions and a rising young phenom. Valarie Jenkins #17495, Catrina Allen #44184, and Jessica Weese #50656 are only one throw behind. Sarah Hokom #34563 is lurking in a close 5th place spot.
Hole-by-hole scoring on pdgalive.com will begin tomorrow morning at 10:20am PDT for the Open Women's division. We'll also have live scores for at least the top two cards of the Open division, starting at roughly 1:00pm PDT. Don't forget to follow the PDGA on Twitter and Facebook for updates, pictures, and videos. Although the tournament ends tomorrow, the need to support this great cause will never cease. Visit StJude.org today and help make a difference.