Schultz Wins Playoff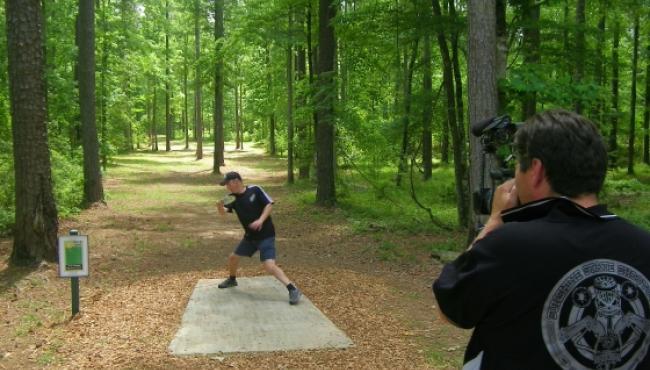 Your 2010 Tim Selinske US Masters Champion is Barry Schultz, but his victory didn't come easy.
Patrick Brown, who led the Masters division the first two days, wasn't about to just hand the title over to Schultz. If he wanted it, he was going to have to earn it. Schultz did just that as he picked up enough strokes to tie Brown after nine holes and go two throws ahead with two holes remaining. Patrick Brown picked up a throw on hole 17 to leave him with a chance with one hole remaining. On the last hole, Barry got into trouble and hit a tree 50 feet in front of him on his third throw. His fourth throw came up short and he missed his putt to take a bogey six. Patrick Brown had about a 35' putt for a four to win the tournament but hit a bit wide left with his straddle putt and it bounced off the chains to leave him with a drop in par five and in a tie with Barry after regulation. With consistent play throughout the weekend, they were headed to a sudden death playoff. Patrick Brown won the coin flip but opted to have Schultz drive first. Both threw long drives but Brown ended up just off the fairway with a tough second shot, while Barry grooved his drive to the perfect landing spot on the 677' dogleg left hole. Patrick hit a tree on his second shot roller attempt while Barry grooved another shot into putting distance. Patrick couldn't convert his long birdie attempt from about 120' and Barry stepped up and calmly sank his 20 footer for a birdie and the title to the cheers of the appreciative gallery. 
After witnessing Brown's talent this weekend, it is certain we will see him in contention in future events. This was quickly emphasized by Schultz when he congratulated and recognized Brown for his play before accepting his Masters title. Schultz also paid tribute to Selinske for always pushing him towards his dream of being a professional disc golfer. With Selinske's encouraging words echoing in his mind throughout the weekend, Schultz was certain Selinske was there with him in spirit. We all felt him with us. This one's for you, Ske!
Congratulations to all division champions.
2010 Tim Selinske U.S. Masters Video Coverage: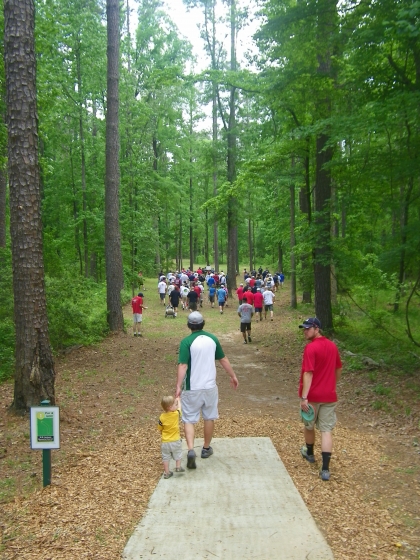 A gallery of all ages showed up to witness Brown and Schultz playoff for the title.
WE WERE HERE...and will never forget!