Save the Date - 2016 Women's Global Event Set for May 14th
Save the Date - 2016 Women's Global Event Set for May 14th
Monday, November 23, 2015 - 13:40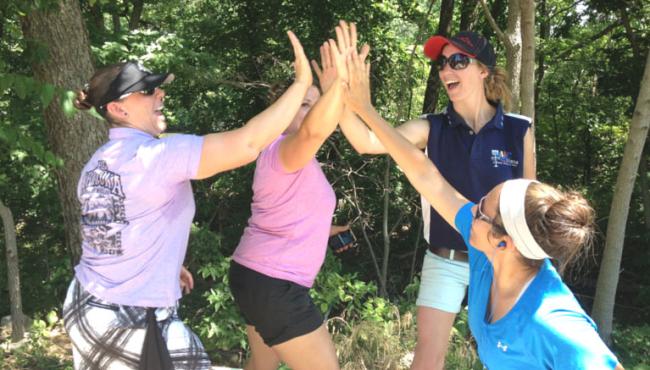 Mark your calendars ladies! The PDGA Women's Global Event (WGE) is officially set for May 14, 2016!
Join us in 2016, as disc golfers and the PDGA continue to encourage more women to head out to their local disc golf courses! On May 14th, Women Global Events will be run around the world simultaneously to "virtually" create the largest women's tournament on the planet.
The WGE offers a division for all players of all skill levels, which makes this event the best opportunity for ladies to play in their very first tournament. The PDGA has lowered fees to make this event approachable for all players, so invite your friends, girlfriends, mothers, sisters, and daughters. Let's make our third year the most successful yet!
How It Works
On Saturday May 14th, women from all around the world will play two rounds of disc golf at their local participating Women's Global Event. Scores from the first two rounds of each participating tournament will be submitted by the individual tournament directors and rated by the PDGA. These round ratings will be totaled and averaged to determine the player's "Global Score."
For the rounds to qualify, the event must include two rounds and have at least three ratings propagators playing on the same course layout each round for ratings to be calculated as accurately as possible. The Global Scores will be updated throughout the day to determine our Women's Global Event Champions. The winner in each division will receive a memorable trophy to go with their global victory.
Let's Set New Records!
Obviously, we don't have the numbers for 2016 just yet, but are expecting to smash the records once again. The PDGA and disc golf in general have exploded in popularity over the last few years, meaning we have more women PDGA members more PDGA-sanctioned events, and most importantly, more women and men willing to step up to the role of Tournament Director to put on women-only events around the world.
2012 PDGA Women's Global Event
575 participants
41 events
24 states
4 countries
2014 PDGA Women's Global Event
1060 participants
60 events
27 states
6 countries
Save the date and start planning! More information can be found on the PDGA Women's Global Event page.