Pittsburgh Flying Disc Open Preview: Stealing Momentum In The Steel City
Pittsburgh Flying Disc Open Preview: Stealing Momentum In The Steel City
Friday, August 25, 2017 - 07:07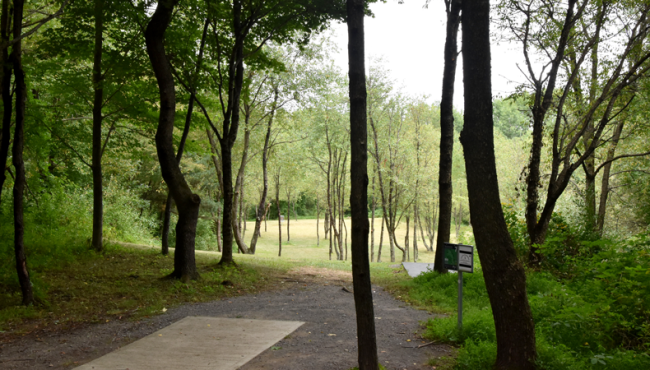 After a nearly three-month absence, the PDGA National Tour is back for its penultimate event of the season, the Pittsburgh Flying Disc Open. The championship caliber Lakeview Course at Moraine State Park, just north of the Steel City, is the sole venue for the three-round tournament. Though the PFDO made its only other appearance on the National Tour calendar in 2011, the event has a rich history that dates back to the early 1990s.
Storylines
Entering the PFDO, the two players at the top of the Open division have a chance to gain something neither of them have all that much of at the moment: momentum. Indeed, it's been a while — by their lofty standards, at least — since Paul McBeth or Ricky Wysocki have hoisted a first place trophy: for the former, it was at the European Open in late July, and the latter hasn't taken top honors since the Skellefteå Open, which took place a few days after collecting his second world title.
So, we're left with two questions. First, who needs it more? And second, who's going to actually seize it heading into a busy late season run of events that will last until mid-October?
To take on the first of the two queries, the answer would appear to be McBeth. Look at the upcoming events on the schedule — the Vibram Open, Green Mountain Championships, United States Disc Golf Championship, Hall of Fame Classic, and Disc Golf Pro Tour Championship — and McBeth's recent success at these venues has been muted, at least compared to the regularity with which he dominates other events. By contrast, Wysocki has had more recent success at these east coast mainstays, but one could argue that his sitting out last week's Idlewild Open – he chalked up his late scratch to burnout from the road – is a clue that he actually needs to take advantage this weekend.
Now for the second question: Which of the two has a better shot of winning at Moraine Gold and taking those winning ways forward? The answer here would again appear to be McBeth, but perhaps not by much. While it's true Wysocki has won the PFDO twice — in 2012 and 2013 — only two rounds at each of those tournaments were played at Moraine Gold. Since 2011, between various PFDOs and the 2015 PDGA Professional World Championships, Wysocki has played eight rounds at the course and averaged 1040-rated golf. His high showing there was a 1060 during the first round of the 2013 PFDO. McBeth, meanwhile, has played six rounds at an average clip of 1059, with a high of 1091 coming during the fifth round of the 2015 Worlds. Three of McBeth's six rounds have been rated higher than Wysocki's 1060, and McBeth's 1091 set the course record with a 15-under par 51. Also working in McBeth's favor: The PFDO, in its 26-year history dating back to 1988, only has one three-time Open winner: Mike Moser, who took a trio of trophies in the 1990s. Wysocki is one of three others to have won the event twice, but that third victory appears to be elusive.
For McBeth or Wysocki to gain any momentum going forward, though, it won't just be a matter of ousting one another: Simon Lizotte, Nate Sexton, Eagle McMahon, and Josh Anthon are all back in the field. Anthon, coming off a resounding win earlier this month at the Ledgestone Insurance Open, is one of the few in the Open field besides Wysocki to have had past PFDO success, winning at during the 2011 NT and in 2003, two years before Moraine Gold even existed.
While there are five past PFDO winners in the Open field, the Open Women's field has just one: Sarah Hokom. Not only is Hokom the lone player in the field with a PFDO win on her resume, but she also has the Moraine Blue course record with a 1021-rated 10-under par 56 set during the 2012 iteration of the event.
But, like with seemingly every tournament in 2017, Paige Pierce enters the event as the presumptive favorite after a nine-shot Idlewild victory. Past performance on the Moraine Blue layout isn't working in her favor, though: Her average round rating at Moraine Blue over three rounds since 2011 is 954, compared to Hokom's 971 mark over seven rounds in that same time span.
Notably, the pair is revisiting the site of their 2015 Pro Worlds battle, where Pierce won the title by just one stroke. Hokom led through the first four rounds, but a car accident delayed her arrival for the fifth round at Deer Lakes. Despite the efforts of Pierce and other players to wait for Hokom, the late showing caused her to miss the first two holes of her round and incur eight penalty strokes.
If Pierce were to manage another Pittsburgh-area win this weekend, she would be the twelfth different Open Women's PFDO Champion. Should Hokom emerge victorious, she would become just the fourth winner of multiple PFDO titles, but she would have quite a way to go to catch up to Elaine King's astounding 11 PFDO crowns.
Course
Lakeview Disc Golf Course at Moraine State Park: 18 Holes, Par 66 — Most recently on the national stage, Moraine hosted rounds 1 and 5, as well as the semifinals, of the 2015 PDGA Professional Disc Golf World Championships. Prior to 2015, Moraine has been used numerous times as part of the PFDO, which has been a long running A-Tier and once a National Tour event in 2011.
Friday
Gold (Open): 8,730 feet
Average Hole Length: 485 feet
Blue (Open Women): 7,410 feet
Average Hole Length: 412 feet
Record: Paul McBeth, 51 (2015 Pro Worlds)
Saturday & Sunday
Gold (Open): 9,048 feet
Average Hole Length: 503 feet
Blue (Open Women): 7,719 feet
Average Hole Length: 429 feet
Record: Sarah Hokom, 56 (2012 PFDO)
Pin positions change between rounds 1 and 2 on many of the holes:
Hole # (Par)
Round 1
Pin Position
Open
Gold Tees
Open Women
Blue Tees
Rounds 2 & 3
Pin Position
Open
Gold Tees
Open Women
Blue Tees
1 (3)
B
372
330
C
384
342
2 (4)
A
426
354
C
453
381
3 (3)
B
288
255
B
288
255
4 (4)
B
468
399
C
435
366
5 (3)
B
282
255
A
276
249
6 (5)
B
921
735
C
1026
840
7 (3)
A
345
306
A
345
306
8 (4)
A
582
501
A
582
501
9 (3)
A
354
321
C
414
381
10 (4)
C
570
495
C
570
495
11 (3)
B
357
300
C
381
315
12 (4)
C
678
567
C
678
567
13 (3)
C
324
264
C
324
264
14 (4)
A
468
423
B
516
471
15 (4)
A
843
690
A
843
690
16 (5)
A
663
558
A
663
558
17 (3)
B
318
249
B
318
249
18 (4)
B
471
408
C
552
489
Par 66
Distance (ft.)
8,730
7,410
9,048
7,719
 
Past Winners
| Year | PDGA Tier | Open | Open Women |
| --- | --- | --- | --- |
| 2016 | A | Brad Schick | Lori Merriman |
| 2015 | n/a | n/a | n/a |
| 2014 | B | Tyler Horne | Michelle Frazer |
| 2013 | A | Ricky Wysocki | Des Reading |
| 2012 | A | Ricky Wysocki | Sarah Cunningham |
| 2011 | NT | Josh Anthon | Sarah Hokom |
| 2010 | A | Nate Doss | Elaine King |
| 2009 | A | Avery Jenkins | Valarie Jenkins |
| 2008 | A | Barry Schultz | Angela Tschiggfrie |
| 2007 | A | Avery Jenkins | Valarie Jenkins |
| 2006 | A | Al 'Sugar' Schack | Elaine King |
| 2005 | A | Matt Orum | Des Reading |
| 2004 | A | Kevin McCoy | Elaine King |
| 2003 | A | Josh Anthon | Elaine King |
| 2002 | A | Craig Gangloff | Elaine King |
| 2001 | B | Cam Todd | Elaine King |
| 2000 | B | David Devine | Elaine King |
| 1999 | B | Craig Gangloff | Elaine King |
| 1998 | B | Mike Moser | Elaine King |
| 1997 | B | Mark Holland | n/a |
Extended Forecast
Friday: Great weather for some disc golf, as high pressure has settled into the region nicely to provide very fair conditions. Expect mostly sunny skies with temperatures topping out around 70°. Calm winds in the morning will gradually pick up to 5 mph out of the north.
9 a.m.: Mostly sunny with temperatures around 57°. Calm wind likely.
3 p.m.: Mostly sunny with temperatures around 70°. North wind around 5 mph.
Hole to Watch: Hole 17 may be the hole to watch on the opening day. A right-turning 312-foot shot from the gold tee (258 feet from the blues, most players will opt for the forehand hyzer shot or turnover backhand with the occasional roller. With a northerly wind, a slight headwind may greet the players on this tightly wooded hole. This may lead to the turnover shot leaking too far right and into the rough.
Saturday: High pressure will remain locked in place across the region on Saturday, meaning the weather will be very similar to Friday. Once again skies should be mostly sunny as highs top out around 72°. Calm wind will give way to a slight northerly breeze.
9 a.m.: Mostly sunny with temperatures around 55°. Calm wind likely.
3 p.m.: Mostly sunny with temperatures around 72°. North-northeast wind around 5 mph possible.
Hole to Watch: Hole 5 is a very similarly shaped hole to that of 17. The right-turning fairway, which plays as 261 feet from the gold teepad and 228 feet from the blue, sets up perfectly for a forehand. Like Friday, a slight headwind will be possible, which may lead to some players leaving the shot just a tad short.
Sunday: High pressure remains fixed over a majority of the northeast United States. Weather will once again be spectacular under partly cloudy skies, with temperatures topping out in the low 70s for the final round. Wind may turn a bit more out of the east, but should remain light.
9 a.m.: Partly cloudy with temperatures around 59°. Calm wind expected.
3 p.m.: Partly cloudy with temperatures around 74°. Easterly wind around 5 mph possible.
Hole to Watch: With an easterly wind in play on Sunday, the long par 5, hole 6 may be notable. Clocking in at 934 feet from the gold tee and 675 feet from the blue, the basket will also be placed in its long left position. Players will have to navigate either the left or right lane of the fairway in a headwind to get the look at birdie — or even possibly eagle.
How To Follow
The cell signal at Moraine State Park is insufficient for live coverage. Instead, Jomez Productions is on hand producing next-day videos of the Friday Open feature card of Paul McBeth, Barry Schultz, Michael Johansen, and Austin Turner, along with the lead card for the next two rounds. Pittsburgh's local disc golf-centric video producers, Disc Golf Examiner, will also be on hand covering the second Open feature card of Ricky Wysocki, Paul Ulibarri, Andrew Fish, and Patrick Brown on Friday, with the Open chase card and photos in store from there. Additionally, The Disc Golf Guy plans to cover the Open Women's feature and lead cards for each of the three rounds.
Follow along with @PDGALive on Twitter for real-time scoring and updates. Ultiworld Disc Golf will also be on site following the action on Saturday and Sunday, so check Ultiworld Disc Golf's Twitter and Instagram for live updates from the second and final rounds.
Comments
Great article.. please more of this..
Great history and stats