2015 PDGA Professional Disc Golf World Championships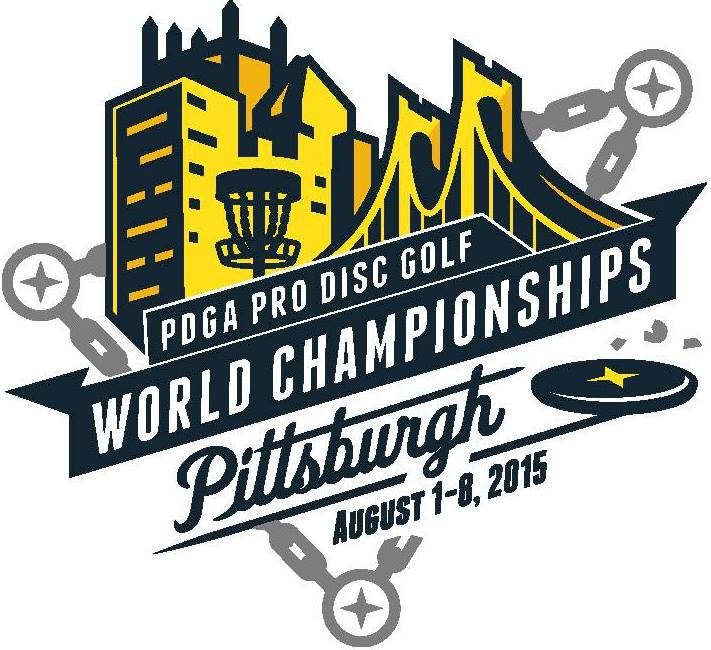 Event Info
The 2015 PDGA Professional Disc Golf World Championships will be held in the Pittsburgh, Pennsylvania metro area from August 1- 8, 2015. Named one of the most livable cities in the United States, and considered one of the best cities for recreation, the Pittsburgh region is one of the hottest places in the country for vacations, travel, and disc golf. 
Host Club and ALLiN Organizing Committee
The host club for Pro Worlds, the Pittsburgh Flying Disc Society (PFDS) welcomes you to the City of Champions. PFDS has established and maintains multiple world-class courses throughout Western Pennsylvania, hosted disc golf tournaments like the Pittsburgh Flying Disc Open on the PDGA National Tour, encouraged the growth of disc golf in Pittsburgh-area schools through its Scholastic Disc Golf Championship series and Learn to Play clinics, and raised thousands of dollars for local area non-profit organizations since our club's founding in 1988.
Our local organizing committee is "ALLiN" with these goals driving our preparations for you:
To have the best four competition courses 
To have the biggest women's field at a Pro Worlds
To raise money and awareness in defeating ALS
PFDS is also partnered with other strong regional clubs who are contributing leaders, expertise and financial support to host this year's Pro World Championships. More than a hundred volunteers will be lead by this experienced team of promoters: 
J. Gary Dropcho #2734 – Tournament Co-Director
A founding and current board member of Pittsburgh Flying Disc Society and the Disc Golf Foundation, J. Gary has run local, regional and national level tournaments since 1980, including: Indiana Open, Ironwood Open, Pittsburgh Scholastic Disc Golf Series, Can-Am Cup Team Tournament, The Hunt at Deer Lakes; Pittsburgh Flying Disc Open; and Can-Am Series (2001-2002). As owner of Grip It and Rip It Disc Golf LLC, a course design and event management company, he designed and constructed 11 disc golf courses in Pennsylvania and West Virginia. J. Gary has won 25 PDGA tournaments in Open, Master, Grandmaster and Advanced divisions, including the first PDGA Amateur Championship in 1989. 
Chas Ford #12850 - Tournament Co-Director
Chas was elected to represent the Commonwealth of Pennsylvania as the State Coordinator for the PDGA in 2011. He helped to establish the Pennsylvania Disc Golf Hall of Fame in 2013. He has been involved in running the Pennsylvania State Park Series for the last four years as well as many events over the past fifteen years. He was the Treasurer and Business Manager for Southwest Michigan Disc Golf LLC that was established to run the 2008 PDGA Pro/Am World Championships in Kalamazoo MI.
Paul Ashmore #20092 - Sponsorship Director
Paul has been promoting the sport of disc golf since 1999. He is the owner of the Disc Golf Farm and the tournament director for the West Virginia Doubles Championship and Johnny Sias Championships. He created the West Virginia Disc Golf Hall of Fame and is a board member of the West Virginia Disc Golf Association. Paul has more than twenty years experience in sales and marketing.
Maria Montano #51608 – Communications Director
Maria Montano has been a member of the PDGA since 2012 and is passionate about growing the sport of disc golf for women. Maria brings over a decade of experience in PR, communications, and event planning from large national organizations and small non-profit charities to the Worlds. Maria has 4 PDGA Pro wins, including the 2013 Moraine State Park Championship and the 2014 Throwdown Hoedown and 2014 Keystone Classic.
Lori Merriman #35616 - PFDS President
Elected President of the Pittsburgh Flying Disc Society in 2011, Lori has been a strong advocate for growing the sport of disc golf across Western Pennsylvania. She has served as tournament director for 9 PDGA sanctioned events including the prestigious Pittsburgh Flying Disc Open in 2014. Lori was the 2011 WFDF World Overall Flying Disc Champion in Disc Golf and was the 2010 PDGA Rookie of the Year Runner up.
Sponsorship 
Sponsorship opportunities ranging from $100 Supporting sponsor tee signs to $50,000 Presenting Sponsor are still available. For more information on sponsorships, contact Sponsorship Director Paul Ashmore at [email protected] or visit www.2015pdgaproworlds.org
Charity
This year we are proud to join with the PDGA, our Charity Partner the ALS Association Western Pennsylvania Chapter, Butler County Tourism and VisitPittsburgh, many leading disc golf companies, as well as regional sponsors to put on this year's professional world championships
Mixed Doubles
Mixed Doubles will be held on Saturday, August 1st at Deer Lakes DGC. Players Meeting is at 9am. Please note that each member of a Mixed Doubles team must register and pay the $25 team member fee. (Total of $50 per team.) A social gathering is being planned for after the second round with refreshments and the awards ceremony.
Field Events
Featured at the Regatta at Lake Arthur, the field events and the Tribaloid FlyMart will all be held on Sunday, August 2 on the South Shore of Moraine State Park as featured activities of the Regatta at Lake Arthur. We are very excited about the public exposure for disc golf that the Regatta will provide. Over 9,500 people came to Lake Arthur Regatta weekend in 2014.
The Distance Contest will be held on the North Shore adjacent to the Moraine Lakeview disc golf course from 9-11 am on Sunday, August 2. If you plan on throwing Distance, this window will be the only time you can show off your big arm.
EDGE Skillshot, Mini-Disc Golf, and Putting competitions will be held next to the FlyMart and PDGA tents on the South Shore Regatta site from 11 am-4 pm on Sunday August 2. These competitions will run continuously throughout the day and provide player flexibility to compete as well as take in all the food, live music, kayaking, sailing, swimming, and other activities that the 17th annual Regatta offers. You MUST preregister to compete in Distance, Mini Disc Golf, Putting or SkillShot. No walk-up registrations will be accepted.
FlyMart
The Tribaloid FlyMart will be centrally located in the Regatta grounds under the big tent on Sunday August 2 from 10 am-4 pm. FlyMart vendors are advised that 3-5,000 people, many who will be seeing disc golf played for the first time, could visit their table. In addition to rare and collectible discs, hot new models and plastics, as well as fashionista disc golf apparel and accessories, vendors might want to stock some beginner-friendly wares to satisfy the curious and newly-initiated disc golfers who will be discovering our sport at the Lake Arthur Regatta. We suggest vendors might attract Regatta-goers to their booth by offering premiums that reward people for trying disc golf at the demonstration area, getting player autographs, or spectating at any or all of the field events. Thirty 8'x10' table areas at the Tribaloid Flymart are available for $80, or two tables for $150. FlyMart vendors must be set up by 9:30 am on Sunday August 2. Contact Merchandise Directors Tricia Lafferty at [email protected] or Trevor Murphy [email protected] to reserve a spot.
PDGA Banquet, Awards and Disc Golf Hall of Fame Induction
The PDGA Banquet will be held at the Pittsburgh Marriott North (Host Hotel) on Thursday evening at 7pm. If you wish to attend, you must purchase tickets at the Worlds registration page for $40 each when you register for Pro Worlds.
The PDGA Awards and Disc Golf Hall of Fame induction will follow the banquet at 8pm. The awards ceremony is open to all interested parties regardless of banquet attendance. 2015 Hall of Fame Induction discs will be available for sale after the ceremonies have concluded.
Outings and Group Discounted Tickets 
Reservations are being made for a Tuesday, August 4 (7:05pm) Pirates vs. Cubs Major League Baseball game at PNC Park, as well as a Friday, August 7 afternoon/evening trip to Sandcastle Water Park and Kennywood Amusement Park.
PNC Park is an intimate, classic-style ballpark with scenic vistas of the Pittsburgh skyline. It has been called one of the best ballparks in the world. Sandcastle features 15 waterslides, a wave pool, a lazy river and two children's areas right in the heart of Pittsburgh. Kennywood is on the National Register of Historic Places and famous for its "Thunderbolt" "Jack Rabbit" and "Racer" wooden roller coasters as well as modern steel coasters and rides.
More details about purchasing tickets to these events will be provided in the PDGA registration confirmation packet.
We are looking forward to having you in Pittsburgh this summer!
Sincerely,
2015 PDGA Pro World Disc Golf Championships Team
2015 Pro World Championships