PDGA Directors Poll: Week 1
PDGA Directors Poll: Week 1
Looking back at Las Vegas' impact on the rankings
Thursday, March 1, 2018 - 15:25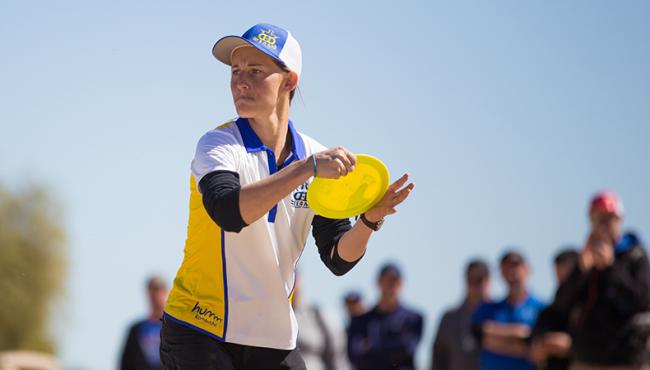 With the PDGA National Tour and Disc Golf Pro Tour well underway, it's time for the first proper Directors Poll of the season.
Twenty tournament directors and state coordinators logged their picks this week, and strong performances at the Las Vegas Challenge were handsomely rewarded. Eagle McMahon's first career NT victory helped him soar eight spots in the rankings, while Nikko Locastro's third-place tie moved him into the overall top 10. Drew Gibson and Joel Freeman, meanwhile, cracked the big board after notching surprising showings.
The Open Women's division saw much less upheaval, as Paige Pierce held the top slot after her late-round victory in Sin City. Kona Panis logged a career-high NT finish and, as a result, made her debut in the rankings.
With two more rounds to play at the Memorial Championship, though, these standings may not be in order for much longer. Without further ado, here's the full list for each division:
Open
| Rank | Player | Previous | Change |
| --- | --- | --- | --- |
| 1 | Ricky Wysocki | 1 | - |
| 2 | Paul McBeth | 2 | - |
| 3 | Simon Lizotte | 4 | ↑ 1 |
| 4 | Eagle McMahon | 12 | ↑ 8 |
| 5 | Nate Sexton | 3 | ↓ 2 |
| 6 | Nate Doss | 6 | - |
| 7 | Nikko Locastro | 16 | ↑ 9 |
| 8 | Jeremy Koling | 5 | ↓ 3 |
| 9 | James Conrad | 7 | ↓ 2 |
| 10 | Philo Brathwaite | 8 | ↓ 2 |
| 11 | Chris Dickerson | 10 | ↓ 1 |
| 12 | Paul Ulibarri | 8 | ↓ 4 |
| 13 | Josh Anthon | 11 | ↓ 2 |
| 14 | Cale Leiviska | 13 | ↓ 1 |
| 15 | Drew Gibson | New | - |
| 16 | Michael Johansen | 14 | ↓ 2 |
| 17 | Gregg Barsby | 15 | ↓ 2 |
| 18 | Austin Turner | 17 | ↓ 1 |
| 19 | Devan Owens | 20 | ↑ 1 |
| 20 | Joel Freeman | New | - |
Open Women
| Rank | Player | Previous | Change |
| --- | --- | --- | --- |
| 1 | Paige Pierce | 1 | - |
| 2 | Catrina Allen | 2 | - |
| 3 | Sarah Hokom | 3 | - |
| 4 | Valarie Jenkins | 4 | - |
| 5 | Jessica Weese | 5 | - |
| 6 | Jennifer Allen | 7 | ↑ 1 |
| 7 | Lisa Fajkus | 6 | ↓ 1 |
| 8 | Melody Waibel | 8 | - |
| 9 | Hannah Leatherman | 9 | - |
| 10 | Kona Panis | New | - |