Wysocki Tames Dogwood for 15th PDGA National Tour Title
Wysocki Tames Dogwood for 15th PDGA National Tour Title
National Tour - Texas State Disc Golf Championship Day 3 MPO Recap
Tuesday, March 30, 2021 - 14:06
For all the talk of unpredictability at the 26th Annual Texas State Disc Golf Championships, Ricky Wysocki, fresh off a triumphant battle with Paul McBeth at The Open at Belton, came into this week's event as a clear favorite and exited as the season's first PDGA National Tour champion.
Moreover, he looked firmly in control in the process.
Wysocki entered Sunday's final round tied with Matt Orum and only one ahead of a tightly packed field in which 11 players sat within four shots of the lead.
By the time he finished shredding the back nine of the imposing Dogwood course, he had effectively quieted his competition and crossed the finish line with a comfortable four shot margin.
Of course, the champion did not escape Dogwood without a few bites along the way. After getting off to a birdie-birdie start, Wysocki absolutely pured his drive on the 564-foot par-4 3rd only to find himself with an awkward lie. His approach shot caught a guardian tree, and his 80-foot uphill birdie attempt came up just short—the beginning of a series of close calls and near misses that eventually saw Orum pull even on hole 8.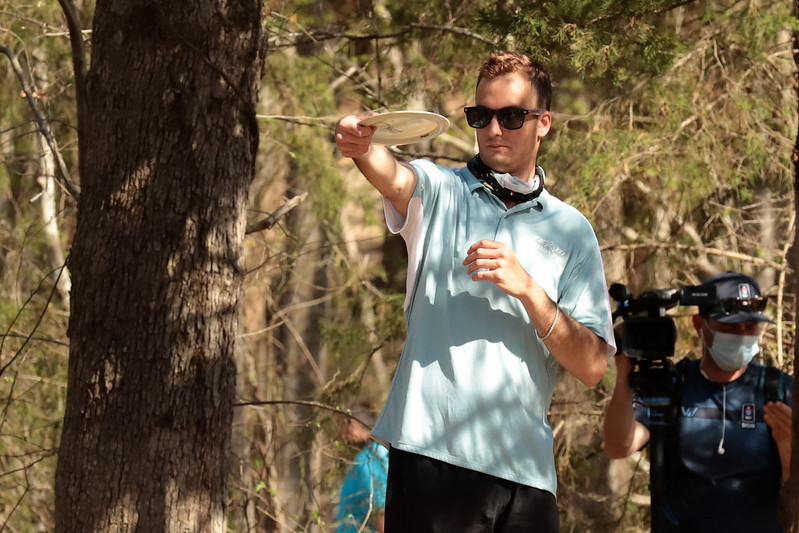 That's where one of the key intangibles of the weekend came into play: poise.
Wysocki kept plugging away until he was able to finally connect on a big putt for birdie on hole 12. Chasing after the disc as it approached the chains, fist raised in celebration, one could feel the momentum turn on a dime.
"I think you guys all see that I play with a lot of energy when I make long putts," he said, holding the event's signature belt buckle trophy. "I live for that. That creates my spark a lot of times. That's what happened on 12—it sparked me and allowed me to birdie all the holes coming down the stretch. I birdied the last six or seven holes coming in, and that's how you win a tournament with an exclamation mark."
Orum, for his part, did everything he could to keep the pressure on Wysocki. He kept his drives in the fairway (78% fairway hits, according to UDisc), cashed three putts from circle 2 and put together two stretches carding three birdies in a row.
Unfortunately for Orum and the rest of the MPO field, once Wysocki caught fire after the spark on hole 12, he was simply uncatchable. His seven consecutive birdies to close out the round landed him with a share of the course record (set by Bradley Williams at the 2017 Piney Woods Open and matched by Kevin Jones during Saturday's round two) and puts him into a commanding position heading into the rest of the season.
"My game is at the point now where I feel like I'm consistently playing at a high level," he told the Disc Golf Network viewers. "It's not just here and there. It means a lot to me and it definitely rings true with my game right now. My confidence is back and I'm really excited for the future because this is repeatable."
Wysocki and the rest of the field will have their next chance to claim a PDGA Elite Series title at the DGPT – Jonesboro Open, April 16-18.