It's Pierce vs. Panis as Masters Cup Enters Home Stretch
It's Pierce vs. Panis as Masters Cup Enters Home Stretch
National Tour - Masters Cup FPO Day 2 Recap
Sunday, May 30, 2021 - 13:50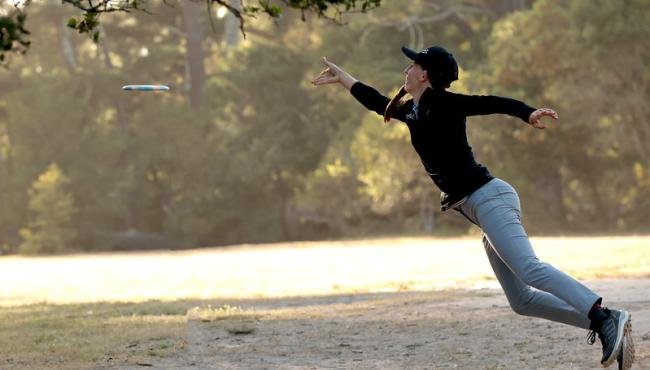 SANTA CRUZ, California – The Santa Cruz Masters Cup has come down to its final act, and Paige Pierce finds herself in a familiar position – three shots clear of the field and eyeing her 25th National Tour title.
Pierce had to fight off another slow start during round two, carding three consecutive bogeys after her drive on hole 3 got hung up in a tree on the right side of the fairway for a two-meter penalty and her drive from the top of the world (hole 4) hyzered OB left.
2021 National Tour Points Series Standings »
On hole 5, she was too far left, again—this time fighting low hanging tree branches on her upshot and leaving herself outside circle 2 to try to save par. But whereas most of her competitors would likely take their medicine and pitched up for a safe bogey, Pierce gunned it up the hill, missing the basket and sailing 25 feet long. No matter: she put the comebacker—a dangerous downhill putt back towards the railroad ties—right in the heart of the chains.
It was vintage Pierce—always aggressive, always attacking.
"Every shot is a new shot," Pierce reflected after round 2. "It doesn't matter what happened on the last shot. That's how I play—I come to make the putts and I come to throw good shots and it doesn't matter what happened on the last hole. I've trying to only think about the chains, so I think that's been the key to my success this week."
Pierce's card mates on Saturday did not fare as well, as Catrina Allen, Juliana Korver and Hailey King each struggled to stay out of trouble—no small task on a course famous for its gnarly roots, unpredictable kicks and treacherous rollaways.
Allen took the lead for a brief moment early in the round after Pierce's second bogey on hole 4, but quickly ceded it back after consecutive double bogeys on holes 5 and 6.
Allen was looking at an uphill circle's edge par putt on hole 5 when she lofted the attempt a bit too high and got stuck in the tree limbs above. It was a highly unusual two-meter penalty from within circle 1 and an ominous sign of things to come.
She threw a great line on hole 6, only to snag an unsuspecting branch on the left side of the fairway. And when her par attempt from 20 feet hit the top band of the basket and rolled down 75 feet down the hill, Allen had no choice but to rethrow her putt with a penalty and take another double.
She was only six out of the lead with 18 holes to play, but it felt as though the air had been let out of the bag for the 2014 PDGA World Champion.
Korver just missed out on staying on the lead card for the third consecutive day, as she kept her fourth-place position but was edged out for the feature card by virtue of Maria Oliva's hot round.
Complete coverage from the National Tour - Santa Cruz Masters Cup »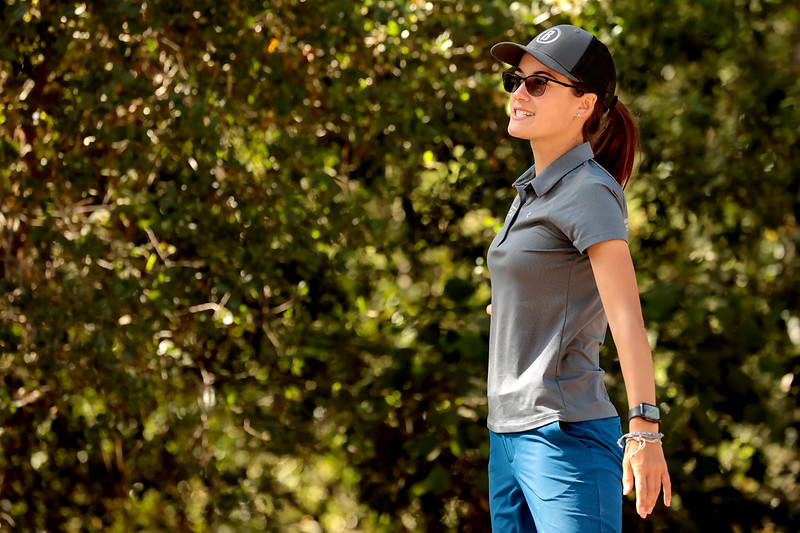 It will be Kona Panis, who fought her way up from the chase card to come within three strokes of the leader and five ahead of Allen, with the best chance to spoil Pierce's parade on Sunday.
Known as one of the longest throwers in the FPO field, Panis matched the hot round of the day with an even-par 75 by using her improved shot-shaping abilities to navigate the twisty DeLa fairways.
"Now that I understand how to throw lines and understand touch, this course is awesome," Panis said after turning in her scorecard. "Every sing hole is different. You're not throwing the same shot every single hole, you're pickup up a new disc out of your bag."
Panis will be vying for her second career Elite Series win following her maiden victory this March at the WACO Annual Charity Open. This one would need to look a little different, however, as she entered the final round in Waco with a comfortable 14-stroke margin.
Here at the Masters Cup, she'll need to chase down Pierce—one of the greatest closers in the sport.  
"I'm going to go into it and just try to play my game and try to beat DeLa more than anything," she said. "I find myself getting caught up trying to beat my competitors, and that's not what this game is about. I just want to beat DeLa tomorrow."
The Open Women's lead card tees off at 2:27 p.m. PT, with live scoring updates from UDisc and next-day post-produced coverage from Central Coast Disc Golf.