1050 Club Rises to the Top Ahead of DDO Finale
1050 Club Rises to the Top Ahead of DDO Finale
National Tour - Dynamic Discs Open Round 3 MPO Recap
Saturday, May 1, 2021 - 09:15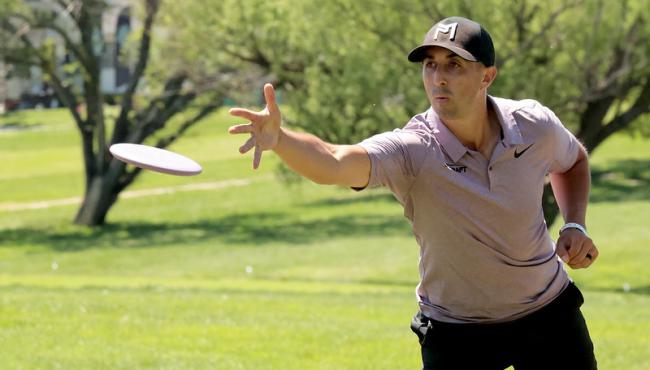 The days of bogey-free disc golf are over for the world's top players in Emporia, it would seem.
Through the first two days of the Dynamic Disc Open there were 17 clean rounds carded by the field; on Friday there were none.
Paul McBeth came close. His only hiccup came in the form of a double bogey on the challenging 699-foot par-4 9th after he went OB off the tee and was forced to stop the bleeding with a clutch 38-foot putt.
It was one of four C2 putts that McBeth dropped on his way to a 9-under 56—two clear of the next-best score in a stacked MPO field.
"It felt good the whole way through," McBeth told PDGA Media's Hayden Henry. "I just had a double bogey in there, but the putt felt great and the drives were feeling good. It's going to happen on this course—you're going to get bogeys somewhere. It's really hard to go bogey-free, so you just get that bogey and move on."
The effort was enough to propel McBeth (-33) from chase card to a three-way tie for the lead, along with Eagle McMahon and Calvin Heimburg, heading into Saturday's championship finale.
McMahon, Heimburg and Wysocki took part in a seesaw lead card battle that left all three somewhat flustered by their inability to capitalize on opportunities to pull away.
McMahon appeared to be cruising when an errant backhand on the lengthy 990-foot par-5 8th left him out of bounds. He would make bogey on that hole, as well as the next, and was visibly frustrated as he tried to steady the ship.
It wouldn't be the last frustrating moment for McMahon during the round as he continued to put up near-misses from C2 (two for seven on the day according to UDisc), but it would be his last bogey.
"I woke up this morning feeling pretty tired—don't know if I'm drained of electrolytes or something along those lines," McMahon revealed after the round. "But I was really just trying to get the heart rate up and get something happening. Everyone seemed to be in that type of funk—at least on our card. So, I figured, if you can just keep your head in the game and stick it through to the end, you'll at least give yourself a chance going into tomorrow."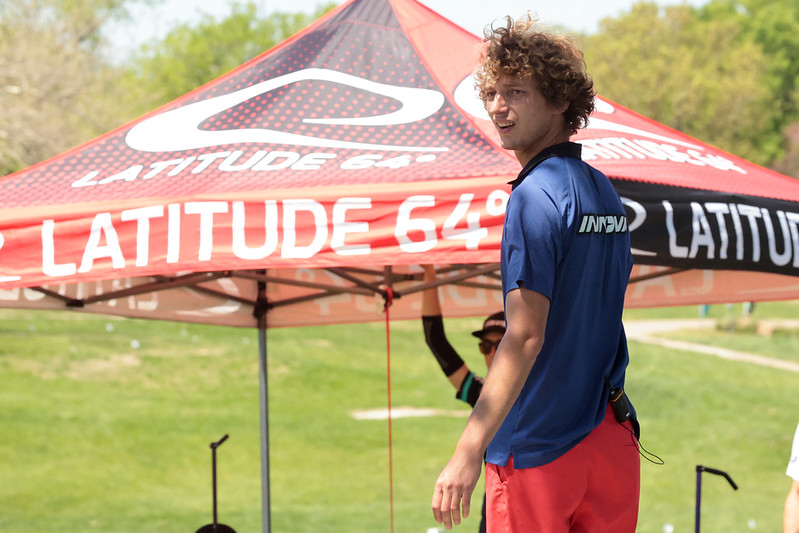 Heimburg also seemed to be dealing with the moving day funk as he made a number of uncharacteristic mistakes including three missed putts from C1x.
"I got a couple lucky breaks and made enough good shots, but I missed too many circle one putts to be happy," Heimburg said after finishing on 18.
One of those good shots came at a key moment on the iconic island hole where he threw a fast, low backhand that skimmed and skipped on the water before parking safely on land, drawing loud cheers from the gallery.
Wysocki, for his part, had a highlight reel shot for the ages when he connected from a seemingly impossible position—70 feet away from the pin and obstructed by a low ceiling on the 314-foot par-3 12th.
Taking a knee, he managed to throw a laser beam putt that tracked dead center chains the whole way. And, of course, he followed it in, raptor-legging to raucous applause from fans lined up along the fairway.
Like his card mates, however, Wysocki had trouble keeping the bogeys at bay and was forced to endure a draining up and down lap around the lengthy Emporia Country Club track.
"I felt pretty unsettled," Wysocki said after the round. "It was tough for me to find a groove after the front nine. It seemed like it was either birdie or bogey—I think I only had three pars on the day. Overall, it was a rollercoaster of emotions today, but I handled it well and I came out with a decent score. I still have a chance to win and that's the number one thing."
Tee times will be moved up for championship Saturday with the field cut to the top 40%. Live coverage of the final round will be available free on the DGPT YouTube Channel beginning  at 10:00 a.m. CT.