Wysocki, McMahon Tied Atop Delaware Leaderboard
Wysocki, McMahon Tied Atop Delaware Leaderboard
Conrad, Tamm round out day-two lead card at daunting Iron Hill track
Friday, August 23, 2019 - 23:10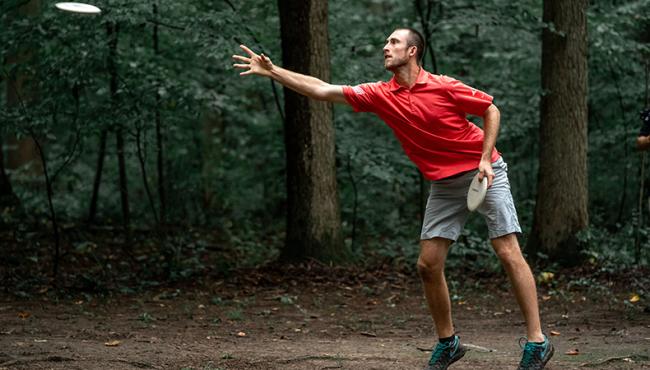 Iron Hill already had a reputation as one of the most difficult courses on tour. So when it dropped from a par 72 to a par 69 this year, the casual observer might think that the track was easing up on the competitors.
Ricky Wysocki is here to dispel that notion.
"To par, it's playing a lot harder," Wysocki said. "I think last year we were shooting 10, 12-under. This year it's gonna be a lot harder because some of the par 4s turned into really hard par 3s, where you maybe see only a handful of 2s on the hole…The par-3 changes makes it two to three—maybe even more—strokes harder, and that definitely makes a big difference."
Even as the two-time PDGA World Champion and Pro Worlds runner-up tussled with the terrifying track, he's still tied at the top of the Delaware Disc Golf Challenge leaderboard, as he and Eagle McMahon tossed 1041-rated 5-under par 64s to open play Friday in Newark. James Conrad and Albert Tamm are tied for third place with 4-under par 63s, with Simon Lizotte, Dave Feldberg, Zach Melton, and Joel Freeman knotted up in fifth place at 3-down.
Rain pelted many of the early morning groupings, but that settled into a drizzle by Wysocki's afternoon feature card. As he ran through a bogey-free showing that found him leading the field in hitting circle 1 in regulation (61%), he actually didn't know he was tied for the lead when he came off the course.
"It's just Iron Hill, so it's really tough to know what to expect," Wysocki said. "…I didn't really know how my score fared with everybody else. Some days that score can be winning, and other days it can be down five."
He tried his best to add bonus points to the leaderboard when he pured two straight drives on the 860-foot, par-5 17th to put him to 40 feet for an eagle look. Positioned at the bottom of a steep hill, Wysocki lofted his putt on the right line, but left it just too high and it clanged off the top band to settle for birdie.
"I think Seppo [Paju] was the talk of the tournament last year by threeing it, so I was really, really wanting to get on the board and get on the eagle train on that hole," Wysocki said. "I mean, that is a ridiculous eagle. I really wanted to make it for that reason, because who knows if I'm ever going to have that putt again?"
Wysocki was also showing no ill effects from the ring finger injury that saddled him with difficulty during Worlds.
"It's healing up really well," he said. "I think the infection's pretty much gone...It was crazy to think about how big it did swell up to.
"It's good to have it out of the way and not worry about my finger getting cut off," he added, with a laugh. "Because—a lot of people were joking with me—but it's a serious thing when you've got an infection in your finger right by the joint like I did."
McMahon cobbled together a run of five straight birdies on holes 5 through 9 thanks to two 40-foot connections. The 21-year-old Colorado pro leads the tournament with a 67% circle 2 putting success rate and tossed in a perfect showing inside the paint, too. He's been on the ascent after a 997-rated second round at Pro Worlds, eventually climbing to a tie for eighth place and bringing that momentum with him to Delaware.
Conrad, meanwhile, put together a 17th place showing at last year's Delaware Disc Golf Challenge, which also came just one week after Pro Worlds. He was on the final round lead card at both the 2018 and 2019 version of the event that crowns PDGA World Champions, but this year he's recovering differently.
"I had a pretty disappointing finish to Worlds last year and probably let that bleed over into my headspace and probably took away from my focus last year," Conrad admitted. "Worlds was still very recent [this year], but I didn't even think about it once today. So I'm trying to only focus on this tournament, and hopefully that will help."
While he wasn't overly impacted by the conditions, Conrad did say that the consistent moisture affected his footing—something that already provides headaches for the long-legged woodsmith around Iron Hill's rocky fairways.
"This course is already really difficult in terms of footing once you're on the fairway or off the fairway, so that's already a big challenge for me out here," Conrad said. "It's a lot of standstills and limited footwork, which I rely heavily on. So the rain probably made that a little harder."
Six players—including Calvin Heimburg, who is in third place in the PDGA National Tour points race—are tied for ninth place at 2-under par.
As if there needed to be any more testament to Iron Hill's difficulty, chew on this: Only 17 players in the 73-competitor field shot under par Friday.
The Delaware Disc Golf Challenge continues Saturday, with the lead card teeing at 2 p.m. ET. Instant scoring will be available all round from UDiscLive, and JomezPro and Gatekeeper Media will provide post-production video.