Hammes Holds Steady at HOFC
Hammes Holds Steady at HOFC
20-year-old takes one-shot advantage over Heimburg into Sunday's final
Saturday, October 12, 2019 - 21:42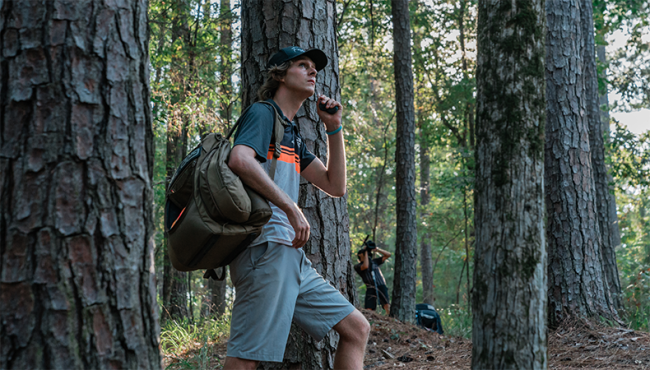 APPLING, Ga.--Adam Hammes could have cracked. 
His closest competitor on Saturday's lead card at the Ed Headrick Disc Golf Hall of Fame Classic, Calvin Heimburg, was on a tear that saw him capping off a run of five straight birdies with the tournament's only eagle on W.R. Jackson's par-5 14th. To follow it up, Hammes' turnover tee shot on 15 bent too far right before kicking off a tree and caroming to the opposite side of the fairway. After that, he air-balled his attempt at the par save on a day when he was otherwise dialed in on the putting green.
So when he laced a forehand uphill on the 297-foot 16th and it skidded toward the out-of-bounds line on the right side of the green, it was almost a cause for alarm. But when Hammes stalked up the fairway and saw that the shot stayed in, he took a moment to reflect, then capitalized on the circle's edge connection for his card's lone birdie to recapture some much-needed momentum.
"Just think about the previous holes and what I was doing there and try forget about it and kind of cruise on," Hammes said. "Get the confidence back and make the putts that I need to."
It was the start of a closing turkey that kept Hammes atop the leaderboard here at the International Disc Golf Center and puts the Wisconsin pro in position for his first career PDGA National Tour victory, as his 9-under par 59 brought his two-day total to a 19-under par 117. That was enough to stave off Heimburg's surge, with the Florida native matching Hammes to sit at 18-under par overall. Another Sunshine State competitor, JohnE McCray, climbed into third place with a 9-down that took his 36-hole tally to a 15-under par 121, while James Conrad, Chris Dickerson, and Simon Lizotte all enter Sunday with 14-under par 122s.
For Hammes, the 1053-rated showing marked an important milestone in his young career. Instead of only showing up as a one-round wonder, he was able to deliver another day of consistent golf.
"I've had a few hot rounds this season where I've come out in the second round and not shot what I'm capable of, and it finally feels good to come out in the second round an stay on top," Hammes said. "That was kind of the main goal today, and I achieved that."
The 20-year-old did it in large part due to a scorching putter. He's sporting an 88% circle 1x putting rate this weekend and has canned numerous bonus bids, including huge connections from beyond 70 feet for birdies on holes 6 and 10. His 56% circle 2 putting clip is second best in the 87-player field.
"I hit some big putts today," Hammes said. "… I do a lot of work on the practice green -- I practice a lot -- and I've always had a lot of confidence on the putting green. Putting just comes naturally to me."
Heimburg, on the other hand, did his damage on the approach. He's tops in the tournament in parked shots (25%) and circle 1 in regulation (53%), and he's the current runner-up in circle 2 in regulation (67%). The glowing stats, though, don't tell the whole story: It was Heimburg's response to a bogey on the par-4 8th -- which played as the fourth most difficult hole at Jackson Saturday -- that kickstarted the scoring streak that peaked with the eagle.
"Just probably a little bit of anger," Heimburg said. "Just started throwing clean drives through the fairways and didn't leave myself with too much putting...Just a little bit of anger and wanting to keep up with the rest of the card, and it worked out. Started pulling it together."
Even as Heimburg cooled off with three straight pars before closing with a birdie, he was still pleased with his position heading into Sunday's final.
"You can never be upset with 9-under out here at Jackson, especially since I didn't start quite as good today as I did yesterday," Heimburg said "...Adam shot great, and I shot pretty good as well. It's not a problem being one back -- you're right there in it. I mean, it can flip any hole, two strokes are easy out here to lose."
McCray moved up to the final round lead card with a good mix of Hammes' and Heimburg's scoring styles on Saturday. Blasting Metallica in his earbuds, the ageless wonder rattled off six straight birdies and took advantage of his field-best 69% circle 2 in regulation clip by connecting on four putts from beyond the arc. He's also leading the field in fairway hits (81%).
Conrad, meanwhile, jumped onto the final round lead card by going big: The recently minted United States Disc Golf Champion was one of only four competitors to eagle the 726-foot, par-5 18th, and the two strokes under par brought him to 8-down for the day. That was tied with Dickerson, but Conrad got the nod for the lead card by way of a lower PDGA number.
Joel Freeman is sitting in seventh place with a 13-under par 123 total, while Nikko Locastro and Chris Clemons are tied for eighth at 12-down. Garrett Gurthie, who is currently in seventh place in the National Tour points race, helped get himself closer to a little more bonus cash by logging his own 8-under par round that moved him up 17 slots on the leaderboard and into 10th place.
Heimburg has a chance to secure both the points title and his second PDGA National Tour win of the season after he took down the opener at the Las Vegas Challenge. The circumstances now, with Heimburg trailing by one shot, are far different than when he took a six-shot buffer into the final like he did in Sin City, but he crumbled a bit back in February before rallying late and said he could employ some of what he learned then to try and chase down Hammes.
"I mean, we're all out here to win, and kinda once I lost a six-stroke lead it was kind of an 'I have nothing to lose left at this point' mentality, and I think I can take that into tomorrow," Heimburg said. "I'm gonna be trying to play pretty aggressive and score, put pressure on him."
Hammes, who kicked off his season with a victory at the A-Tier Wintertime Open, was relishing his standing as the leader heading into the final showdown.
"I like the position I'm in," Hammes said. "I don't think I've been in position to win a big tournament like this ever. I mean Wintertime [Open], but it's not an NT-caliber, so this is my first time I have a chance to win a big tournament, and I'm really excited about it."