Open and Shut
Open and Shut
Heimburg ousts Hammes in sudden death to bookend season with wins
Monday, October 14, 2019 - 11:33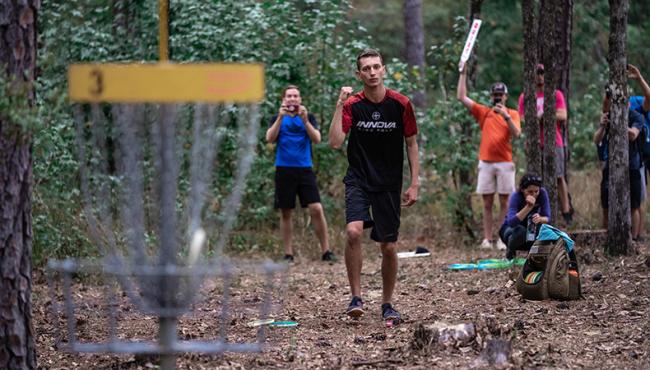 APPLING, Ga.--For the third time in its last four runnings, the Ed Headrick Disc Golf Hall of Fame Classic boiled down to a sudden-death playoff. And this time, it brought the PDGA National Tour season full circle.
Fifty-four holes at the International Disc Golf Center's W.R. Jackson course were not enough to separate Calvin Heimburg and Adam Hammes, as the two young pros needed three extra frames to settle their weekend-long battle. With a 40-foot putt that perfectly crashed the chains on the par-4 3rd, Heimburg finished the year the way he started it: with a victory.
Heimburg's 7-under par 61 during the final brought him to a 25-under par 179 that paved the way for his playoff appearance, while Hammes carded a 6-under par 62 to get to the same tally before taking the runner-up slot. Chris Dickerson launched a valiant bid from the chase card--landing an ace in the process--with an 11-under par showing Sunday that landed him in third place with a 24-under par 180 overall, while JohnE McCray (-23) and Simon Lizotte (-22) rounded out the top five.
Heimburg pocketed $3,500 in winnings, and the victory helped him secure first place in the PDGA National Tour points race for an extra $6,000 bonus.
"I'm just stoked to have pulled it off," Heimburg said. "Kind of shocked I did after kind of the way the round unfolded. But I'm happy that I did."
Heimburg entered the final round one behind Hammes and quickly tied the score by birdieing five of the first six holes. Hammes, too, started hot, keeping pace the way he had all weekend: with massive putting. He hit from 50, 70, and 60 feet for birdies on holes 3 through 5 and was going blow for blow with Heimburg. The 20-year-old Wisconsin product ended the week with the tournament's best circle 2 putting performance at an astounding 53%.
Both Heimburg and Hammes, though, started to falter in the middle of the course. Hammes sprayed his drives on 10,11, and 12, and Heimburg missed inside the circle birdie putts on 10 and 12. 
It had the feel of a final round where no one quite wanted to take control, and that left an opportunity for Dickerson, who was cooking up a hot round from the chase card. The Tennessee pro was at 6-down through 10 after dissecting W.R. Jackson's fairways, and he was about to do the same to hole 11's basket. He tossed a Prodigy F5 on a turnover on the 420-foot par 4 that slammed the chains for an ace and put him at 8-under for the round. As a bonus, it also earned him a new pellet grill from tournament sponsor Rec Tec Grills.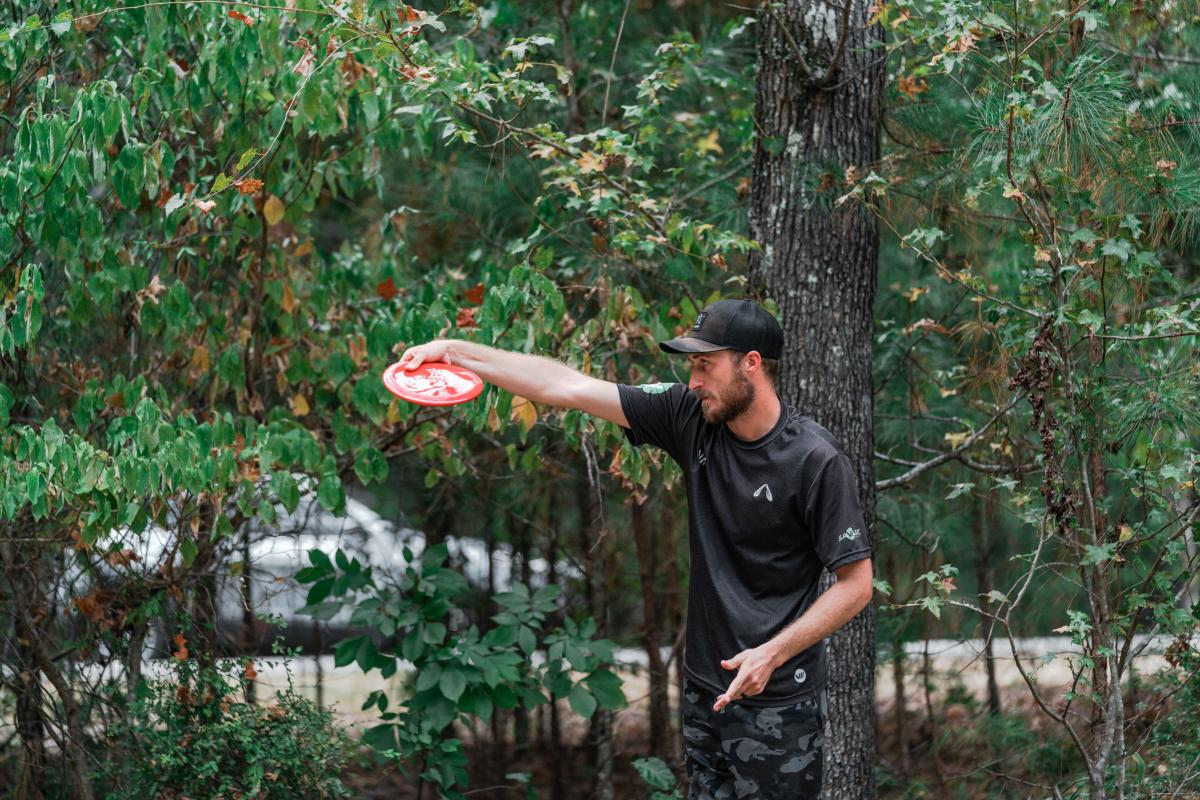 "I heard a basket, but it didn't sound like in that direction," Dickerson said. "I made a joke--I turned around to somebody and said, 'That's an ace.' The guys filming us, the catch cam guy radioed the guy filming at the tee pad and he goes, 'Oh yeah, that's an ace, that's in.' So we all went crazy and it was fun. It was real fun."
Dickerson continued a smooth run through Jackson, scrambling for a par save on 14 and picking apart the par-4 15th with a beautiful third shot that arced left down the fairway and settled just beyond the pin for a tap-in birdie. He connected from 40 feet for another clutch deuce on 16 to put him at 25-under par.
Back on the lead card, Hammes had recaptured a two-shot lead, then moved it to three when Heimburg misfired his second shot on 15 and suffered only his fourth bogey of the tournament. Hammes, though, was about to let Heimburg stay in the race: His tee shot hit an early tree on the 297-foot 16th and he couldn't put himself in position to save par with his second shot. Heimburg parked it for birdie and a two-shot swing to tie it up.
"I feel like the door was more opened for me than I opened the door there at the end," Heimburg admitted. "I did birdie 16 and 17, but [Hammes] also birdied and parred, so that's a three-stroke swing right there."
Just when Hammes and Heimburg were running through 16 was when Dickerson's magic ran out. He hit one of the first available trees on the 588-foot, par-4 17th--it tied for the most difficult per UDisc Live scoring during the round--and had to scuffle to save bogey. 
"It just came down to I threw a bad shot off the tee," Dickerson said. "I can't blame anybody but myself on that. Just a really bad shot to start off with, and I followed it up with an OK shot and had to scramble from there. But it was my fault--I can't blame it on bad luck or anything like that."
He still tried to get his way into the playoff action on 18 by lacing his third shot to put him at about 27 feet. But with a chance to get back to 25-under, he missed off the top band. Still, he wasn't disappointed with the end result that netted him his best career finish at a National Tour event.
"You know, I'm glad that I actually pulled it together at the end and had a good round," Dickerson said. "I was kinda thinking going into today, it's been awhile--'You've had a lot of good rounds, but you haven't had one that you feel over the top about'--so I'm glad I ended on a really good round."
That shifted the focus back to the battle that had been brewing all weekend. Heimburg took the lead back from Hammes with a circle's edge putt for birdie on 17 and had a chance to walk it in on hole 18. But in what looked like an overcorrection for some of his overcooked shots to the right in the previous two rounds, Heimburg left Destroyer drive too far left, and it smacked an early tree and fell to the ground. He ended up carding a par while Hammes was able to execute for a birdie and force a playoff.
As the gallery buzzed and the energy swirled, Heimburg did his best to remain composed.
"It was just do or die," Heimburg said. "Definitely the adrenaline was pumping, nerves were up more so than they had been the rest of the round."
Just like they opened the round, Hammes and Heimburg shredded the first two holes of the playoff: Park job, birdie putt; park job, birdie putt. But when the duo arrived at the 726-foot, par-4 3rd, Heimburg's Destroyer shot landed a bit deeper and in a spot that allowed him a back alley look at the green. Hammes was clean in the fairway but left his second shot to about 80 feet, while Heimburg approached to roughly 35. Hammes missed his jump putt attempt for birdie, putting the tournament in Heimburg's hands--right in the same putting range where he had trouble early in the round.
"Nerves were still pretty high at that point," Heimburg said. "It's probably the most nervous I had been all year on any shot. But I was--yeah, I just told myself, don't miss low like I had earlier on some putts and give it a chance to go in a take the win. That's an opportunity you can't pass up. I mean, who knows what's gonna happen on hole 4, whether or not you get the skip or actually hit the fairway. So I had a window and told myself to give it at least a chance."
He connected for the win and was showered with Pringles courtesy of Zach Melton and Eric Oakley. The performance was a far cry from Heimburg's performance at last year's Hall of Fame Classic, where he said he had to rely on a couple of other players bogeying late in order to split last cash in 26th place. 
Now, with the winning purse and the National Tour points bonus, he was experiencing his single largest career payday.
"I'm buying dinner for my friends tonight, so who knows how much that's gonna cost?" Heimburg said. "But it's OK--we got paid out good today."
2019 PDGA National Tour Final Standings