Wysocki Breaks 1100 For Utah Open Repeat
Wysocki Breaks 1100 For Utah Open Repeat
Course record-setting performance holds off McMahon, McBeth
Monday, June 25, 2018 - 10:45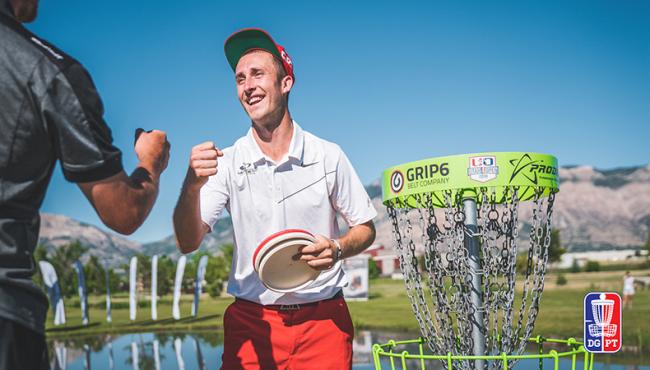 After a 14-under par final at the Utah Open that registered an 1105 round rating, Ricky Wysocki wasn't feeling the need to brag.
"It's not bad," the two-time PDGA World Champion said with a laugh.
He can now add two-time Utah Open Champion to his résumé, as Wysocki's course record-setting 44 Sunday at Mulligan's Creekside Disc Golf Course helped him pull away for a four-shot victory with a 25-under par 149 total. Eagle McMahon and Paul McBeth did their best to give chase, as the duo logged matching 12-under par 46s – the previous course record – in their 1087-rated attempts to take down the win. Ultimately, McMahon finished in second place with a 21-under par 153, while McBeth took home third at 20-under and Austin Hannum and Joel Freeman tied for fourth place with 15-under par weekends.
The round was vintage Wysocki, a reminder of how truly dominant he is when his game is firing on all cylinders. He parked seven of 18 holes, landed in circle 1 in regulation on another five, and carved up the fairways of Mulligan's to the tune of 89 percent. It was his highest rated performance in more than a year, just ahead of his 1104-rated second round at the 2017 Aussie Open, and the sixth of his career where he has crested 1100. "It's definitely right up there with one of my best final rounds ever," Wysocki said.
And it all began by simply waking up on the proverbial right side of the bed.
"It started from when I woke up with a great feeling," Wysocki said. "That's always a confidence booster, when you don't have to fight your confidence – you know it's gonna be a good day. You can't really explain it, but…I knew I was gonna win. It sounds weird to say, but I had a good feeling to the day and it transferred over to the course."
And to the green. Wysocki said he got to Mulligan's earlier than normal and spent almost an hour on the practice basket in an effort to tweak his putting, which had suffered early in the weekend from repeated strikes off the front of the cage. He ironed out those issues and connected from circle's edge with ease and threw in an insurance Sockibomb on hole 16 for good measure.
The tournament was mostly in hand at that point – Wysocki was up two on McMahon, who was on his card, and three on McBeth, who was in the clubhouse – but after poor drives the first two rounds on the 408-foot par 3 he decided to run it for the deuce.
"I finally threw a half decent drive, and I was like, 'I finally have to take advantage of this,'" Wysocki said. "…I still wanted to get a couple more strokes cushion in case something fluky happened on 18."
Nothing did – he parked his shot on the 207-foot island hole – and he cruised to the $3,240 payday.
"It was quality play by Rick today, and basically I took my hat off and I applauded him," McMahon said. "He deserved the win to do that. You can't really get upset by not winning when someone shoots an 1105-rated round to finish it off."     
And McMahon's 12-under was nothing to scoff at, either. The 20-year-old came to play from the outset, canning putts from 50 feet on holes 2 and 3 and another from 40 on 4 to as he strung together five consecutive birdies. As much as he pushed, Wysocki was able to keep widening the gap.
"At that point I was like, 'Wow, I'm killing it,'" McMahon said. "I just hit three outside-the-circle putts, things are rolling. It feels like I should be in first place, and I look over and Ricky is still up two strokes."
While McMahon had the luxury of pacing Wysocki on the lead card, McBeth was nearly a half hour ahead of them on the course, as the chase teed off earlier to accommodate the event's live broadcast. A notorious scoreboard watcher, McBeth said it did him no good to keep track of the tally when he was so many holes ahead, and it impacted his approach on 18: He ran for an ace there and shanked it OB, and he said if he would have been in closer proximity to the lead group he would have played for birdie to tie McMahon.
"I didn't get to see anything that was going on with them because they were a ways back," McBeth said. "It was surprising because I was like, 'Oh crap, they played that well too.'"
The top three weren't the only ones to lay down scorchers. Anthony Barela tossed a 10-under par 48 to move up 10 slots on the leaderboard and into a sixth-place tie with James Conrad at 14-under. Kevin Jones' 9-under finish was good for a 16-spot jump and put him into eighth place alongside Grady Shue and Drew Gibson at 11-under.
Though he dropped eight places on the final leaderboard, Sias Elmore brought the day's highlight on the chase card, an overhand ace that bounced into the basket on the 238-foot 14th. The California pro finished in 15th.
The last three premier events have now cycled between Wysocki, McMahon, and McBeth standing atop the podium, and Wysocki said his ability to outlast his counterparts in such a heated battle would be something he would take with him to the Konopiště Open – this year's European Major and the next event where they will all be in attendance – and beyond.
"I didn't just win the tournament – I won round, too," Wysocki said. "There's something to be said for that. They were pushing…That's a big confidence boost for me, and I know that deep down – I feel like I have such a good skill set, and when I'm on it's up to me whether I get the job done."